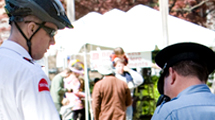 Campus Safety & Security provides a host of services, from security escorts to jump-starts for dead batteries.  More »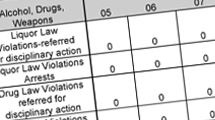 We are committed to ensuring a safe campus for students, faculty and staff. Learn more about our compliance with the federal Clery Act and read our campus safety and security report.  More »
Campus Safety & Security
Main phone number: (231) 995-1111
NMC Campus Safety & Security provides services 24 hours a day. We also work closely with local law enforcement and emergency responders that also serve NMC. We provide a wide range of services, including:
Emergency "blue light" phones throughout all of our campuses
Emergency alert text messages (Opt in through NMC Self-Service)
Education and prevention
Security escorts
Campus Safety is everyone's business. We encourage you to contact us with any questions or concerns. We also have two services that you can use to report information or suspicious activity:
Confidential tip line: (231) 995-1116
Use this form to report suspicious, dangerous, illegal or threatening incidents involving NMC students or NMC facilities and campuses. If you have trouble adding a new incident or have more questions, please contact Lisa Thomas in Student Life at (231) 995-1118 or Marcus Bennett in Residence Life/Judicial Affairs at ( 231) 995-1401.
​Campus Safety Video
Emergency Contact Information
FOR POLICE, FIRE AND HEALTH EMERGENCIES, CALL 911

Traverse City Police Department
851 Woodmere Avenue
Traverse City, MI 49686
Central Dispatch - Non Emergency: (231) 922-4550
Office: (231) 995-5150
Crime tip or traffic concerns: TCPDTips@traversecitymi.gov
Traverse City Fire Department
500 W. Front Street
Traverse City, MI 49684
Office: (231) 922-4930
Grand Traverse Co Sheriff's Office
Phone: (231) 995-5000
Munson Medical Center
1105 Sixth St.
Traverse City, MI 49684
Phone: (231) 935-5000
Safety tips
For any emergency, call 911.
For non-emergencies, call Campus Safety 24 hours a day: (231) 995-1111.
Walk in pairs and well-lit areas when possible. Be aware of your surroundings.
Have your keys in hand before you reach your vehicle.
If you feel threatened, see suspicious behavior or are being followed, look for the blue light emergency phones.
Call Campus Safety anytime for an escort: (231) 995-1111.
Sign up to receive text messages about college closure and emergencies through NMC Emergency Alerts »
Satellite Office
A Safety & Security satellite office is located in the Enrollment Services office on the main floor of the Tanis Building (#5 on the Main Campus Map). The office is open Monday, 8 a.m.–7 p.m., and Tuesday–Friday, 8 a.m.–5 p.m. NMC ID cards and parking passes can be ordered here.
Lost & Found items are held and can be turned in at the Facilities Building (#17 on the Main Campus Map). If you have lost an item or wish to report something found, please call (231) 995-1111.
Clery Act
This federal law requires colleges to provide timely warnings of crimes that represent a threat to the safety of students or employees and to make their campus security policies available to the public.
Other Resources