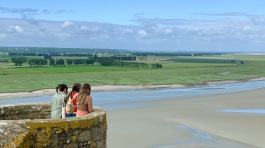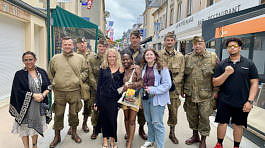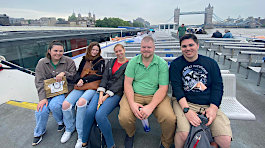 Study Abroad
NMC was nationally ranked No. 17 in 2017 among community colleges for short-term study abroad opportunities by the Institute of International Education. NMC was the only community college in Michigan to make the top 20 that year, and among the smallest in terms of enrollment.
WANT MORE INFORMATION ABOUT STUDY ABROAD?
Meet on Wednesday, Sept. 27 for a Lunch and Learn event from 12:15 –1:30 p.m. at the Timothy J. Nelson Innovation Center, Room 106/107. Lunch will be provided. RSVP here.
2024 Study Abroad Opportunities
Brazil — BIOLOGY Study Abroad: May 9–19, 2024
Faculty: Nick Roster   
(Course requirements: BIO or ENV course)
India — HUMANITIES Study Abroad: May 9–22, 2024
Faculty: Sarah Montgomery-Richards
(Course requirements: PHL 121 or 122 or HUM 116)
Costa Rica — NURSING Study Abroad: May 11–20, 2024
Faculty: Tamella Livengood
(Course requirements: BIO 228)
Ireland — AUDIO TECH Study Abroad: May 19–30, 2024
Faculty: Brady Corcoran
(Course requirements:  AUD 100 or 110 or 120 or 130)
How Do I Apply For A Study Abroad Experience?
Fill out the Study Abroad Application and turn it into International Services in the Osterlin Building.
Register for Summer 2023 courses after October 18, 2023
Deposits are due on November 15, 2023.
Scholarship applications occur after January 15, 2024. Apply here.
STUDENT RISK MANAGEMENT Forms:
As of September 1, 2024, NMC highly encourages, but does not require, anyone traveling on a 2024 NMC-sponsored study abroad experience to be vaccinated for Covid-19. 
NMC recommends that students read the manual before traveling.
Funding for opportunities can be accessed in several ways. The Global Opportunities Fund has scholarships available to NMC students and faculty. The fund was started by former NMC President Tim Nelson and his wife, Nancy Johnson, to celebrate NMC's sixtieth anniversary and support international learning and engagement.
Faculty Risk Management Forms:
Global events
The Office of International Services and Service Learning hopes to continue to expand intercultural connections for students enrolled on our campuses. To this end we are partnering with a variety of programs to arrange presentations, experiences and events that have a global focus. The following links are excellent sources for scheduled opportunities:

Want a way to stand out from the crowd when it's time to look for a job?
Consider a study abroad trip. Students who study abroad find a job twice as fast as those who don't and earn $7,000 more, according to 2012 studies.