Check out the list of student groups and find one (or more!) that's right for you.  More »
There's always something happening. Check the calendar often.  More »
Got a great idea? We'll help you start your own student group.  More »
Student Life
Services Offered in the Student Life Office
(located on the lower level of West Hall, next to the bookstore)
Free Events and Activities for students and community members
Personal Counseling
Assistance with creating new student groups
Supporting current student group needs
Come to our office and hang out! The door is always open!
Enhance your learning experience at NMC by getting involved in our student organizations. Student organizations play an important role in your education and in your personal development.
Experiences in organizations build skills that'll last you a lifetime.
We've got plenty to choose from! Don't see what you're looking for? No problem – we'll help you start a new group!
Quick Links

This flash mob was a Student Life organized event in conjunction with the first ever worldwide movement to end violence towards women. Get involved, change the world!
Download the posterHuman Trafficking Conference Free to the Community March 10
NMC Student Life and Students United for Gender Rights (SUGR) present a FREE Human Trafficking Conference on Friday, March 10.
Human trafficking is a local issue that requires our attention. This all-day conference will prepare attendees to recognize the signs, and learn ways to get involved to stop trafficking.
Join us for presentations from noted guest speakers including Grand Rapids based advocate Theresa Flores, founder of the SOAP Project. The conference is open to the community and will run from 9 a.m. to 3:30 p.m. at the Hagerty Center; check in will begin at 8 a.m. Food will be provided; pre-registration is required.
Jumpstart MyNMC is a chance for new NMC students to learn about Academic services and Student Life services as well as meet other students in a fun and interactive way. Free food, activities, campus tour, and Question & Answer sessions will help you feel more prepared as you begin your higher education journey.
Win Huge Prizes!
Come visit the Student Life Office where you can do brain teasers in exchange for Student Life Dollars to earn cool prizes like gas cards, gift cards, snacks and more! And don't worry about getting an answer wrong, we offer you an unlimited number of hints!
My NMC Story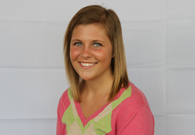 "The student life and its many organizations provide chances to get involved, even at a community college the many events and outings allow social involvement that helps promote lasting relationships."
JAMIE BOTT