Alumni & Friends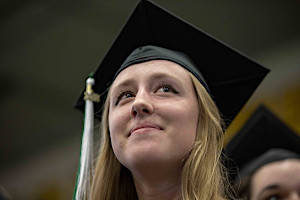 See photos from NMC's 2018 Commencement »Since Northwestern Michigan College first opened as a community college in 1951, more than 26,000 students have received associate's degrees or certifications. Thousands more have attended and met their educational goals by transferring to other schools or seeking employment.
Every year alumni return to NMC to update skills, change careers or enjoy the cultural enrichment opportunities we provide.
Did you go to NMC?
Perhaps you are an alumnus and don't know it!
There are no membership dues or fees to be involved as an alumnus.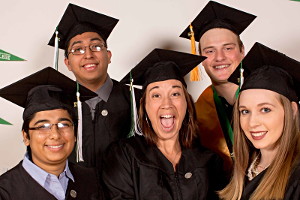 We welcome your participation in a number of ways: by staying in touch; sharing current news with others; attending campus events; supporting the college; and joining in local alumni activities.Graduation from NMC is not a requirement to be considered an alumnus!
Become An Alumni Ambassador
Show your school pride by joining the ranks of our Alumni Ambassador volunteer corps.
Alumni Ambassadors team up with NMC recruiters at College Nights. They encourage students on campus at the annual PinePalooza Student Fair and at our Hawk Owl Hospitality Booth during midterms. Alumni Ambassadors celebrate new alumni at spring commencement, and connect with fellow alumni at the NMC BBQ Alumni Tent and other special alumni events.
Apply by emailing alumni@nmc.edu with "Alumni Ambassador" in the subject line, or call (231) 995-2825.
Join our online community
Please take a moment to tell us about your NMC experience so we can share it with others.
Request An NMC Transcript
My NMC Story
"I feel very proud to think that I was one of the first students to start at NMC and just look how the college has developed. I'm very proud of NMC."
MAXINE LAUTNER NIELSEN