Outstanding Alumni
Outstanding Alumni
Since 1988, Northwestern Michigan College's Outstanding Alumni award has recognized graduates and past students for significant professional achievements and/or exemplary leadership in the local or global community.
Nominees for this award should have demonstrated accomplishments that also reflect the NMC values of dedication to lifelong learning, innovation and integrity, and respect for and collaboration with others.
Recognition is not solely contingent on having received a degree or certificate from NMC, but on the achievements of the nominee and positive perspective as to the role that NMC played in their lives.
Outstanding Alumni are frequently invited to speak at commencement or based on their accomplishments and background, other campus engagement opportunities may be created.
To nominate someone for consideration, please use this form, or contact the alumni office at (231) 955-1834 or alumni@nmc.edu.
2022 Honorees
Northwestern Michigan College is proud to announce the three 2022 recipients of the college's Outstanding Alumni Award, Richard Gray, Dr. Andrea Kritcher, and Bob Sutherland.
Richard Gray, GLMA 2013 (awarded posthumously)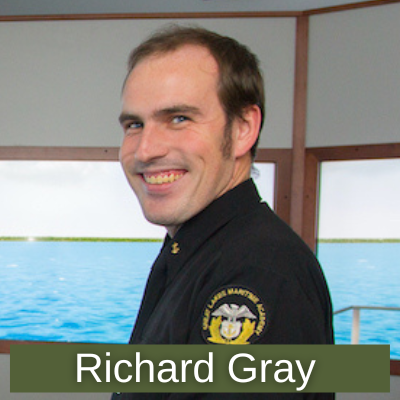 Among NMC and GLMA graduates, Richard Gray was a model alumnus, consistently demonstrating the college's core values of learning, innovation and integrity, alongside respect and collaboration with others. Since his graduation, not a semester went by when Richard wasn't present at the Maritime Academy, as a friend, a mentor, or sometimes as adjunct faculty. He and his wife Danielle supported cadets every step of their journeys. Richard provided countless hours of tutoring and encouraged cadets, alumni, faculty and staff to be active members of industry groups such as International Ship Masters Association.
His positive attitude and hard work in his profession propelled him forward in his career. Beloved and respected by many, Richard had many interests and was active in his church. He was devoted to his growing family, three young children with a fourth expected this fall.
With his life cut tragically short in an accident in January 2022, there are many voids left with Richard's absence. He had accomplished much in his life and was committed to living with integrity and energy, it is hard to estimate how much more he would have achieved with more time.
The many Outstanding Alumni nominations received on Richard's behalf speak to the positive influence that he had at NMC and throughout the Great Lakes Maritime Academy. As one nominator wrote, "one thing that's important to remember about Richard is that as a recent graduate in the industry, he continued to give back his time to GLMA. Richard moved up the ranks fast and was an honest mate. He always had a positive attitude and was willing to teach anyone anything if they asked….Richard was the best of the best."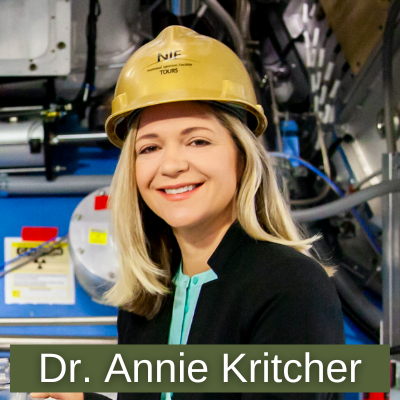 Dr. Andrea (Annie) Kritcher, 2001–2003 
As a Traverse City native, Dr. Annie Kritcher (daughter of Christopher and Pamela Kritcher) first studied engineering at NMC and was active with Phi Theta Kappa, but that was just the beginning. She went on to complete her B.S. in Nuclear Engineering at the University of Michigan and an M.S. and Ph.D. in Nuclear Engineering at the University of California Berkeley.
She joined Lawrence Livermore National Laboratory (LLNL) first as a summer intern, then as a Lawrence Scholar during her time at UC Berkeley, and as a Lawrence postdoctoral fellow. Annie's thesis on experimental measurements of X-ray Thomson Scattering to diagnose high energy density matter was conducted at the Jupiter laser facility (LLNL) and Omega laser facility (Rochester) and was featured in Science. During her postdoctoral appointment she continued her work on X-ray Thomson Scattering, investigated nuclear plasma interactions, and she co-lead a campaign to measure the equation of state of materials to hundreds of Mbars which is featured in Nature. Following her postdoc, she transitioned from experimental physics to design physics within the Design Physics directorate at LLNL where her main focuses included assessing the impact of low mode asymmetries on ICF implosions, ICF ablator material comparison, and increasing ICF implosion scale. This work has led to the highest fusion yields ever achieved in the laboratory (>1.35 MJ).
She is the design lead within the LLNL's Inertial Confinement Fusion (ICF) program for campaigns to increase implosion scale on the National Ignition Facility (NIF) and is a member of the ICF leadership team. She serves as team lead for integrated implosion modeling which oversees all experiments to increase energy coupling on the NIF. She has served as lead researcher on several projects and has published over 35 reviewed scientific papers.
A few recent publications regarding her work are here:
Design of inertial fusion implosions reaching the burning plasma regime, Nature Physics
The Future of Harnessing Fusion to Provide Limitless Clean Energy, AZO Cleantech
Annie Kritcher leads revolutionary nuclear fusion experiment, University of Michigan College of Engineering
Bob Sutherland, 1982–1983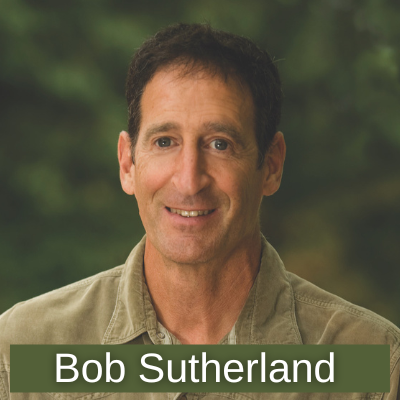 Growing up as one of six children on the shores of Lake Michigan, Bob was always encouraged by his parents, both educators, to do his best and have fun doing it. This energy and love of life is evident in all areas of Bob's career, as the visionary and owner of Cherry Republic.
In 1989, with barely enough money for gas and no funds for college, Bob started selling Cherry Republic T-shirts sporting the motto "Life, Liberty, Beaches and Pie" out of the trunk of his car. The shirts were a hit, and a few years later Bob tested the waters with a cherry-inspired cookie: the now-famous Original Cherry Boomchunka. Without a retail space to call his own, Bob hit the road again -- this time delivering his oversized cookies to area grocers and convenience stores, often losing up to $500 each week!
Eventually the cookies were a hit, and retail space was a necessity. Bob upgraded from a 3-stall garage where he had been storing his t-shirts to a 10 x 10 'store' where he fashioned shelves from an old farm market to display his eight different products. Next, a café was added, then a larger store, offices, The Great Hall, and finally The Winery. Now, the company has dozens of cherry products and as the line has grown, so has the business. Bob outgrew the trunk of his car many years ago and now has two flagship destinations in Glen Arbor and Traverse City, satellite stores, and a nationwide website and catalog business.
In nominating Bob, one person wrote, "this is one of the best examples I know of a company with multiple bottom lines that gives back to the community on many levels. It's a model for many to follow, but few can match." Bob is committed to the region, supporting clean energy, farmland preservation, outdoor recreation, and youth development, by designating a portion of Cherry Republic sales to charity every year.
Previous Outstanding Alumni
2021: Alex Brace (Engineering 2017), Dr. Amanda Kiessel (1995), Dr. Clifford McLain (Ass. of Arts 1971), Cindy Warner (1980-1983)
2020: Lorraine Beers (Nursing 1977), George Comden (Ass. of Arts 1953), David Milarch (1971)
2019: Terry Beia (NMC '83), Frank Dituri (NMC '79), Dr. Marie Socha (NMC '83)
2018: Ed Reynolds (73–78), Dr. Robert Tanis (58–59),Trevor Tkach (95–97)
2017: Judge Kevin Elsenheimer (NMC '85), Wei Cao (NMC '09)
2016: Korvyn Hansen (85–87), Therese Renis (77–78), Michelle Witkop (NMC '77), Capt. Dean Hobbs (NMC '76), awarded posthumously
2015: Sally Rogers (NMC '81), Dr. Gary Seabrook (NMC '72), Al Zelinski (NMC '83)
2014: Craig LaFave (NMC '01), John Militello (NMC '90), Angela Nahikian (NMC '81)
2013: Paul Britten (1970s), Peg Jonkhoff (NMC '76)
2012: Kathleen McManus (NMC '74), Steven Rawlings (NMC '91), Timothy Young (NMC '82)
2011: Ruth Ann LaMott (NMC '66), Glenn Wolff (NMC '73)
2010: Ross Biederman (NMC '59), Susie Janis (NMC '67)
2009: Verna Bartnick (1960s), Bruce Byl (NMC '79), Tim Dunn (NMC '92)
2008: Todd McMillen (NMC '85)
2007: John Robert Williams (NMC '76)
2006: James DeLapa (NMC '56)
2005: Larry Inman (NMC '74)
2004: Jean M. Rokos (NMC '75)
2003: Jason Allen (NMC '83)
2002: Maurie Dennis (NMC '65)
2001: Student Government Association Presidents
2000: John Pelizzari (NMC '75)
1999: Walter J. Hooper (NMC '68)
1998: James Clancy (NMC '55)
1997: Richard Benedict (NMC '84)
1996: Lloyd V. Hackley (NMC '64)
1993: John & Gloria Lyon (NMC '79)
1991: Alexander Galligan (NMC '53)
1990: David & Sally Viskochil (both Ass. of Arts, 1964)
1989: Morris Thomas (1962-1964)
1988: Charles Kesner (Ass. of Science 1959)
Call for Nominations
Nominations for consideration in 2023 are due Wednesday, March 1, 2023.
To nominate someone, please use this form or contact the alumni office at (231) 995-2825 or alumni@nmc.edu to have a paper nomination form mailed to you.