Outstanding Alumni
Outstanding Alumni
Since 1988, Northwestern Michigan College's Outstanding Alumni award has recognized graduates and past students for significant professional achievements and/or exemplary leadership in the local or global community.
Nominees for this award should have demonstrated accomplishments that also reflect the NMC values of dedication to life-long learning, innovation and integrity, and respect for and collaboration with others.
Recognition is not solely contingent on having received a degree or certificate from NMC, but on the achievements of the nominee and positive perspective as to the role that NMC played in their lives.
Outstanding Alumni are frequently invited to speak at commencement or based on their accomplishments and background, other campus engagement opportunities may be created.
To nominate someone for consideration, please use this form, or contact the alumni office at (231) 955-2825 or alumni@nmc.edu to have a paper nomination form sent to you.
2021 Honorees
Northwestern Michigan College is proud to announce the four 2021 recipients of the college's Outstanding Alumni Award, Alex Brace, Dr. Amanda Kiessel, Dr. Clifford McClain and Cindy Warner.
Alex Brace, Engineering 2017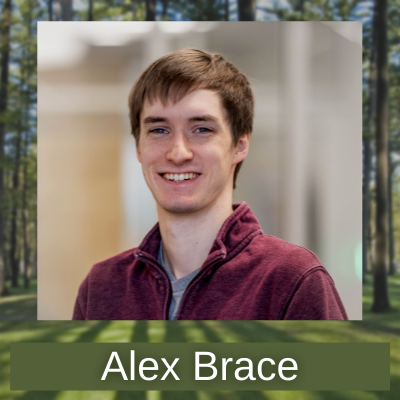 Graduating just over four years ago, Alex is the youngest NMC alum to receive Outstanding Alumni recognition. After graduating from NMC, Alex went on to complete his BSE (Bachelors of Science in Engineering) in Computer Science, Mathematics and Statistics at the University of Michigan in 2020. While at UM, he interned at Oak Ridge National Laboratory, and mentored by Dr. Arvind Ramanathan, began to conduct research applying artificial intelligence to molecular biophysics.
In September 2020, Alex started at Argonne National Laboratory as a pre-doctoral Research Associate continuing his work with Dr. Ramanathan. Through the U.S. Department of Energy National Virtual Biotechnology Laboratory project, Alex has worked on multiple projects with scientists from around the world. He has collaborated with both academia and industry partners to accomplish feats in computational science and propel real world action towards finding a cure for COVID-19. One project with Dr. Ramanathan and others led to several discoveries related to the infection of human cells by SARS-CoV-2. These discoveries led to the team winning the Gordon Bell Prize, with their interdisciplinary collaboration, setting high achievements in computational biophysics and supercomputing.
For this years Gordon Bell Prize, Alex was part of two teams which were finalists, their presentations can be seen here and here and press releases here and here.
In addition to the Gordon Bell Prize, Alex and Dr. Ramanathan collaborated with the EU Centre of Excellence in Computational Biomedicine where their AI approach has proven to be an integral component in drug discovery workflows. This approach has been applied to test the inhibitive ability of thousands of compounds against SARS-CoV-2, bridging computational studies with experimental biology.
In August 2021 Alex began his PhD at the University of Chicago. Alex plans to use AI technology to create self-driving laboratories, exploring how this technology can be applied to develop solutions to climate change, by developing innovation in agriculture, energy production, and waste management.
Dr. Amanda Kiessel,1995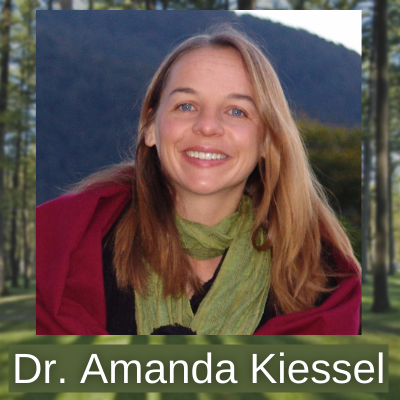 Amanda chose to start her higher education at NMC because her family has a long history in northern Michigan and deep connections with the college. After transferring to Boston University, she completed her Bachelors with a focus on ecology and environmental toxicology, and spent two years teaching at a community college in Thailand. Amanda returned to the US to complete a Masters in sustainable development through Brandeis University, with research on organic agriculture and fair trade, and later completed a PhD at the University of California, Santa Cruz with a focus on agroecology and sustainable food systems.
While completing her Masters, Amanda began working with Sevalanka Foundation, a Sri Lankan development organization focused on war affected areas of the country. In 2002, a cease-fire was signed, and the Sevalanka team asked Amanda to stay on as Program Director to help with the transition from emergency relief to self-sustaining livelihood programs. In 2004, Sri Lanka was hit by the deadliest tsunami in recorded history, and in 2006, the war started again. Sevalanka returned to its emergency response roots and rapidly expanded from 300 to 1,200 staff.
As the situation stabilized, and the post-war resettlement process came to a close, Amanda shifted her focus to self-sustaining social enterprise models. In 2012, she helped co-create Good Market, a curated platform that makes it easier to find and connect with social enterprises and responsible businesses. The approach was tested in Sri Lanka through in-person marketplace events that included organic farm products, fair trade clothing and housewares, natural food and body care, renewable energy, ecotourism destinations, zero waste solutions, and more. In 2014, Good Market began opening organic and natural food shops, and in 2016, Amanda began working with software developers to create an online platform.
The Good Market community platform now includes social enterprises, responsible businesses, cooperatives, community organizations, and networks from more than 70 countries, including many from northern Michigan. They are part of a global movement of organizations that choose to prioritize people and the planet over short-term profits. Amanda noted, "While NMC has some fantastic career-oriented programs, it's also a great place for people, like me, that are interested in a non-traditional path. There's room to explore and test out new ideas. I hope Good Market can help support the next generation of students as they start their own social enterprises and responsible businesses."
Dr. Clifford McClain, Associate in Arts 1971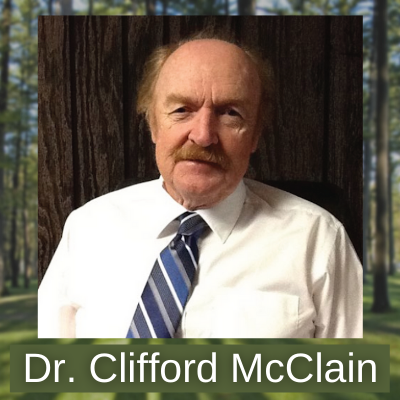 "...One of the most heart-based hope leaders I have ever met. I am where I am today because he taught me to be we-centric and not me-centric." These resounding words closed a heart-felt nomination submitted by a former student of Dr. Cliff McClain, NMC graduate and a recipient of one of this year's Outstanding Alumni awards.
Following NMC, Dr. McClain received his BS and MS degrees from the University of Idaho and his Ph.D. from the University of Nebraska in Administration, Curriculum and Instruction, with an emphasis in Agricultural Education.
He began in career and technical education (CTE) leading a small, award-winning rural agriculture program in western Wyoming. In ensuing years, he held a number of high-level positions including Director of Agricultural Education for the state of Wyoming, instructor and researcher at the University of Nebraska, and instructor at the University of Idaho. In these roles, he championed CTE to diverse political, economic and social constituencies.
In 1988, he joined the faculty of the University of Nevada-Las Vegas, later becoming the director of the Career & Technical and Postsecondary Education (CTPE) program. Under his leadership, UNLV graduates moved into careers as instructors and administrators; public and private industry trainers; and local, state and national policymakers and leaders.
Throughout his career, Dr. McClain authored nearly 150 publications and presentations, developed grants totaling nearly $2 million and maintained numerous professional responsibilities and commitments. In 2015, he was honored as the 2015-16 Career and Technical Postsecondary Educator of the Year, as awarded by the national Association of Career and Technical Education (ACTE).
Throughout his 38 years as a CTE educator, he always considered himself first and foremost a teacher. And, for Dr. McClain, to be a great teacher is to have a great journey, for both teacher and students, so that when you reach the end of your career, you can look back and say, in the immortal words of one of the Lost Boys in the movie Hook, "Now THAT, was a great adventure!" Following his retirement, Dr. McClain relocated back to northern Michigan, looking for his next adventure while still maintaining friendships with past students and colleagues in Wyoming, Idaho, Nebraska, Nevada and throughout the country.
Cindy Warner, 1980–1983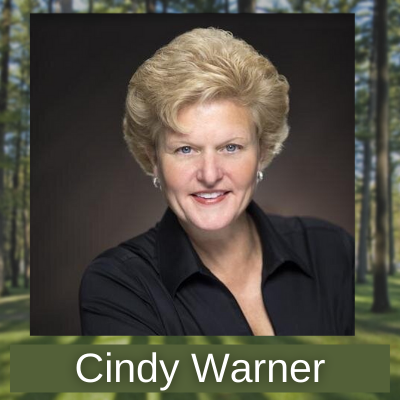 An executive technology leader, with two stints at IBM, and a decade at FedEx, Cindy Warner has spent her entire career applying leading technologies to solve operational challenges in global enterprises.
She has served as a trusted advisor to past C-level executives at GE, Microsoft, HP, Time Warner Cable, Northern Trust, Delphi, Dupont, and more than 40 other Global 1000 clients. Most recently she was the global leader for Cloud Advisory for Amazon Web Services. She transformed service and support at NetApp to enable the leading storage vendor to move to the cloud. She has helped develop cloud advisory services for Salesforce and PwC, and led sales, service, support and operations within Global 1000 organizations, the largest of which contributed over $2B in annual revenue and led global business transformation and software integration practices with more than 2,000 team members.
Throughout her career, Cindy has balanced her ambitions with a commitment to get women interested in careers in technology. Her time at NMC was spent in the business administration program, minoring in computer information, which catapulted her into higher education and her career. She is also a staunch advocate for a PSP (people, service, profit) business model, adopted while working at FedEx and based on the principle that by creating a positive working environment for employees, they will, in turn, provide better quality service to customers.
Cindy has served as the President of the Michigan Council of Women in Technology and spent decades working with various organizations to improve the representation of women in technology. Her most recent non-profit board contributions include the Gift of Adoption and Bpeace, both giving voices to children and women in the hope of transforming their futures. She has supported NMC for years, as a participant in the college's GirlTech program and by creating the Cindy Warner Endowed Scholarship. Today, Cindy serves on the Michigan Strategic Fund within the MEDC, appointed by Governor Gretchen Whitmer, investing in the future of work in the state of Michigan that she calls home.
Call for Nominations
Nominations for consideration in 2022 are due Tuesday, March 1, 2022.
To nominate someone, please use this form or contact the alumni office at (231) 995-2825 or alumni@nmc.edu to have a paper nomination form mailed to you.
Previous Outstanding Alumni
2020: Lorraine Beers (Nursing 1977), George Comden (Ass. of Arts 1953), David Milarch (1971)
2019: Terry Beia (NMC '83), Frank Dituri (NMC '79), Dr. Marie Socha (NMC '83)
2018: Ed Reynolds (73–78), Dr. Robert Tanis (58–59),Trevor Tkach (95–97)
2017: Judge Kevin Elsenheimer (NMC '85), Wei Cao (NMC '09)
2016: Korvyn Hansen (85–87), Therese Renis (77–78), Michelle Witkop (NMC '77), Capt. Dean Hobbs (NMC '76), awarded posthumously
2015: Sally Rogers (NMC '81), Dr. Gary Seabrook (NMC '72), Al Zelinski (NMC '83)
2014: Craig LaFave (NMC '01), John Militello (NMC '90), Angela Nahikian (NMC '81)
2013: Paul Britten (1970s), Peg Jonkhoff (NMC '76)
2012: Kathleen McManus (NMC '74), Steven Rawlings (NMC '91), Timothy Young (NMC '82)
2011: Ruth Ann LaMott (NMC '66), Glenn Wolff (NMC '73)
2010: Ross Biederman (NMC '59), Susie Janis (NMC '67)
2009: Verna Bartnick (1960s), Bruce Byl (NMC '79), Tim Dunn (NMC '92)
2008: Todd McMillen (NMC '85)
2007: John Robert Williams (NMC '76)
2006: James DeLapa (NMC '56)
2005: Larry Inman (NMC '74)
2004: Jean M. Rokos (NMC '75)
2003: Jason Allen (NMC '83)
2002: Maurie Dennis (NMC '65)
2001: Student Government Association Presidents
2000: John Pelizzari (NMC '75)
1999: Walter J. Hooper (NMC '68)
1998: James Clancy (NMC '55)
1997: Richard Benedict (NMC '84)
1996: Lloyd V. Hackley (NMC '64)
1993: John & Gloria Lyon (NMC '79)
1991: Alexander Galligan (NMC '53)
1990: David & Sally Viskochil (NMC '64)
1989: Morris Thomas (NMC '64)
1988: Charles Kesner (NMC '59)