Information Literacy Curriculum
Different fields, disciplines and vocations emphasize and call upon different dimensions of information literacy, but all subject areas and careers require a learner to navigate, evaluate, synthesize and act upon a range of information sources. Information literacy describes a set of aptitudes and attitudes that grow ever more vital in a networked society, economy, and information landscape.
In service of NMC's General Education Outcomes (in particular, #1 Communication and #2 Critical Thinking), as well as NMC's Strategic Direction #1: "Ensure that NMC learners are prepared for success in a global society and economy," NMC's teaching librarians are committed to working with faculty to empower students as savvy navigators, critical audiences, and confident creators of information across a variety of formats and contexts.
Information Literacy Instruction
NMC's teaching librarians offer information literacy instruction and pedagogical support across disciplines. This can take a range of forms, from asynchronous learning objects like videos and self-paced online lessons to collaboration with faculty on assignments to in-class sessions and one-on-one or small group research consultations with students.
Read more about the forms information literacy instruction can take below. Then, email library@nmc.edu to start a conversation with a teaching librarian about enhancing information literacy outcomes within your courses.
Digital & Information Literacy Videos

Self-Paced Lessons

If you have specific curricular needs related to research skills for a particular project or assignment, our instruction librarians can work with you to develop a self-paced lesson that integrates directly with your online course materials.

Research Planning Worksheet

Our Research Planning Worksheet offers students a template for organizing and managing their own research process. It is designed to demonstrate successful strategies (moving from a 'topic' to a focused research question; building a bank of keywords; considering possible sources of authority on a subject) using a sample topic drawn from past student papers. The second page is a blank, fillable version of this same template for students to use (note: make sure to download and save the template before filling it out; if you modify it in your web browser you will lose your progress).

Synchronous Drop-In Instruction

Instruction librarians are also available for 'drop-in' visits to synchronous online classes to orient students to library resources and teach information literacy approaches. You can request library instruction here.

Collaborative Assignment Design

Research has shown that information literacy functions like a muscle group: it is best developed through sustained practice and exercise rather than a one-off workshop, lesson, or presentation. With this in mind, NMC's instruction librarians work with subject area faculty to develop assignments and class exercises designed to give students an opportunity to learn, practice, and reinforce critical information literacy skills within their discipline.

Student Research Consultations

The library offers individual and small group research consultations. Designed as a remote-friendly alternative to meeting with a librarian at the reference desk, these consultations can be booked using our convenient appointment calendar, with daytime, evening, weekday and weekend hours offered.
Curricular Aims
Information literacy is recognized as an integral dimension of effective learning across the disciplines taught at NMC
Opportunities for building Information literacy are integrated throughout courses in an embedded, sustained, and progressive manner
Information literacy is assessed explicitly in course outcomes that reflect specific competencies and behaviors required to navigate, evaluate and act upon information in particular fields of study
---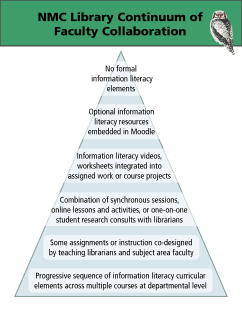 ---
Research Guides by Subject