Open Educational Resources
What Are Open Educational Resources (OER)?
Open educational resources, or OER, are freely available, openly licensed learning materials that anyone can use, share, remix, edit and distribute.
OER are free to access, available from day one of class, and customizable to fit students' learning needs.
NMC faculty are using OER and other creative textbook choices to lower the cost of education for all students. These efforts have saved NMC students over $2 million since Fall 2015. Below is a list of known courses using free or low cost materials.
OER Information for Students
Students can use the 'Zero-cost textbook' and 'Low-cost textbook' filters in the searchable class schedule to browse classes that use open or low-cost materials. Please note that while every effort is made to ensure accuracy of these designations in the registration portal, they are subject to change in rare cases of schedule revisions or instructor reassignment.
Resources for Faculty
Interested in starting a conversation about what it would look like to transition one of your courses from using a traditional textbook to adopting an OER text? Or maybe you have a particular title in mind and want to check if the library is able to purchase an unlimited-user ebook copy so students wouldn't have to purchase the book? Submit the form linked below and someone from the OER Team will reach out to assist you!
Want to explore and evaluate OER materials on your own? Our OER Guide for Faculty is a great place to start.
For more information, contact the OER Team via email: oer@nmc.edu
OER Featured in SPRING 2021 Issue of NExus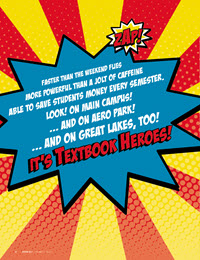 Check out the Spring 2021 Nexus story celebrating NMC's 'Textbook Heroes,' faculty members who have saved students over $2 million since 2015 by switching to teaching with open materials.
---
Research Guides by Subject