All In
A Coach for Every Student
Nexus Summer 2021 Cover Feature
---
Students expecting a solo journey once through the college admissions door have a new escort waiting at NMC: a success coach.
Coaches aren't teachers or tutors, who remain the subject matter experts. Rather, coaches help students solve the problems that interfere with their individual success, whether they're studying English or engineering, cooking or welding.
"The sooner (students) can ask for help, even for the simplest thing, the more we can help them early, the more we can support them through their entire academic career."
Todd Parker, success coach for Native American students
Started as a pilot project in 2015, coached students received passing grades more and failing grades less. They also had lower rates of withdrawing from classes, which is key to persistence and completing a degree.
"It's one thing to get them through the door, but are we making sure they're completing their goal on the other side?" said Sally Smarsty, manager of NMC's Student Success Center and the author of a grant that brought Erica Whiting, NMC's first full-time coach, to the college last December.
Whiting joined a half-dozen part time coaches that serve as hubs for students, pointing them to other services that can help them.
"We can help the students determine what kind of supports they need," said Whiting. The types of support tend to fall into three buckets: Study skills and strategies, time management, and stress reduction.
For study skills, coaches might suggest note-taking or test preparation techniques. For time management, something as simple as an online calendar tutorial could do the trick, while a student who is also a parent might need a referral for child care assistance to free up study time.
Reducing stress could mean a referral to the NMC food pantry or to a personal counselor with mental health expertise.
"We're there to connect the students," Whiting said.
Recently, coaching's gained momentum with a statewide emphasis on increasing college completion rates, especially among returning adult learners. Michigan has set a goal that 60 percent of working-age adults have a post-secondary certificate or college degree by 2030, up from 45 percent today.

"We all go through life thinking we're going to do it on our own. That's the mark of achievement—doing it alone. I think that's a really popular misconception," said Todd Parker (left), success coach for Native American students. "I think a lot of students get caught up in that. The sooner they can ask for help, even for the simplest thing, the more we can help them early, the more we can support them through their entire academic career."
Current statistics show NMC students who met with a coach increased their GPA 0.25 points, on average, above the previous semester. To that end, NMC is aiming to pair every student with a coach by the end of 2021. About 600, or 20 percent of the student body, are assigned one currently. Along with Native American students, specific cohorts exist for residence hall students, culinary, nursing, and technical academic area students, and those in developmental English (a pre-introductory class whose enrollment often includes older students, first-generation college students, non-native English speakers, or students with learning disabilities.)
"This is a group of people who haven't necessarily been successful," said developmental English instructor Nancy Gray. "They have to be convinced."
Coaching does that, so much so that Gray's embedded it into her class. Students work in virtual breakout rooms with Whiting once a week. "Every single one has reported that they have learned something that they need," Gray said. In addition, the cohort format amounts to a cheering squad.
"That's a huge part—building community and helping them feel like they belong, not only in the class, but at the college," Gray said.
Prior to COVID-19, embedding coaches also drew up the success rates of online students to equal those in face-to-face courses, said Kari Kahler, associate dean of Learning Services. Next, NMC is hoping to embed coaches in developmental math classes in order to reduce the math developmental sequence to one class.
"When we look at high-impact practices that are happening around the country, a lot of those high-impact practices involve embedding coaches," Kahler said.
Some NMC instructors require coaching but leave it up to the student to arrange. Still others offer extra credit as an incentive. Assigning coaches just as students are assigned advisors would help integrate the benefits across the board.
"We're working to create this coaching culture," Smarsty said.
Meet three students who are all in.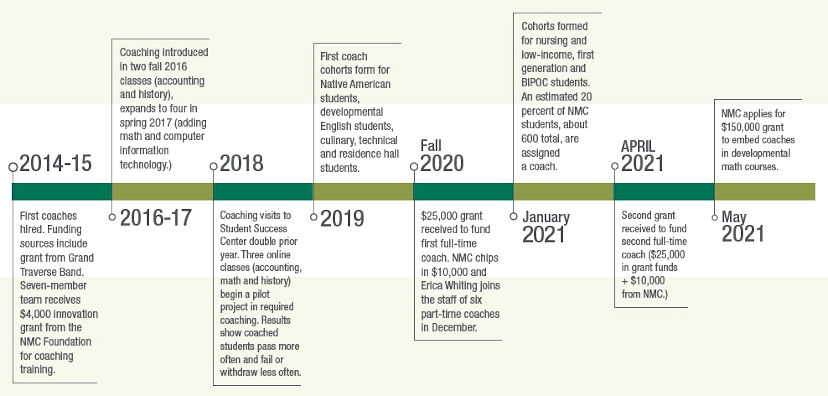 ---
Mailing List Change Requests
To be added to or removed from NMC mailing lists for print publications like Nexus, or to update your mailing address, please send an email with your name, address and request to foundation@nmc.edu, or call (877) 922-1021 or (231) 995-1021.
Meet three students who are all in
FRANK WILSON, 42

2020 associate degree graduate continuing to take classes toward a bachelor's degree in social work.
GOAL: Become a substance abuse counselor.
CHALLENGES: Addiction (has 13 years clean and sober); mobility and memory due to a stroke in 2015; shift to online classes due to COVID-19.
ON HIS COACH, TODD PARKER: "Todd got me back into the game of learning. Now that I'm making my way back, I can help people with the similar crutches that I used to have," says the father of four.
COACH PARKER SAYS: "If we had 10 percent of our students with this level of dedication to education, we'd be in a better place," says Parker, Native American student cohort coach, recalling that Wilson had to repeat a math class five times before he passed it.
Of the value of the Native student cohort, Parker says, "It's a much smaller community of students, and they're aware of each other's progress, and they support each other."
SARAH HOBART, 37

Associate of general studies student in her first semester.
GOAL: Nursing degree
CHALLENGES: 20 years since last in school; full-time job; four children (youngest are 3 and nine months old).
ON HER COACH, JEN STRAUSS: "I was second-guessing even signing up. 'Maybe I shouldn't be doing this. Maybe I'm too old to be starting out.'" This self-doubt came to a head when she received an English paper assignment. But Strauss gave her tactics to approach it. "I honestly would be way overwhelmed without her help."
COACH STRAUSS SAYS: "She really was Swiss cheesing school into her life, finding the holes and using them wisely." Holes like drive time and while she was breast pumping. Like many adult students, she brings a maturity to her education.
"They know they need help and it's not a bad thing to ask for help. (Hobart) reached out for every resource available to her so that she could do her best."
JENN MILLER, 19

Biology student planning to graduate December 2021
GOAL: Transfer for bachelor's degree, eventually work in environmental policy or conservation.
CHALLENGES: ADHD; shift to online classes due to COVID-19; is from Jackson, Mich. and has limited local support; works 20-25 hours/week.
ON HER COACH, JEN STRAUSS: "I have a really hard time with time management. She puts it all together, and everything feels not so jumbled."
COACH STRAUSS SAYS: "(Miller) used to feel really scattered and put things off." Now, after a year of weekly coaching sessions focusing on organization, study skills, and self-affirmation, "she's just four-pointing this semester. I do a lot of cheerleading for her."
---
READ THE ISSUE IN YOUR BROWSER »
Want to be added to the Nexus mailing list? Email your name and address to foundation@nmc.edu, or call (877) 922-1021 or (231) 995-1021.