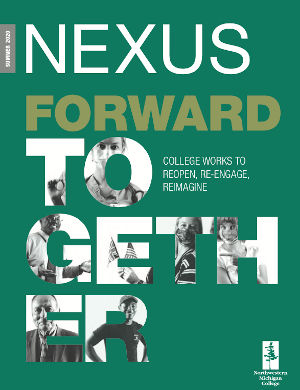 Read other stories from the Summer 2020 issue:
READ THE ISSUE IN YOUR BROWSER »
Want to be added to the Nexus mailing list? Email your name and address to foundation@nmc.edu, or call (877) 922-1021 or (231) 995-1021.
Forward Together
Values guide NMC's plan to stay safe while learning, teaching and working continue during historic crisis
Nexus Summer 2020 Cover Feature
Six months after the coronavirus first appeared in Michigan, abruptly closing campuses halfway through spring semester and shifting most classes online, the unprecedented public health and economic challenge continues to impact almost every facet of life.
President Nick Nissley has called for NMC to refocus, reopen, reimagine/re-engage and right the ship of the college enterprise. To that end, the fall semester plan offers four class formats, three of which incorporate online instruction. In all academic programs and college operations, safety and flexibility is emphasized.
What hasn't changed are NMC's values, including keeping learning at the center, striving for innovation, practicing responsible stewardship and collaborating with regional partners on behalf of our communities. Emerging values including compassion and courageous creativity. You'll see all of those values in the stories collected here, and as the college continues to heed its mission of offering lifelong learning opportunities to our communities, even amid a pandemic.
---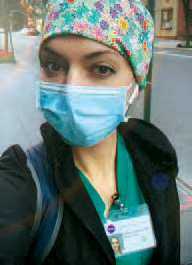 PANDEMIC 101
NURSING STUDENTS LEARN INVALUABLE LESSONS FROM INSTRUCTOR ON FRONT LINES
Sedated, ventilated, critically weakened, isolated.
That's the typical patient NMC nursing alumna and adjunct instructor Callie Leaman (left) cared for in New York City last spring, simultaneously providing a front row seat to the pandemic to her students back in Traverse City.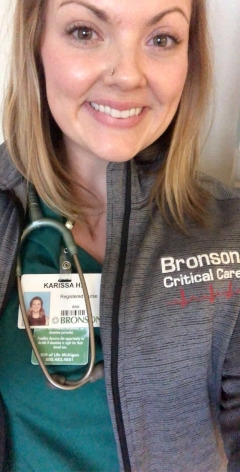 A 2015 NMC nursing graduate, Leaman worked for five weeks in the U.S. epidemic's original epicenter. She arrived at a COVID-19 ICU at New York University's Langone Health in midtown Manhattan in early April. (Fellow NMC alumna Karissa Havens, right, worked in a similar unit at Mount Sinai Hospital uptown.)
Just as New York's crisis peaked, spring semester entered its homestretch.
"Her teaching from New York gave me an experience that very few other nursing students will ever have," said student Billi Potter. "Although I'm sure she was quite busy in New York, that didn't stop her from continuing to mentor and inspire me and her other students."
Like all other NMC faculty after the pandemic forced face-to-face classes to shift online, Leaman conducted her class remotely using videoconferencing. Faculty colleague Tami Livengood assisted by running virtual simulations locally.
Student Laine Otto admired Leaman's decision to join New York's fight even with a husband and two young children at home. "She put herself at risk without even thinking twice. She worked on the frontline of a global pandemic when there is a shortage of PPE (personal protective equipment) and the risks are high," Otto said. "I truly admire her and all of the other nurses that have selflessly done the same thing."
Leaman, 32, said she was learning, too, translating her experience as an on-call ER nurse at Munson to one of the hastily transformed ICU units in New York.
"Even an ICU nurse would struggle a little bit," Leaman said, citing the severity of her patients' condition. While COVID-19 is considered a respiratory condition, "this is much more of a complex illness," she said.
"We're supporting their respiratory, with the ventilators, but they're having blood clots, their organs are failing, there's all these biomarkers that are super elevated."
The shortage of healthcare providers meant she had to do multiple jobs. At Munson, for instance, Leaman was used to having a respiratory therapist control the ventilators. In New York, that fell to nurses.
"They came around about once a shift just to check everything," Leaman said of the respiratory therapists. "We had dermatology physicians on the COVID team. It was insane."
Nurses were also tasked with providing a human connection to isolated patients.
"Most people had been in the hospital a month, without any family. We were the only people they got to interact with," Leaman said. "It's so hard and it's hard to see."
Those lessons came through the Zoom camera to her NMC students loud and clear.
"I learned just how demanding a profession in nursing can be. I also learned how truly dedicated nurses can be," Otto said.
Besides her nursing and teaching duties, Leaman kept up with her own studying. She finished her nurse practitioner degree from the University of Michigan-Flint in July.
A 2006 Traverse City West High School graduate, Leaman said she went to New York because of a "strong connection" to the city, which she had visited several times.
"It's the energy. I love the energy here. Anybody can be whoever they want to be. Nobody judges here."
Leaman's students, however, are clear on their judgment.
"I couldn't have been taught a better example of selfless service and utmost caring from a nurse," Potter said.
---
Mailing List Change Requests
To be added to or removed from NMC mailing lists for print publications like Nexus, or to update your mailing address, please send an email with your name, address and request to foundation@nmc.edu, or call (877) 922-1021 or (231) 995-1021.