SOLVING THE WORKFORCE PUZZLE
Alongside the familiar "help wanteds," new signs have cropped up in many northern Michigan businesses over the past year.
It's some version of "patience, please," asking customers to be kind to the limited staff on duty. It's also stark, black-and-white evidence of how dire the workforce shortage is as the region enters its busiest season.
In all sectors, from hospitality and retail to healthcare and skilled trades, employers are desperate for employees. Even more sought after are employees with both the hard and soft skills to go right to work, instead of needing on-the-job training.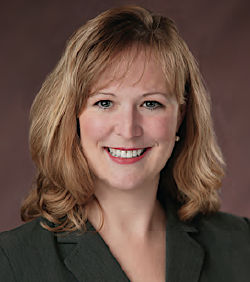 "I've never seen this level of urgency for immediate hiring, ever," said Janie McNabb (right), a 1994 NMC alumna and workforce development consultant for more than 20 years.
NMC is working with other regional leaders to solve the workforce puzzle, but it's proving tricky. Complex, interlocking factors including a skills gap, a lack of child care and attainable housing, transportation issues, broadband internet gaps and an aging population, all exacerbated by COVID-19, have created structural instability that threatens economic growth and quality of life in northern Michigan. Steadying it will require collaboration, leadership and time.
Increasing the number of shortened-course pathways in degree programs is also a goal targeted for completion in 2024 in NMC Next, the college's strategic plan. Microcredentials already exist in geographic information systems and marine technology. A heavy construction certification is in development with Team Elmer's, a Traverse City employer of 500. NMC's Police Academy will condense its program from nine to four months in 2023. McNabb listed health care and IT as other NMC areas ripe for microcredentials that meet area employers' needs.
"When a person sees a direct line, and it's quick, and it's accelerated, the more likely they are to enroll," she said.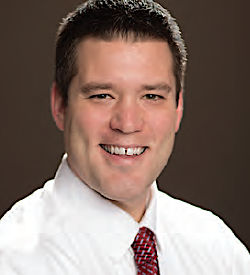 By itself though, training isn't enough. A state program, Michigan Reconnect, pays for in-district NMC tuition for adults over age 25 who don't already have a college degree. Some 19,000 adults in NMC's service area are eligible, but in Reconnect's first year, only 300 enrolled.
"There is no shortage of training right now. You could be in training for almost anything. Our area is really good about that and being reactive," said Rob Dickinson (right), regional director of business services for Networks Northwest. The organization works with employers in the 10-county area on recruiting, training and retention.
Daycare Dilemma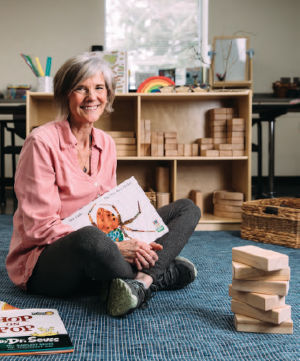 NMC Child Development Program Coordinator Cheryl Bloomquist says 70 percent of her students are already working in child care. In 2014 NMC added on-campus childcare for employees and students."Lack of and affordability of child care affects the whole picture," said Cheryl Bloomquist (left), coordinator of NMC's child development program. "It is such an important cog in this wheel of the workforce."
Bloomquist has worked in child development in northern Michigan since 1976. Access and cost have been longstanding issues, but the shortages used to be confined to infant and toddler care. Now it's crept upward to preschool age programs, she said. Both family daycares and larger, center-based programs are finding it harder to stay afloat due to a lack of staff. Providers get so desperate they turn to people with no experience. That in turn affects quality of care, which is critical for the brain development that occurs during ages 0 to 5.
"It's not just providing a place for a child to be, it's about providing good care," Bloomquist said.
Her program provides training and feeds the childcare industry. Seventy percent of her students are already working, yet still, there are more children ages 0 to 5 than available daycare slots in every northwest Michigan county.
Some employers have taken steps to improve childcare for their own employees. NMC contracted with Munson Healthcare to offer on-campus daycare in 2014. TentCraft, a large manufacturer, allows employees to bring infants to work until they are mobile. On the cost side, Dickinson said a new program, Michigan TriShare, divides the cost of childcare among employee, employer and the state. On the regulatory side, Traverse Connect is advocating for statewide legislative solutions to make childcare programs less expensive to operate.
Despite case-by-case solutions, the pervasiveness of the childcare problem still means many people fall through the cracks.
"There are pockets of success in our region," Dickinson said. "[But] one person's solution doesn't always fit another person's problem."
Housing, Transportation And Broadband
By now, the red-hot housing market is a familiar story. Its roots also stretch far back, to the 2008 burst of the real estate bubble, which dried up demand for home construction. When demand revived, skilled trades workers were in short supply. Home inventory never caught up. Now it's been further depleted by remote workers able to live anywhere. Accustomed to higher prices in bigger cities, those buyers also drive up prices with all-cash, over list price offers, squeezing out local buyers. Some call the phenomenon rural gentrification.
"My Grand Rapids income was two and a half times what it became in Traverse City, but my housing is more expensive," said Shirl Martin, 55. She's a native who boomeranged back to Traverse City in 2018 after becoming an empty-nester. Martin works in Oryana's Human Development division and is also enrolled in NMC's Business Development certificate program—another way the college seeks to fill the skills gap—as she considers buying or starting her own business.
Transportation is intertwined with housing. McNabb recalls a client who lived in Grawn and found a perfect job, except it was across the county in Acme.
"He could not make the numbers work to drive there every day," she said.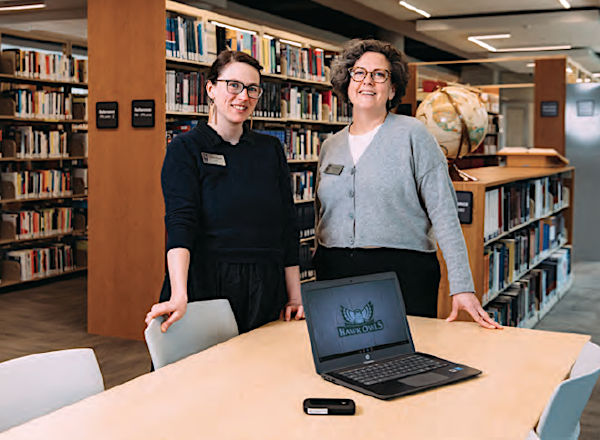 NMC's inventory of wifi hotspots, which transmit an internet connection, increased sixfold from 2019–2022 thanks to the efforts of librarians Joelle Hannert, left, and Mary Beeker, right. Students can borrow them free for the entire semester.With the expansion of remote work due to COVID-19, some workers no longer have to travel to their jobs. They can still face hurdles, however. According to broadbandnow.com, an average of 91 percent of Michigan households have access to broadband, or high speed Internet. But every northwest county except Grand Traverse is below that threshold, some well below. Less than 60 percent of Kalkaska County households have broadband coverage. In Wexford it's 65 percent and 78 percent in Benzie.
"With working from home, broadband availability is another barrier in rural areas," McNabb said.
Inadequate broadband access also presents a challenge to increasing online learning, another goal within NMC's strategic plan. NMC has tackled broadband gaps by loaning wi-f hot spots through the library. An initial supply of 10 devices in fall 2019 has risen to 68, and check-out times have risen from weeks to the entire semester.
Solutions Require Patience, Collaboration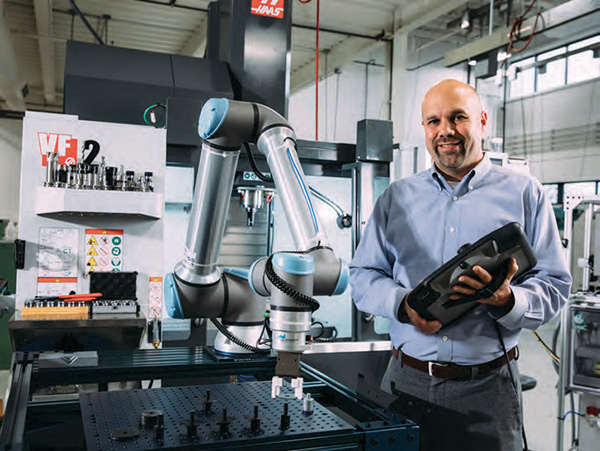 Vice President of Strategic Initiatives Jason Slade wrote a grant in collaboration with other regional partners that resulted in $150,000 for advanced manufacturing equipment. It includes a cobot, or collaborative robot (blue and gray arm) that works with an operator and CNC milling machine (behind Slade).One factor in the Grand Traverse region's favor is the number of organizations joining forces to seek solutions. In July 2021, for instance, NMC, Traverse Connect, Networks Northwest and several other regional partners received a $275,000 Michigan Economic Development Corporation grant to increase awareness and training on the most advanced manufacturing technology. Out of the $275,000 grant, $150,000 went to NMC to create an Industry 4.0 learning lab on the Aero Park campus. (See photo at left.)
Businesses, nonprofits and elected leaders are also players. Most recently, NMC Vice President for Strategic Initiatives Jason Slade joined a committee advising Grand Traverse County on how to spend $18.2 million in federal COVID-19 funds. Housing, childcare, and infrastructure improvements like broadband and transportation are all among the areas under consideration.
"Having leadership at the college be at the table around those three major areas (skills, systems and infrastructure and awareness) is huge," McNabb said.
"The silos are disappearing, and organizations are working together to solve the problem," Traverse Connect's McLellan said, citing NMC's skills gap response. "It seems so overwhelming [but] when we take it in chunks, like the skills gap study, which highlighted exactly where we needed help, that makes it, 'OK, we can tackle this.' "
She added that career exploration needs to occur at younger ages. "We've got momentum in the space of child care and housing," McLellan said. "Gearing students toward the future is where we need to start putting some of our resources."
An appreciation for the magnitude of the puzzle is also needed, McNabb said. For instance, building out a microcredential is an intensive, time-consuming process. A tracking system is needed, too, so the region can measure its progress as people like Martin earn microcredentials.
"There's nothing built into our data collection systems as a country that captures those credentials," McNabb said. Along with Michigan Reconnect, a tracking system is part of the statewide "Sixty by 30" initiative that seeks for 60 percent of Michiganders to earn a postsecondary credential by 2030. (It's now 49 percent.)
Bottom line: Expect those "patience please" signs to linger a while.
"It's not something we're going to solve, it's something we're going to continue to work at," Dickinson said.
McNabb agreed, and added that she's confident of the region's commitment to do so. Leaders being aware of problems and seeking solutions is a healthier position than ignoring or denying them.
"I absolutely believe NMC is headed in the right direction and the community is responding as well," she said.
---
---
Mailing List Change Requests
To be added to or removed from NMC mailing lists for print publications like Nexus, or to update your mailing address, please send an email with your name, address and request to foundation@nmc.edu, or call (877) 922-1021 or (231) 995-1021.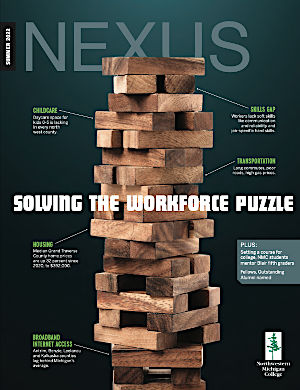 Skills Gap
The region's economic development agency, Traverse Connect, spotlighted the skills gap in a 2021 study. Its recommended quickest fx was microcredentials, or short-term programs that deliver both job-specific technical or "hard" skills and "soft" skills like communication, dependability and time management.
NMC responded immediately, creating the Workplace Readiness series. In February, the first three microcredentials in communication, computer literacy, and customer service were rolled out for virtual delivery.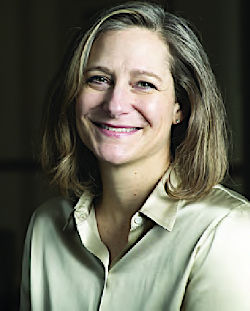 Brenda McLellan (right), director of investor engagement at Traverse Connect, is pleased at the rapid response. Another microcredential in programmable logic controllers and electronics, used in advanced manufacturing, will be introduced this fall.
"Those particular areas that team members (in the workforce) were lacking are being brought to the forefront at NMC," she said.
---
43%
JOBS IN REGION REQUIRING MORE THAN A HIGH SCHOOL DIPLOMA BUT LESS THAN A BACHELOR'S DEGREE
– TRAVERSE CONNECT 2021 SKILLS GAP STUDY
---
300
NMC STUDENTS ENROLLED IN MICHIGAN RECONNECT, SUMMER 2021-SPRING 2022 SEMESTERS
– NMC
---
19,000
ESTIMATED RECONNECT-ELIGIBLE RESIDENTS (25+ WITHOUT A COLLEGE DEGREE) IN REGION
– NMC
---
Childcare
DAYCARE SPACE IS LACKING IN EVERY COUNTY. NUMBER OF CHILDREN UNDER 5 PER AVAILABLE DAYCARE SPOT:
1.4 GRAND TRAVERSE
1.4 ANTRIM
1.8 KALKASKA
2.0 LEELANAU
2.3 WEXFORD
2.6 BENZIE
– MICHIGAN LEAGUE FOR PUBLIC POLICY, MARCH 2021
---

Housing
17.1% RISE IN MEDIAN GRAND TRAVERSE COUNTY HOME LIST PRICE, MARCH 2021 TO MARCH 2022, ON TOP OF A 15% RISE FROM MARCH 2020 TO MARCH 2021. MEDIAN HOME SOLD PRICE WAS $392,600 IN MARCH 2022.
– REALTOR.COM
---

BROADBAND
MUCH OF THE REGION IS BELOW AVERAGE IN BROADBAND INTERNET ACCESS.
91% MICHIGAN HOUSEHOLDS WITH ACCESS TO BROADBAND.
95.8% GRAND TRAVERSE
89.6% ANTRIM
87.7% LEELANAU
78.8% BENZIE
65.8% WEXFORD
59.6% KALKASKA
– BROADBANDNOW.COM
---

Silver Tsunami
NEARLY A QUARTER OF NORTHWEST MICHIGAN'S POPULATION IS OLDER THAN 65 . STATEWIDE, IT'S 17% . BENZIE, ANTRIM AND LEELANAU COUNTY HAVE MEDIAN AGES OF 50+ , MORE THAN A DECADE OLDER THAN THE MICHIGAN MEDIAN OF 39.8 .
– U.S. CENSUS, NETWORKS NORTHWEST