MOMENTUM OF THE MOMENT
NMC'S STRATEGIC AREAS, 2022–25
> Future-focused education
> Student engagement and success
> Diversity, equity and inclusion
> Community partnerships and engagement
> Institutional distinction and sustainability
Visit nmc.edu/strategic-planning for more details.
No time like the present, the saying goes
Nexus Spring 2022 Cover Feature
As 2022 begins at Northwestern Michigan College, that may literally be true: Efforts and energies in strategic planning, leadership and statewide policy are poised to coalesce this year, giving the college powerful momentum and creating a unique moment of opportunity as it embarks on its eighth decade.
Strategic planning in final stages
Last spring, NMC began its most comprehensive strategic planning process in decades. Meetings, focus groups and surveys have involved all college constituencies, from community to students, from trustees to faculty and staff. After final board approval, expected yet this winter, the college will begin to measure progress on the plan's twenty-some objectives and action items, which fall under five overarching pillars (see box). Newly-installed Vice President for Strategic Initiatives Jason Slade will oversee the plan implementation.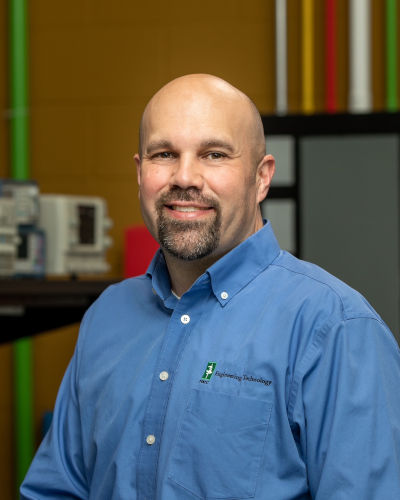 "We're at a completely new time for higher education," said Slade, left. "Students and learners have more choices and more opportunities."
Objectives created in response to that changing learner demand are spread out from 2022 to 2025, but Slade expects a quick start. For instance, to enhance future-focused education, offer more short courses (as short as two weeks), and short programs (microcredentials, accomplished as quickly as a single semester), in some academic areas yet this year. Results will inform how future-focused education expands.
"I think you'll start seeing some very targeted approaches, and use those as a barometer to figure out year two, year three," Slade said.
The plan prioritizes and builds upon existing efforts. In the area of future-focused education, NMC already offers eight- and 12-week sessions in the summer semester, and has steadily increased the proportion of online classes year-round.
Diversity, equity and inclusion (DEI) is another plan pillar with roots in a previous statement that "NMC values all people." As DEI has grown in national prominence over the last year and a half, calling it out specifically is reflective of what many organizations from various sectors have done, such as Traverse Connect, the region's economic development agency.
"I really think you'll see the college embrace it and prove that we're serious about DEI," Slade said.
Objectives in this pillar include identifying methods to track vulnerable student populations such as BIPOC students, students with disabilities, and low income students, as well as DEI-focused onboarding, training and education for current faculty and staff.
Each of the five pillars will see activity this year, involving the whole college, Slade said.
"We'll need everybody's help in getting to those goals," he said. And when that happens, NMC will be at an even better place.
"It's a great opportunity to be in the forefront [of higher education]," Slade said.
Free in-district tuition for adults 25+
Michigan Reconnect, which offers free, in-district tuition to adults 25 and older who don't have a college degree or certificate, will enter its second year in 2022. The scholarship is part of Michigan's effort to raise the proportion of adults with a degree or certificate to 60 percent by 2030. It's currently 49 percent, slightly below the national average.
In the Grand Traverse region, that amounts to more than 19,000 adults. Two of the pillars in the new strategic plan—future-focused education and student engagement and success—are aimed at better serving adult learners who need more flexible options due to jobs and family commitments. Those same obligations also make them more prone to pausing their education. Short courses, hybrid and online class formats as well as success coaches all help mitigate that risk, and are called for in the plan.
Another bachelor's degree?
The pandemic has underscored the urgent need for health professionals, especially nurses. To help meet the demand, state representatives John Roth, R-Traverse City, and John Damoose, R-Harbor Springs, introduced a bill last November that would allow community colleges to offer bachelor's degrees in nursing (BSN).
BSNs were originally part of a 2012 bill that permitted a few community college bachelor's degrees to be awarded, but wound up being stripped due to opposition from four-year colleges and universities. A decade on, the 2022 environment is more favorable, due chiefly to the dire talent shortage.
"Now, more than ever, we need to do everything we can to encourage new students to enter the nursing profession and remove barriers for degree and career advancement," Munson Healthcare CEO Ed Ness said in video testimony supporting the legislation. Munson hires more than 100 nurses per year with an associate's degree, and wants 80 percent to earn a BSN.
"This legislation would allow our existing workforce the access and convenience they need," Ness said.
The legislation passed out of committee to the full House in early December.
"This legislation has good momentum to pass," said Gabe Schneider of Northern Strategies 360, a consulting firm that NMC works with on legislative issues.
Like Michigan Reconnect, offering a BSN dovetails with the new strategic plan. NMC's associate degree nursing program is already one of the college's most competitive. Offering a bachelor's would make it more distinctive still.
"We're ready to offer that. We have a great nursing program currently in place. We have the facilities, we have the staffing," Slade said.
---
Mailing List Change Requests
To be added to or removed from NMC mailing lists for print publications like Nexus, or to update your mailing address, please send an email with your name, address and request to foundation@nmc.edu, or call (877) 922-1021 or (231) 995-1021.