Nexus - The Northwestern Michigan College Magazine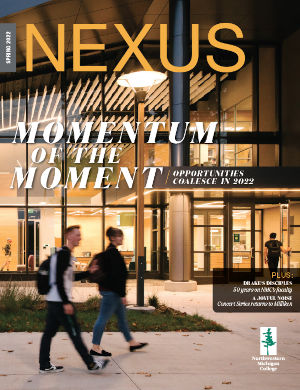 Nexus is an award-winning publication highlighting Northwestern Michigan College. It is published twice a year and produced by NMC's Public Relations, Marketing & Communications Department.
The magazine takes the place of the eight-page NorWester, retaining its best elements while allowing longer, more in-depth features and profiles.
Story ideas for Nexus and other NMC publications may be emailed to publicrelations@nmc.edu. Alumni news and updates may be submitted online at nmc.edu/alumni or by emailing alumni@nmc.edu.
Have a story suggestion?
Read past issues:
Each PDF file opens in a new window.
---
Mailing List Change Requests
To be added to or removed from NMC mailing lists for print publications like Nexus, or to update your mailing address, please send an email with your name, address and request to foundation@nmc.edu, or call (877) 922-1021 or (231) 995-1021.