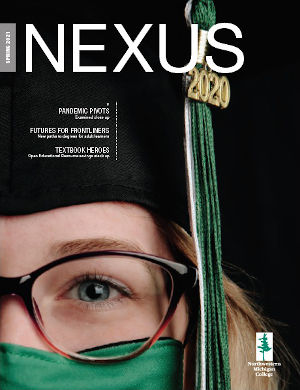 "How do we rebuild more of the human connection in this remote environment?"
2006 NMC Alumnus Stephen Siciliano
---
Read other stories from the Spring 2021 issue:
READ THE ISSUE IN YOUR BROWSER »
Want to be added to the Nexus mailing list? Email your name and address to foundation@nmc.edu, or call (877) 922-1021 or (231) 995-1021.
Pandemic Pivots
College, Community, Alumni, Reimagine Life Amid COVID-19
Nexus Spring 2021 Cover Feature
Last spring, as event cancellations poured in, Matt Bulloch, CEO of Traverse City manufacturer TentCraft, knew he needed a new revenue stream, and quick.
After international travel restrictions ruled out student Lydia Henion's study abroad trip to Brazil last June, she needed another experience to earn a Global Endorsement on her degree before she could transfer to the University of Michigan.
At Traverse City's Reynolds-Jonkhoff Funeral Home, an essential service that has stayed open throughout the pandemic, co-owner and 1976 alumna Peg Jonkhoff knew she needed COVID-safe ways for families to observe rituals that would bring comfort and closure.
In Seattle, Microsoft program manager and 2006 alumnus Stephen Siciliano knew he needed to improve technology tools to help thousands of people still work together despite being thrust into a diaspora of home offices.
The pandemic forced all four to pivot from planned, business- as-usual ways of getting things done. To reimagine new ways, all drew on skills like agility, responsiveness, foresight, collaboration and courageous creativity that were instilled at NMC.
"If it weren't for NMC Lean training, we wouldn't have survived the pandemic," said Bulloch of TentCraft, a longtime client of NMC Training Services. The company pivoted from mobile marketing tents for massive events like the NCAA Final Four and the SXSW festivals to medical tents for drive-through COVID testing. "We were able to shift and supply the market demand." We take a closer look at these pivots.
Pivoting To Serve Students
NMC's short-term study abroad program, ranked No. 1 among Michigan community colleges, is a pride point. Henion was among seventy students poised to depart for seven different countries last spring when COVID lockdowns grounded them all. International Services Director Jim Bensley immediately got to work tapping his contacts around the globe to devise virtual experiences until travel is safe again.
"We don't want to put a pause on student engagement with the world," said Bensley. "We would prefer them to be face-to-face, but we have to deal with the current situation, and we've still been able to move forward with cultural exchange."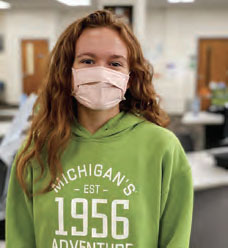 Henion (left) was at the top of his list. She was set to transfer to the University of Michigan to study international relations last fall, but the cancellation of the Brazil trip meant she still needed to check off the experiential criteria for her Global Endorsement. Through contacts in India, where NMC students traveled in both 2018 and 2019, Bensley found multiple intern- ship opportunities.
Henion chose to work with Myna Mahalia, a Mumbai-based foundation which employs women to make menstrual hygiene products, a subject considered taboo in much of the country.
"It's based on women's activism," Henion said. "I love that so much. I felt really inspired by it and felt (Myna Mahalia) was somewhere I could explore more on feminism at a global level."
Her weekly assignments have focused on marketing and fundraising for Myna Mahalia, especially via social media. She juggles a nine and a half hour time difference to meet with her Indian mentors, but it's been an instructive experience since she hopes to work internationally.
"I end up having to wake up really early or stay up late at night to have good communication," Henion said. "I definitely feel I'm learning a lot more career-building skills."
After the extra semester at NMC, she'll transfer to U-M this month. Bensley plans to continue virtual internships after study abroad trips resume, hopefully in 2022, to increase options.
Henion's experience shows virtual stands in well for face-to-face experiences in many ways. It can even expand student access, Bensley notes, for students who can't afford to travel internationally. However, it's not well-suited to other programs, like NMC's one-of-a-kind associate's degree in freshwater studies program.
"We cannot teach this on a screen," Freshwater Studies instructor Constanza Hazelwood said. "That's what got me thinking we must have students outdoors."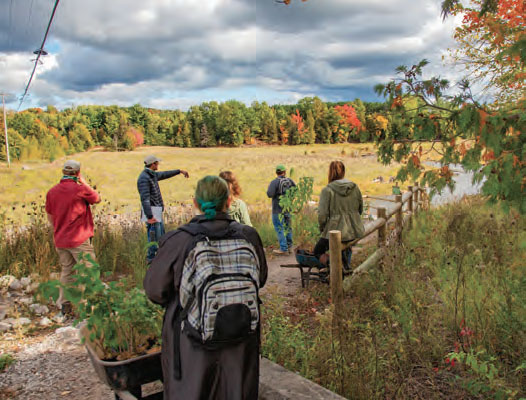 Freshwater studies students plant trees with the Grand Traverse Conservation District by the Boardman River.So this fall, she pivoted from the Great Lakes campus classroom where she's taught for 11 years. She tapped nine community organizations, including the Grand Traverse Conservation District and Glen Lake Association in Leelanau County, and divided her class into small groups to work with them. Each student got project research, management, and communication experience in areas that aligned with their interests, from water quality monitoring to habitat restoration to laboratory testing.
Field work and community partnerships have been part of the course in the past, but this time, it's a much deeper dive.
"This time the students are really engaged in the work of the organizations," said Hazelwood. "It's very much immersion in the professional world."
Pivoting To Serve The Community — And Beyond
Travel restrictions and limitations on gathering size could exact an even higher emotional toll on those who must hold funeral and memorial services amid a pandemic. But streaming services have allowed 1976 alumna Peg Jonkhoff and husband Dan to continue the tradition of caring for families that they've prided themselves on as owners of Reynolds- Jonkhoff Funeral Home since 1992.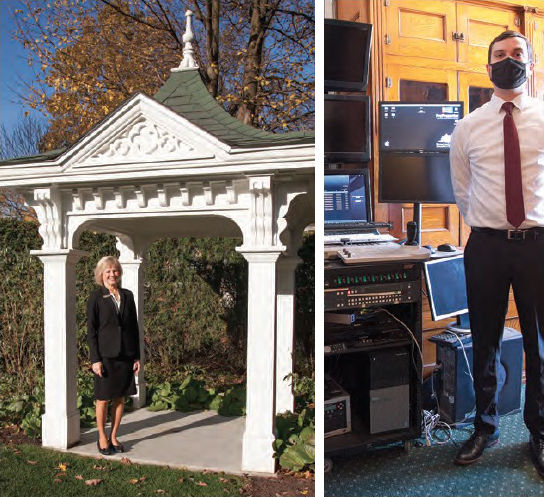 Alumni Peg Jonkhoff, 1976, and Brandon Lohr, 2010, worked to move funeral services at Reynolds-Jonkhoff outdoors and online.Their YouTube channel, rjfh.tv, existed before the pandemic. But in 2020 its usage grew significantly, with 75 services streamed. That capability relieves families whose members are often scattered. Viewers have watched streamed services from as far as the United Kingdom, India, Saudi Arabia and China, said Brandon Lohr, audio-visual specialist at Reynolds-Jonkhoff and a 2010 NMC graduate.
"We had the technology and the foresight in place," Jonkhoff said. "We literally were able to webcast, which I'm so proud of, to anywhere in the world."
During the summer and fall months, Reynolds-Jonkhoff also added an outdoor tent in its garden. Only one or two funerals were held outdoors in 2019, but in 2020 it became the norm. Services were also arranged at other outdoor locations, including a baseball diamond in Lake Leelanau and a gazebo in Empire.
"We've had to be really, really creative and flexible," Jonkhoff said. But they're happy to do so. "We're here to help people cope with their loss. They're already coping with so much."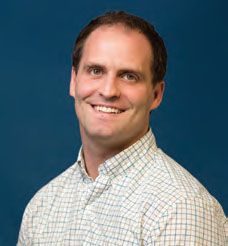 Beyond northern Michigan, many communities have been served by TentCraft's medical tents. Pre-COVID, the company had never sold to a healthcare client, but early on in the pandemic CEO Bulloch (right), a veteran of the Army National Guard, tapped his contacts and secured the Veterans Administration, the largest healthcare network in the U.S., as a customer. By late fall, medical tents were 90 percent of TentCraft's work.
A Stanford MBA, Bulloch credits Lean principles that TentCraft received from NMC training as enabling the company to make the shift. Using a plan-do-check-adjust cycle, the training helps companies gain comfort with uncertainty and rebound from failure — like a cot TentCraft made to use inside the medical tents that didn't sell.
"I learned more from the NMC Lean training than I learned at Stanford. By far," Bulloch said.
He's also proud that TentCraft's work contributes to the fight against COVID.
"The work that we're doing is helping not thousands of people, but hundreds of thousands."
​Pivoting To Serve 100 Million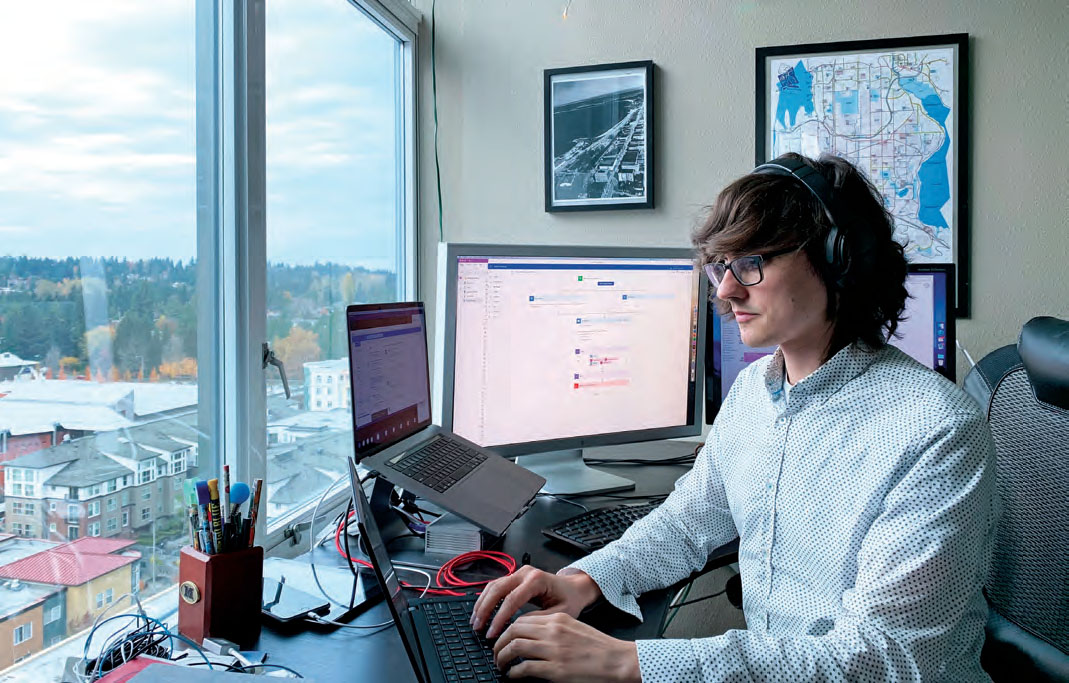 2006 alumnus Stephen Siciliano at his home office in Seattle2006 alumnus Stephen Siciliano, 33, (right) has worked for Microsoft since 2009. His priority these days is improving Microsoft's tools for collaboration, specifically Microsoft Teams. The application includes videoconferencing and has 115 million daily users worldwide.
"How can we add new options, new capabilities, so that it's easier to collaborate?" Siciliano said, citing examples like automatically creating a task as a follow-up from a meeting, or automatically sending out meeting notes to all participants.
Ways to make remote work and school more effective are also a priority. In the Teams video conferencing application, for instance, Microsoft added a "Classroom" view. Instead of squares for each person, it makes them appear seated in a chair, as if in a classroom or lecture hall.
"They did some studies, and people were more attentive once they brought them out of their cubes," Siciliano said.
Lots of work remains, he said.
"If this continues for a while, we'll have to be more creative," he said. "We need to figure out how do we build more of the human connection in this remote environment."
But as he works sequestered in a combo bedroom-home office in Seattle himself, Siciliano credits how NMC initially instilled independence that's critical to COVID times.
"As folks are working from home, it's more important than ever that you have that self-driven motivation to get the job done," he said. "NMC was definitely where I picked that up."
---
Mailing List Change Requests
To be added to or removed from NMC mailing lists for print publications like Nexus, or to update your mailing address, please send an email with your name, address and request to foundation@nmc.edu, or call (877) 922-1021 or (231) 995-1021.