Promises Made, Promises Kept
25 Years and Counting
University Center Brought Advanced Degrees To Northern Michigan
---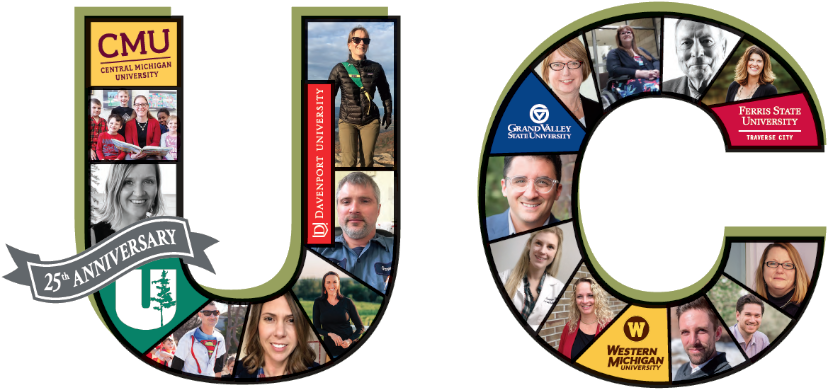 At your child's school. Running a winery. Under the hood of your car. At your doctor's office. Running a tribal government. Thirty thousand feet overhead, in an airplane cockpit.
All these are places where you'll find graduates with four-year degrees, earned at NMC's University Center (UC). They embody the fulfillment of a promise made 30 years ago, when a community-wide goal-setting initiative, Grand Traverse 20/20, determined that it was a top priority for residents to be able to earn bachelor's degrees and beyond without leaving the region.
NMC stepped up to the challenge and need, and the UC opened in 1995 with more than forty programs offered by a dozen Michigan colleges and universities. In the 25 years since, UC partners have granted more than 9,000 bachelor's, master's, and doctoral degrees, plus specialty certificates and endorsements.
Programs are clustered in three main areas: business, education and health, and UC graduates have gone on to succeed as professionals, entrepreneurs and leaders. A sample are pictured here. Meanwhile, the UC continues to evolve. As more college students shift to online learning, the composition of the campus on Boardman Lake is changing. This fall, for example, the Greenspire School will begin offering high school classes in UC classrooms. Whatever community needs arise over the next five, ten or 25 years, NMC will be a willing partner to meet them.
Learn more: nmc.edu/uc25
---
Mailing List Change Requests
To be added to or removed from NMC mailing lists for print publications like Nexus, or to update your mailing address, please send an email with your name, address and request to foundation@nmc.edu, or call (877) 922-1021 or (231) 995-1021.