Welcome to the NMC Varsity Esports Program!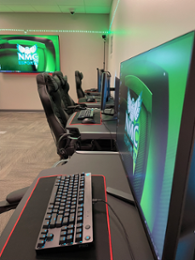 NMC Esports Lab (download a high-resolution version here)Northwestern Michigan College's esports program began competition in Fall 2021 in the National Junior College Athletic Association Esports Conference, Michigan Esports Conference, and other tournaments.
Student athletes receive $1,000 in total scholarship money ($500 for Fall and $500 for Spring semesters) and get dedicated coaching and development. Teams practice and compete in the new esports lab in the West Hall Innovation Center.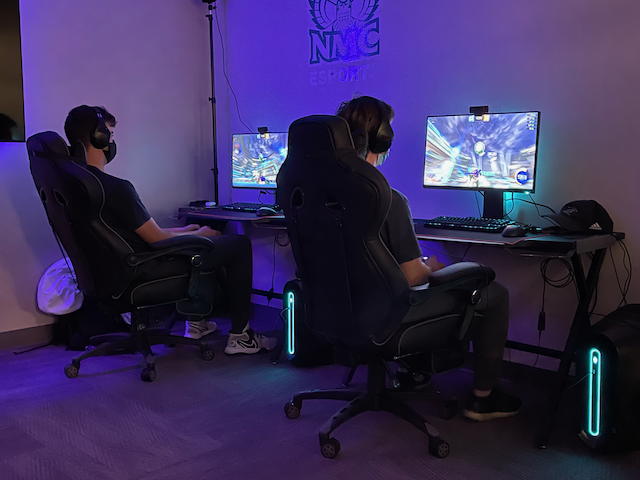 Esports player (download a high-resolution version here)Student-athletes must:
be high school graduates,
be enrolled full-time (12 credits or more) at NMC, and
maintain a minimum 2.0 GPA to remain eligible.
NMC is also looking for students interested in being part of the program as content creators, casters, statisticians and live stream managers.
Follow the program online!
Frequently Asked Questions
What is Esports?

Esports describes the world of competitive, organized video gaming. Competitors from different teams or leagues compete in games like Rocket League, Overwatch, League of Legends, Rainbow Six, and EA Sports titles. In 2020, the global Esports audience was 586 million, more than double 2015 figures. It had overtaken the combined audience of American professional football and rugby and was poised to overtake baseball. Prize money won in tournaments has soared from $4 million in 2009 to $173 million in 2019, and the number of professional athletes tripled between 2014 and 2019.

What are the benefits of collegiate Esports?

Similar to other collegiate sports, esports provides the opportunity for students to grow their skills in communication, teamwork, collaboration, critical thinking and time management. It can give students a way to connect with other students in the college community and it can provide an opportunity to transfer to a four-year university that also has an esports program.

Esport Athlete Requirements

Student athletes must maintain full time status, a minimum of 12 credits, and a 2.0 or above GPA.

Will there be travel involved for competitions?

Most competitions and tournaments will occur online, but there may be opportunities to participate in LANs hosted by other colleges.

Do I have to be a certain rank to join?

We are currently looking at all applicants for our initial year. If you do not currently have a rank for the game you are interested in playing, we highly recommend that you perform your ranked placement matches to determine skill level.

Can students join the team in a non-competing role?

Yes! We would like to have at least two students to help with statistics, casting, media, and content creation.

What is the time commitment to be an esports athlete?

Student athletes will have a set practice schedule and competitions every week during the season. As scholarship athletes, they will be expected to attend assigned practice times and competitions. Advising will work with students to design a schedule that works around these time commitments.
NMC Esports Program Interviews
An inside look at Northwestern Michigan College's Esports Program and players.
---
Interested in joining?
Any interested future or current NMC students are welcome to contact Terri Gustafson, Esports Director, through email at tgustafson@nmc.edu, Discord (DirectorTerriGus#3031) or by filling out the NMC Esports Interest Form.
---
In the News
NMC Set to Kick Off First Esports Season
9&10 NEWS
September 20, 2021
Game on, Hawk Owls: NMC to field pair of scholarship esports teams
RECORD_EAGLE
April 11, 2021
THE TICKER
April 8, 2021
Northwestern Michigan College recruiting members for Esports varsity teams
UPNORTHLIVE
April 7, 2021
---
Learn more about Esports
Why universities are embracing esports
CRUCIAL
April 20, 2020
Embracing eSports in Higher Education
PUPN
January, 2020
Global Esports Revenue Reaches More Than $1 Billion As Audience Figures Exceed 433 Million
FORBES
December 13, 2019