Paul's Story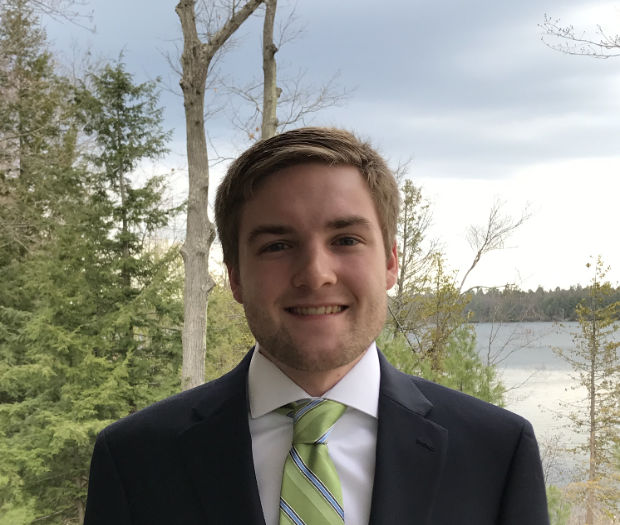 Thanks to you, Paul received a scholarship that allowed him to graduate from NMC.
Paul didn't qualify for student loans, and his parents tried to help in any way they could, but he was worried he'd have to go into a large amount of debt to earn a college degree.
Thanks to you, he didn't have to.
"Earning a scholarship allowed me to focus on academics and not worry about paying for school. It gave me more time to participate in extracurriculars. It gave me a leg up to get into the University of Michigan."
During his time at NMC, Paul took honors independent study classes in subjects of interest. He gained experience in research, public speaking, and leadership. He even started his own student group, Students for the Savior, to help other students reach their goals.
Thanks to you, Paul developed his leadership skills while at NMC.
After graduating with his associate degree, Paul enrolled at the University of Michigan to pursue a degree in philosophy.
Because of the coronavirus pandemic, Paul's classes through the University of Michigan are virtual. In addition to his online classes through Michigan, Paul is continuing his education at NMC. He stayed in Traverse City, taking his classes from both schools online, and working as a Resident Assistant in the dorms at NMC.
"I decided to take additional classes at NMC because I could bolster my resume, earn certificates, and get real-world experience." On top of his 18 credits through Michigan this semester, Paul is taking 7 credits through NMC.
"NMC has provided a place to live, excel, learn applicable life skills, and at the same time unleash creativity and make my ideas happen."
Your support of NMC gives students like Paul the resources and financial relief to focus on their classes and gain valuable experience through opportunities outside of class.
Paul said, "I've been able to try things with a sort of safety net and I have gained confidence during my time here to be a leader in the world and in my life. Having my roots at NMC has given me the opportunity to excel at my goals, learn about diverse perspectives, and feel like I'm making the most of my life."
Falechia's Story
You Kept Falechia in School
When Falechia's laptop broke and her tires were so bald she couldn't drive, she didn't know how she was going to finish the semester.
Falechia was in her first semester at NMC and thought she was going to have to drop out. But thanks to you, she didn't have to.
Falechia dropped out of high school at 14 years old.
A few years later, Falechia found herself in an abusive relationship while she was trying to get her GED. Thankfully, she was able to get out and worked hard to receive her GED. And she knew what she wanted to do.
Falechia wanted to work in environmental studies and found that NMC had the perfect program for that, Freshwater Studies.
But as a full-time caretaker for both her mother and grandmother, a degree was something she thought might not be possible for her. She decided to try, and enrolled in NMC in the Fall of 2020.
Falechia pays for school on her own. During the last few weeks of the semester, Falechia's laptop broke and she was told not to drive because her tires were so worn.
Without proper tires, Falechia couldn't commute to NMC or work.
Without a laptop, she couldn't finish the classes she'd worked so hard in throughout the semester.
You are the reason that Falechia was able to finish the semester.
Because of you, Falechia received a scholarship that allowed her to purchase a new laptop. NMC staff also connected her to a community resource that provided two new snow tires.
Falechia finished her first semester of college with your help.
Falechia wants you to know that, "If my computer didn't work and I couldn't drive, I would have had to drop out. I'm so thankful."
Your support is the difference between finishing classes and dropping out for a student like Falechia.
Kaylie's Story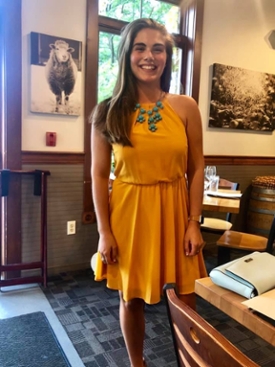 Kaylie (NMC '21) is facing the coronavirus pandemic on two fronts: school and work.
Kaylie is an ICU nurse assistant at Munson in Traverse City and is working toward her associate degree in nursing at NMC.
Kaylie always dreamed of being a nurse and knew she wanted to attend NMC because she could live at home and pay for school herself. Before the coronavirus pandemic, Kaylie was working at Munson and babysitting on the side to earn money for school.
When the pandemic started, elective surgeries were canceled. There weren't a lot of patients, so Kaylie's hours were cut. Since many people were working from home, there wasn't a need for babysitters either. Kaylie didn't know how she would pay her tuition or bills with a reduced income.
You helped Kaylie pay for classes and stay in school.
Kaylie said, "Classes were hard during coronavirus. Nursing school is not easy in general and I'm glad I had support from my classmates and family, and was able to focus on school and not worry about paying."
Because of you, Kaylie received a scholarship that paid for an entire semester of classes. She also received scholarships during the coronavirus pandemic to help pay for class supplies and bills.
Right now, Kaylie is worried about classes in the fall. "I'm mentally preparing to have classes online and that I may not be able to complete my clinicals this year," said Kaylie. "But the NMC nursing staff have been incredibly supportive and I have felt listened to and heard."
Kaylie is now back to work at Munson and wants you to know, "I'm very grateful for the support I've received and really appreciate it. Everything helps."
Megan's Story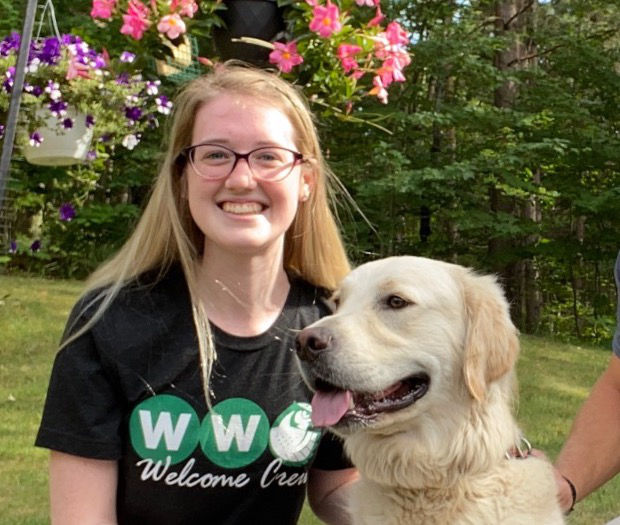 Megan (NMC '20) enrolled at NMC as a last minute decision.
She is a first generation college student and admits that at first she "was scared to come to NMC."
Megan soon started a job in the NMC Advising Center and was able to grow her NMC community.
Originally, Megan's tuition was covered by the Tuition Incentive Program but when that benefit ran out she didn't know how she was going to continue her education.
Thanks to you, Megan received a scholarship to help her pay for classes last year. And she says, "the support I've received from donors made me confident in my choice to go to school."
When Megan's hours were cut at work due to the coronavirus she didn't know how she would make things work.
Because of you, Megan didn't have to worry.
Megan received another scholarship to help pay for her classes and bills.
Megan shared, "having a scholarship helped relieve stress and made it easier to focus on important things like classes and family, without having the added anxiety about money."
Your support has allowed Megan to focus on her classes and finish her last semester at NMC.
Megan is focused on the future, and is going to continue her education in hopes of working in wildlife rehabilitation.
"I'm so thankful for donor support throughout my time at NMC. I don't know if I could have completed my degree without their generosity."
Kathryn's Story
You are part of the generous NMC community that responded to the coronavirus pandemic and helped students pay bills, buy food, and pay for classes when there was little hope they would be able to.
Students like Kathryn.
Both Kathryn and her husband are students at NMC. Currently, she is working towards her baking certificate and a bachelor's degree in Business Administration.
Kathryn and her husband were unsure how they were going to make it through this pandemic. Kathryn lost her job on March 16. Two weeks later, her husband was also unable to work.
Kathryn found herself with a lot of expenses like rent, groceries, and technology, and no income. As a student, Kathryn was ineligible for both unemployment and the economic stimulus check.
That's where you stepped in to help.
Because of you, Kathryn and her husband each received a scholarship that allowed them to pay bills and keep their summer classes. Kathryn said without the help, "we would have had to drop the classes, which would have been a huge setback and disappointment."
When classes transitioned online, Kathryn was working hard to complete her final class for her baking certificate and business classes for her bachelor's degree. Although it was hard to miss the full class experience, Kathryn wants you to know, "I am beyond appreciative for all that the donors have done to make college students like myself have hope during these times of uncertainty."
You helped Kathryn finish the semester strong. "We have been supported, thought about, and encouraged during one of our most challenging experiences. It makes me grateful to be a Northwestern Michigan College student and motivates me to do the best I can."
Kathryn is looking forward to her summer classes but is still worried about bills and how many classes they'll be able to afford in the fall.
Makayla's Story
When Makayla started in the nursing program at NMC this semester, she never imagined she'd be finishing her classes from home.
Due to the coronavirus pandemic, Makayla has been unable to work at her job at TJ Maxx. As a student, Makayla is ineligible for unemployment and also wasn't eligible for an economic stimulus check.
Makayla also found out that two of her friends and her aunt were diagnosed with COVID–19.
"It has been a very emotionally and financially hard time for me," Makayla said.
Makayla didn't think she could pay for the classes she needs next semester.
Thanks to you, Makayla doesn't have to worry about how she's paying for her classes.
Makayla received emergency aid and a scholarship, thanks to you. She says the scholarship, "took off the burden of paying for school."
Makayla's loved ones have recovered from COVID-19, and she is looking forward to the day she can safely visit them again and return to classes in person.
Dennos Story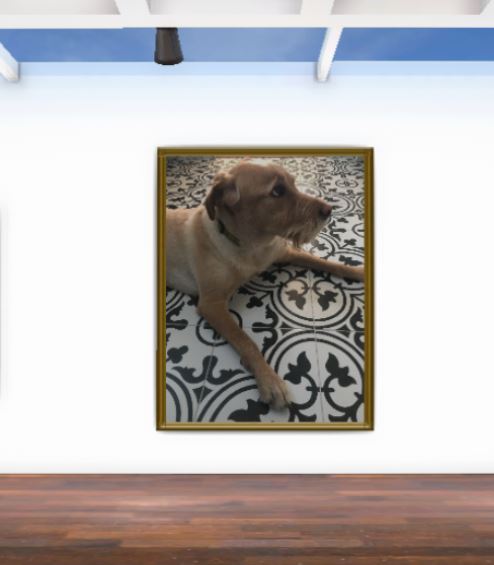 If you recently made a gift to support the Dennos Museum Center, thank you for responding so quickly and generously.
The Dennos has lost admissions and ticket sales revenue during our closure, and needed your support to help us meet this budget shortfall and keep our programming available for all.
Your recent gift helped the Dennos mitigate our budget shortfall, and also provided virtual art programming now available to everyone in our community, like our Live & Local Concert Series, DRAW NoMI, and K-12 Virtual Exhibit.
Because of you, Sylvie (age 9) participated in the K-12 Virtual Exhibit and learned more about photo composition from our Curator of Education, Jason Dake.
This is her project in the virtual exhibition:
If you made a gift, thank you for helping us lessen this financial challenge, and for providing virtual ways for our community to connect with the arts while the building is temporarily closed.
Natalie's Story
You helped lift the weight off of Natalie's shoulders.
When she was 4 years old, Natalie's dad died and her mom turned to drinking.
Now at 21 years old, Natalie will graduate from NMC despite the obstacles put in front of her.
This is how you helped her.
Natalie Wedra (NMC '20) liked school as a kid. It wasn't always easy, but she worked hard to do well.
This success encouraged her to take advantage of the Early College program at NMC where she could earn her associate degree while in high school.
When Natalie was in 11th grade, her mom's liver failed due to alcoholism. Natalie made the hard decision to drop out of the Early College program.
When Natalie graduated from high school, she knew she wanted to attend NMC again.
While her mom struggled with alcoholism, Natalie stepped up as the primary caregiver for her younger siblings who are triplets. She took them to doctor's appointments, paid for their phones, and paid for their basic necessities like food and clothes.
To pay for what her siblings needed, and to pay for classes at NMC, she began to work full time as a manager at fast-food chain Sbarro.
She worked through the fall semester and was able to start at NMC in the spring, paying out of pocket for all of her classes. She took the next fall semester off to work full time so she could pay for classes the following spring.
Thanks to your support, this is the first year that Natalie has been able to attend NMC full time.
The difference? Natalie received a scholarship.
"Receiving a scholarship helped me not worry about paying for school," says Natalie. "I was able to focus on what I needed to, like my life at home and caring for my siblings. It made that easier."
This year, Natalie has had time to focus more on studying and supporting her siblings, instead of worrying about how she was going to pay for classes.
You helped lift weight off of Natalie's shoulders and she wants you to know that, "I'm proud of what I've achieved and the progress I've made from where I started to where I am now."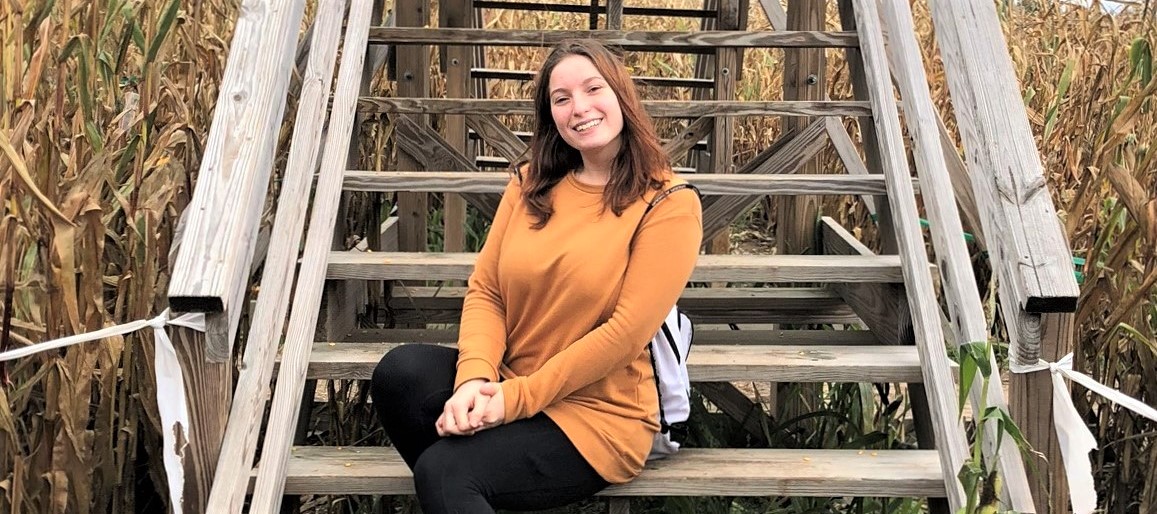 Katy's Story
Thanks to your scholarship support, Katy will go from high school dropout to college grad.
"It completely blew my mind—I was a high school dropout!" said Katy Rogers about receiving scholarships to NMC. Thanks to your generosity, more than a decade after dropping out of high school, Katy is on her way to earning her Office Administration Certificate at NMC.
At seventeen, Katy dropped out of high school. She was pregnant with her first son. She married her son's father before her eighteenth birthday. By twenty-one, Katy had endured years of domestic violence. She was pregnant with her second child, and knew she had to get out of her marriage.
Thankfully, she did. She worked as a housekeeper, bartender, and retail clerk to make ends meet. She now has sole custody of her two sons. Then, she met a supportive man. Life happened, and soon Katy was caring for four children and her husband, a disabled veteran.
To support her family, Katy worked the opening shift at Burger King and the closing shift at Subway. But she wanted more for her future—and for her family's future.
Katy began working as a home health aide and realized that the only way to move up in her company was in administration. So, she enrolled in NMC's Office Administration Certificate program.
Because of your support, Katy has earned multiple scholarships to help cover the cost of tuition, fees, books, transportation, and childcare.
"Without scholarships, school would not be an option," said Katy.
Thanks to you, Katy is well on her way to earning her degree at NMC. But she won't be done. Katy plans to earn a Bachelor's Degree in Criminal Justice through Ferris State at NMC's University Center. She wants to be a Victim's Advocate for survivors of domestic violence—so she can help people escape violent situations like the one she endured at a young age.
Once a high school dropout and victim of abuse, Katy worked hard to become a professional caregiver and survivor of violence. Thanks to your scholarship support, she'll soon add "college graduate" to her list of accomplishments.