President's Office
Timothy J. Nelson, President
Timothy J. Nelson has served as President of Northwestern Michigan College since February 2001. President Nelson has guided NMC through the implementation of a strategic plan consisting of five key strategic directions including the establishment of national and international competencies and leadership in select educational areas connected to the regional economy. The college community has embraced a culture of continuous improvement and collaborative relationships. During his presidency, NMC has continued to grow and evolve. The college has created global partnerships with institutions in Brazil, China, Costa Rica, Great Britain, Russia, South Africa, Sweden and others. NMC has been ranked 16th in providing global experiences for its students. He believes that every student needs to have international experiences, and has helped to establish a Global Opportunities Fund to increase those opportunities for NMC students.
During his tenure the college was instrumental in the passage of state authorization to permit community colleges to offer baccalaureate degrees, allowing NMC to be the first in the state by offering a Bachelor of Science in Maritime Technology with four distinct majors. Under President Nelson's leadership the college has completed more than $100 million in construction and renovation projects on all four NMC campuses, the Front Street Campus, the Great Lakes Campus located on Grand Traverse Bay, the Aero Park campus adjacent to Cherry Capital Airport, and the Boardman Lake Campus. He has overseen the creation of the Great Lakes Water Studies Institute, the Health Education Institute (in collaboration with Munson Healthcare), a Michigan Energy Demonstration Center and a curriculum in entrepreneurship. He is actively committed to helping veterans achieve success, leading NMC to be ranked in the top 5 Military Friendly community colleges in the United States. The NMC Foundation is also nationally recognized and has increased its endowment from $11 million to over $35 million in the past five years.
President Nelson is recognized as a visionary leader at the national, state and local levels being invited to present on topics from economic development to the new economy to international higher education, and to contribute in areas of policy and governance relating to higher education and economic development. He is a member and past chair of the Michigan Community College Association, currently serves as chair of the organization's Legislative Committee, a member of the American Association of Community Colleges (AACC), the Executive Board of the Continuous Quality Improvement Network, the Munson Medical Center Board of Trustees and vice chair of Munson Healthcare's Finance Committee, the Traverse City Rotary Club, member and past board chair of the Traverse City Chamber of Commerce, and member of the Executive Committee and Economic Forecast Planning Committee, as well as the Traverse City Executive Group. Past memberships include AACC's Presidents Academy Executive Committee, Champion of the regional Grand Vision, NorthSky Nonprofit Network Advisory Board and TCAPS Tomorrow group of the Traverse City Area Public Schools. He was also a past member the Prima Civitas Foundation Board and of Future/Innovation Research Strategy Team and the Northern Michigan Knowledge Economy Strategies Project.
President Nelson has had four gubernatorial appointments by two different Michigan governors: The Council for Labor and Economic Growth, serving as chair of the Entrepreneurship Committee, the State of Michigan's P-20 Longitudinal Data System Advisory Council, community college representative on the MPSERS state retirement board, and currently serving on the Building the 21st Century Economy Commission for Governor Rick Snyder.
Before becoming president, he was NMC's Executive Director of Administrative Services. This is his second stint at NMC, as he was the college's Residence Hall and Apartment Supervisor from 1975 to 1977. He has founded three private business firms and taught small business management, entrepreneurship and corporate finance full-time at Michigan Technological University. He also taught at Western Michigan University and Olivet College in Olivet, Michigan. He held several leadership posts at Olivet where he served as the Department Chair of Business Administration and Economics, Vice President for Enrollment and Strategic Management, Interim Vice President for Institutional Research, and Vice President for Finance and Administration.
President Nelson earned his Bachelor of Science in mathematics from Grand Valley State University, a Master of Science in Business Administration from Michigan Technological University and completed studies at the institute for Educational Management at Harvard University. He is married to Nancy Johnson who serves as one of Northwestern Michigan College's strongest and most effective advocates.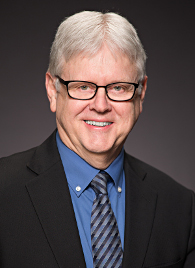 "At NMC, we are a community of learners. Whether you're seeking a college degree, personal enrichment, corporate training, or cultural activities, you can find it here. In today's world, learning is forever and for everyone."
TIMOTHY J. NELSON
President