Center for Instructional Excellence
The Center for Instructional Excellence supports student learning by encouraging faculty-driven initiatives, promoting development of faculty knowledge, and recognizing the achievement of excellence.
Professional development
Each year the Center for Instructional Excellence hosts three days of Professional Development sessions open to all faculty. The first Professional Development Day takes place on the afternoon of Opening Conference in September. In October, there is a full day of sessions at the mid-semester break. The third Day takes place on the afternoon of Mid-Year Conference in January. Learn more »
Friday Forums
Friday Forums are presentations over the lunch hour, which give faculty a chance to share new methods and discoveries with each other in a less formal atmosphere than a Professional Development Day. There are three Forums scheduled each semester and lunch is always provided. Learn more »
Professional Development Days
In order to maintain a networked and knowledgeable workforce at NMC, faculty will often attend conferences, off-site meetings or otherwise address their goals through professional development. CIE has a budget for reimbursing full-time faculty members who take advantage of these opportunities with department approval. Adjunct faculty are also eligible for $800 stipends towards their professional development. Learn more »
20 Minute Mentor Series
New in 2013, CIE has purchased a subscription to Magna Publications series "20 Minutes Mentor." Three times each semester, a CIE Advisory Board member will host faculty in an active learning classroom on campus to watch a "20 Minute Mentor" video and facilitate discussion. Coffee is provided and faculty can bring snacks to share if they choose. The atmosphere is casual and gives faculty an opportunity for lively and engaging conversation. Learn more »
Reading Groups (CIE, Global Lit)
At Opening Conference in September, CIE distributes a chosen book to faculty who are interested in joining a discussion group during the October Professional Development Day. CIE also co-sponsors the Global Literature Reading Group hosted by the NMC Library and subsidizes the purchase of Global Lit books.
Conferences
CIE maintains a list of links to conferences that faculty have attended in the past, and a review system for attendees to provide reviews of conferences they've attended.
CIE Resource Library
CIE maintains a section of books and resources within the Osterlin Library for faculty use. Browse the titles online »
2019 Recipient: Nicole Speelman
Chemistry instructor Nicole Speelman began working at NMC in in January 2018. Students said of her:
"This instructor has gone above and beyond, holding study sessions every week even coming in on Saturdays to give extra help before exams."
"She is very good at connecting with her students."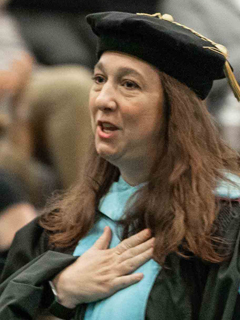 2019 Recipient: Cathy Warner
Warner began her NMC career in August, 2017. In their nominations students said of her:
"This instructor gets to know every one of the students so we don't just feel like another face in the room."
"The instructor has us use Moodle, concept maps, and explains difficult concepts on the board."