Textbook Heroes!
---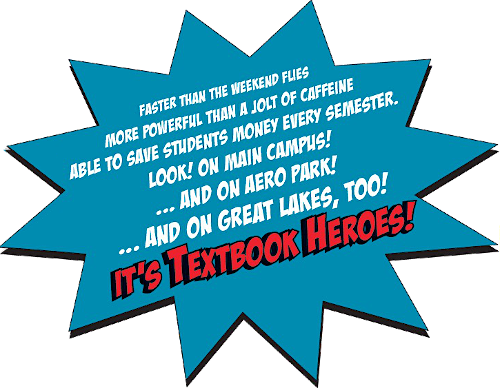 Five years after NMC began a pilot project using Open Educational Resources (OERs), a.k.a. free or low-cost text- books, the savings to students has soared past $2 million.
In 2015, ten instructors received a stipend of either $500 or an iPad, provided by an NMC Foundation innovation grant, as an incentive to redesign their courses using OERs, defined as costing less than $40.
Savings have grown every semester since, as have the number of courses taught with OERs, now more than 50, and the ranks of the textbook heroes, a.k.a. faculty members, found in every academic area of the college.

"I don't want my students to break the bank on a textbook," said philosophy instructor Sarah Montgomery-Richards.
She uses an older edition of the same textbook for two different classes, allowing students who take both to double their savings.
"We've got to help these kids afford school. If we can find a good text that's OER, we need to do so," said history instructor Tom Gordon, whose use of OERs predates even the original heroes. Since 2007, he's used a U.S. history book he wrote himself. It exists online, supplemented with videos to historic sites like Gettysburg, PA, that Gordon shot himself during a 2006 sabbatical.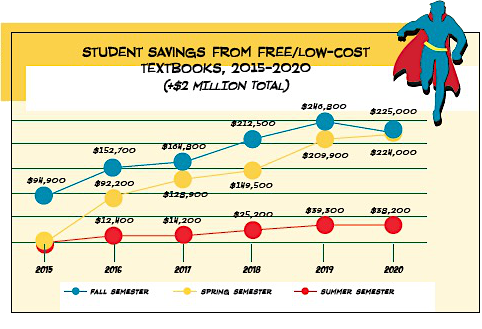 Math instructor Deb Pharo finds the ability to edit OERs another advantage. "Then the book reflects exactly what I want," said Pharo, the math department chair.
At least four different math courses already use OERs and several more are on deck, according to Pharo, once faculty can return to campus, and are able to collaborate and tailor OERs face to face.
Likewise, Montgomery-Richards supplements her text with additional readings and online materials. Some newer textbooks have "bells and whistles" like pre-made quizzes and gamifed activities, which might be nice to have, but not worth the extra cost to students, she said.
"I have total confidence in the faculty at NMC. We are capable of coming up with some really cool stuff on our own," Montgomery-Richards said. "Especially now with COVID, we need to be thinking about ways to help our students. One way is to do the best we can to make our materials not cost prohibitive."
---
Mailing List Change Requests
To be added to or removed from NMC mailing lists for print publications like Nexus, or to update your mailing address, please send an email with your name, address and request to foundation@nmc.edu, or call (877) 922-1021 or (231) 995-1021.