Kingsley's King Will
Salutatorian enters Albion College as a sophomore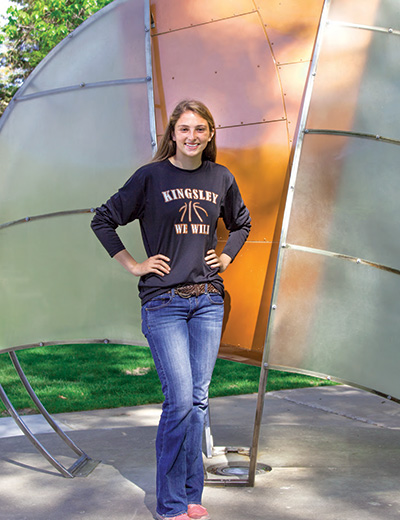 As a four-sport athlete and honors student at Kingsley High School, Jacie King didn't get much downtime. Even commuting to campus for dual-enrolled classes was rushed—Kingsley classes ended at 12:30 p.m., and NMC's started at 1.
So she savored her rare opportunities, like the after-class time she and a classmate had before they'd head back to Kingsley for basketball or cross-country or track or volleyball practice.
"If we had enough time, we'd stop at Culver's and get their $1 cone," King said.
Andes mint was her favorite flavor. Fittingly, it's named for a mountain range, since it seems that King, 18, will ascend to almost any goal she sets for herself. The 2019 Kingsley salutatorian is now playing basketball at Albion College, where she entered as a sophomore thanks to 26 credits earned through dual enrollment, plus a few more through Advanced Placement classes.
"I can pretty much go right into my degree," said King, who is studying exercise science, of the benefit of dual enrollment. "I was thinking 'I'll get ahead, it will be easier,' but I never thought I'd get a full year done."
After spending her junior year racing to get to face-to-face classes on time, King took online classes as a senior. She says she thinks she learned more in the face-to-face setting—she especially liked John Zachman's Introduction to U.S. Politics—but either way preferred her dual-enrolled classes to Advanced Placement (AP), where earning credit is less assured.
King aims to become a physical education teacher, like both her mother and her basketball coach. While she's student teaching she plans to earn a master's in special education—coincidentally what her coach, Matt Schelich, happens to teach in addition to gym. While she will likely return to northern Michigan eventually, "other opportunities may arise," she said.
"I just want to make an impact," she said.
King was the third student in her family to dual enroll, behind both a brother and a sister. The youngest King, Lexie, is now dual-enrolled this fall.
Dual Enrollment
Dual-enrolled high school students are the fastest-growing segment of enrollment at NMC. Find out more at nmc.edu/dual-enroll.
---
Mailing List Change Requests
To be added to or removed from NMC mailing lists for print publications like Nexus, or to update your mailing address, please send an email with your name, address and request to foundation@nmc.edu, or call (877) 922-1021 or (231) 995-1021.