Hawk Owl Soars
Possibilities Flourish For Adult Learner At NMC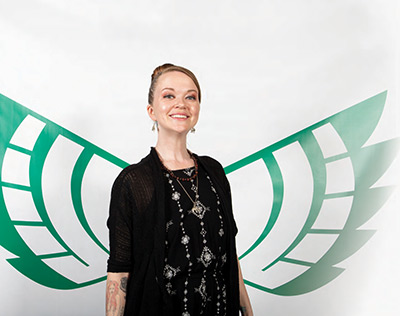 When Katy Rogers participates in NMC graduation ceremonies next May, she'll mark an achievement she never imagined.
"Never in a million years," said Rogers, 35. She called her mom the day she ordered her cap and gown.
Rogers is on a path to a wildly different life than she once envisioned. NMC has helped her see beyond past challenges—high school dropout, teenage mother, domestic violence survivor from a past relationship. Through grit and a whole lot of hard work, she is creating a successful future for herself and her family.
Six years ago, Rogers was clocking way more than eight hours a day at two fast food jobs. She had supervisors with daughters her age. She decided she wanted something else, to show her children other possibilities, to improve her and their lives.
After completing the certified nursing assistant program through Kirtland Community College, she got a job as a home health aide nearly five years ago. But when she was encouraged to look at the bigger picture and plan as far ahead as possible, she made her way to NMC in 2018. She commutes from Mesick, where she lives with her husband, a medically-discharged veteran, and four children, and just finished her fourth semester.
That simply wouldn't have been possible, Rogers said, without the scholarship support she has received.
"If it wasn't for my scholarships, there's no way I could have continued," she said. One scholarship was designated for a student from her home county. Another was for her work in health care. Yet another was for academic achievement. Rogers has been on the dean's list every semester.
It's because of such life-changing stories that NMC is working to increase the number and size of scholarships for current and future students as one priority area of its $35 million Be What's Possible fundraising effort.
Rogers' life trajectory—and that of her family—is undeniably changed by her time at NMC. But her educational goals don't stop at the office administration support certificate she will complete this spring. Next month she plans to start her first semester as a Ferris State student at NMC's University Center, majoring in criminal justice. Her sights are set on a 2023 graduation and a career as a victim advocate.
NMC has been the absolute best fit for her and her family, Rogers said. She credits her academic advisors and instructors with guiding her along her educational path, understanding her delicate balance of work, school and family and helping her figure out how to make it all work.
"Empowerment, support and encouragement," she said, allows her to realize all that is possible.
---
Mailing List Change Requests
To be added to or removed from NMC mailing lists for print publications like Nexus, or to update your mailing address, please send an email with your name, address and request to foundation@nmc.edu, or call (877) 922-1021 or (231) 995-1021.

Be What's Possible At A Glance
NMC's first-ever comprehensive campaign, designed to help support multiple institutional priorities at once
Four priority areas:

The Fund for NMC (unrestricted support)
Innovative Facilities (focused on the Timothy J. Nelson Innovation Center and Dennos Museum Center)
Strong Programs (all areas)
Scholarships (all areas)

$35 million goal; $28 million raised in "quiet" phase begun in 2016
How to give: nmc.edu/give; (231) 995-1021