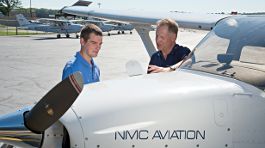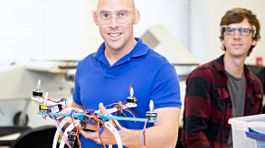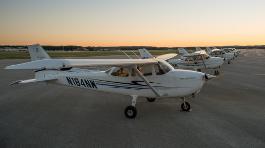 Aviation
Become a Professional Pilot! It's a great time to start training for an aviation career—rising salaries, signing bonuses and retention bonuses, travel benefits—and with the pilot shortage expected to continue for the next 10 to 15 years, there have never been more opportunities!
Ratings you can earn: Private, Instrument, Commercial, Multi-Engine, Flight Instructor, Instrument Flight Instructor, Seaplane
What are the top reasons for choosing to do your flight training at NMC?
Our small size allows for lots of personal attention
Associate and Bachelor degree options
Start flying right away, your first week in the program
Faster track to a professional pilot job

All flight training completed in the first two years
Start building time sooner, get hired sooner

Lower overall costs than other collegiate programs
We are VA-approved
Beaches, lakes, festivals—enjoy your free time in beautiful Traverse City!
Where do I start? Contact the Aviation Division at (231) 995-2911 or aviation@nmc.edu to get program information and schedule a visit to see for yourself if NMC is the right place for you.
The NMC Aviation Program is setting its sights on the next 50 years! We celebrated the event with alumni, friends, and industry partners through two memorable events. Learn more here »
NMC Partners With Regional Airlines
NMC Aviation has signed partnership agreements with regional airlines seeking to recruit NMC Aviation graduates for pilot positions. NMC flight students and graduates can take advantage of sponsored opportunities to visit company headquarters, observe training, receiving mentoring, and interview for conditional job offers through Envoy, Republic, ExpressJet and Skywest.
Regional Airlines Offer Signing Bonuses
As regional airlines compete for qualified pilot applicants, many airlines are offering signing bonuses for new hires, with some bonuses exceeding $20,000. See the list by looking at "The Grid" in the latest Aero Crew News issue at issuu.com/aerocrewnews »