W.O.W. TURNS 10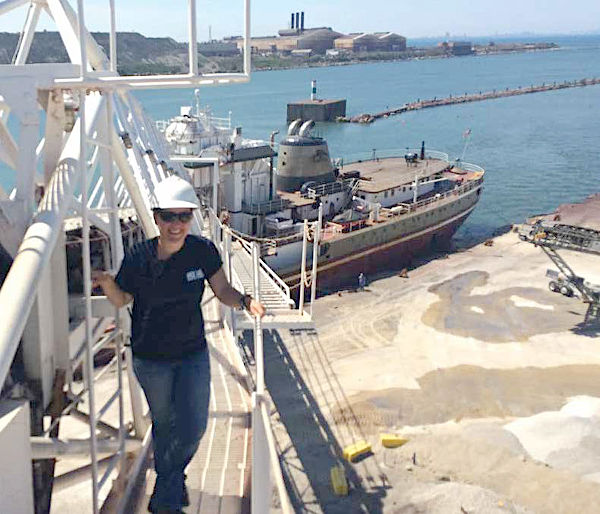 Mariners like Meredith Floyd, a 2016 Great Lakes Maritime Academy graduate, are working to update their disproportionately male industry from the inside out. In 2007 female GLMA cadets founded Women on the Water to support women entering the industry and promote professionalism. WOW groups now exist at academies from California to Canada.
Floyd, shown unloading stone cargo from the freighter Wilfred Sykes, particularly values the networking aspect of WOW.
"Everybody knows the same thing when you graduate from school," she said. Once the job hunt is on, who you know in the industry becomes more and more important.
---
Mailing List Change Requests
To be added to or removed from NMC mailing lists for print publications like Nexus, or to update your mailing address, please send an email with your name, address and request to foundation@nmc.edu, or call (877) 922-1021 or (231) 995-1021.
Women on the Water
1969: Great Lakes Maritime Academy established for male students only.
1974: Ban on women lifted at U.S. maritime academies.
1980: Four female cadets graduate from GLMA.
2002: T/S State of Michigan, a former Navy ship, transferred to GLMA. Doris Bautch, director of the Great Lakes region for the U.S. Maritime Administration, oversees transfer.
2007: Women on the Water (WOW) professional development organization founded at GLMA; first conference held.
2008: Empowerment of Professional Women in the Maritime World international conference held at World Maritime University in Sweden.
2009: GLMA hires first female instructor, 2008 alumna Amanda Rogers. Female representation in international shipping industry estimated at 2 percent.
2013: Doris J. Bautch Maritime Scholarship established for female GLMA cadets. "Over the years I kept my eye on the Academy and how effective the female cadets were, and how they were managing to compete with the young men. I was so proud of them," Bautch explained.
2017: Cumulative female GLMA graduates: 69. Eight female cadets expected to enroll for fall. WOW conference returns to GLMA October 26–28. About 100 cadets from U.S. and Canadian academies expected to attend.
Visit nmc.edu/wow-conference for information.