Got Your 6
Creating a veteran-friendly culture campus-wide
Nexus Spring 2018 Cover Feature
Watch the Veteran Voices video
at nmc.edu/veteransVoice breaking, the NMC student talking in the video is a veteran telling a tragic story. Clad in camouflage though he's sitting in West Hall, far from the Middle East wars, he describes seeing a fellow soldier killed in Iraq by an improvised explosive device. As he talks, his eyes look off, away from the aim of the camera's lens.
The video frame switches to a young woman student, formerly an Army truck driver, who explains that in Iraq, even an empty pop can on the roadside must be assessed as a potential threat.
A third student veteran describes how in the classroom, his ingrained hypervigilance and anxiety might mean he has to sit apart from the rest of the class, near a door, or he might even have to leave abruptly. Acronyms pepper all their sentences—IEDs, PTSD, TBI.
That video, Veteran Voices, shown at an all-employee conference in 2013, marked a "tipping point" in campus culture, said Scott Herzberg, point of contact for Military and Veteran Affairs at NMC. At the time, his position was new, prioritized by NMC President Timothy J. Nelson in 2012 to better meet the needs of the increasing number of students using the education benefits of the post-9/11 GI Bill®.
"Veterans have served us, and we have a responsibility to serve them," Nelson said.
But Herzberg knew his own determination wouldn't be enough. "If they just left my office and there wasn't a military-friendly culture out there, it wouldn't matter how good a job I did," he said. So he enlisted five veterans to share their stories in the video. Afterward, Herzberg remembers being flooded with emails from faculty and staff, all wanting to show students that, in military jargon, NMC's "got your six"—or got your back.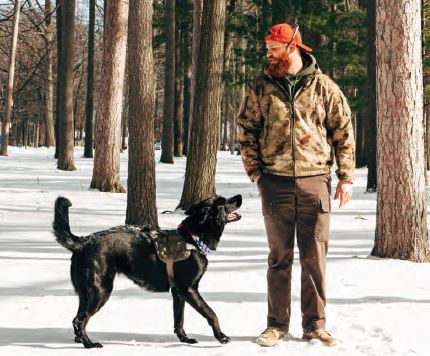 2017 NMC veteran graduate Luke Clark and Bailee Mae, his service dogSince then, NMC has significantly increased the services it offers student veterans.
An annual Veterans Day commemoration, in which students and faculty are excused from class and line campus sidewalks as a band leads student veterans in a "walk of honor" and flag-raising ceremony.
A student veteran lounge was created in West Hall. Plates of homemade treats often appear, dropped off by anonymous faculty and staff, including biscuits for veterans' service dogs.
A chapter of the national Student Veterans of America formed on campus. SVA activities range from social, such as an annual chili cook-off, to solemn, like 2016's 22-mile walk to raise awareness for the 22 veterans who commit suicide each day.
Fee waivers, interest-free loans, a textbook lending library and more enable veterans to stretch their education dollars further.
At professional development seminars, Herzberg shared the story of how NMC has earned the respect of veterans services groups nationwide. Military Times magazine currently ranks NMC third in the nation for services to veterans at community colleges.
"The things we do have been a best-practice model for other schools," said Herzberg, who in fact chaired the Best Practices committee for the Michigan Consortium of Veteran Educators for several years.
NMC's student veterans verify the quality of that service. "I can't say how fortunate I was to land here," said Scott Frederick, a Navy veteran and former SVA president. He entered NMC in 2014 and experienced Herzberg's "personal, walk-in, open-door policy" as the norm. He learned otherwise on his first visit to the downstate university campus where he plans to transfer this spring. "I immediately got the herding of the cattle, take a number thing," Frederick, 30, said.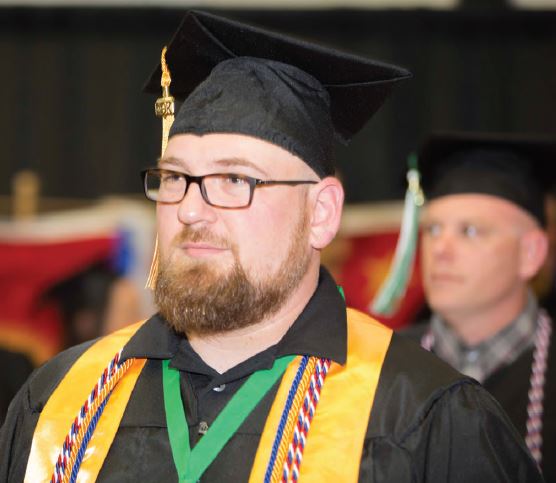 Veterans are designated at commencement by red, white and blue cords."What NMC is doing for the veteran community is phenomenal. I will be forever grateful," agreed Luke Clark, a 2017 alumnus who is now pursuing his bachelor's in social work through Ferris State University at NMC's University Center.
After deployment in Afghanistan, Clark, 28, returned home to Rapid City in 2011. Suffering from post-traumatic stress disorder after being injured in three separate IED explosions, he found another hurdle in re-entry to civilian life.
His attitude was, "they're giving me free college, so I'm going to go to college," but Clark had no idea how to manage the relative freedom of student life after the rigid structure of the military, where soldiers only "blink and breathe" without orders. "It was a completely foreign place," Clark recalled of his first semester on campus.
"Self-regulating is really hard when you've been told what to do pretty much your entire life," agreed Sarah Bean, the Army truck driver in the video. Beyond the relative lack of structure, the "mission" of college can feel vague and slow compared to a military mission.
"It felt like I had a sense of purpose," Bean said of her deployment in Iraq, where she drove the lead gun truck in a security platoon.
After her 2008 discharge, she struggled to replace that sense of purpose, and even lived at Traverse City's Goodwill Inn homeless shelter for six months. It was there, watching the staff help residents, that she finally found the inspiration to go to college. "I kind of want to do that, help people," said Bean, now 30.
Bean entered NMC in 2013 and transferred to Central Michigan University in 2015. She graduated from CMU with a bachelor's in psychology in 2017. This month, she's starting Western Michigan's master's program in clinical psychology. However, without Herzberg, who "pretty much held my hand through the whole process," she doubts she would have made it even through enrollment.
That front-end, early assistance is critical for veterans, Frederick said. "When you screw up in college, it's cumulative," he noted. "It's paramount to have success early, the first time."
That investment also pays off for society, since veterans bring back valuable skills and experience. Like Bean, both Frederick and Clark chose to enter helping professions. Frederick is pursuing a bachelor's in nursing. His four-year program is specifically for student veterans and would lead to employment at VA hospitals.
Clark aspires to a master's in social work, which he hopes to complete through Ferris at the UC by 2020. Last year he completed an internship at Reining Liberty Ranch, a Traverse City non-profit that offers equine therapy to a mostly veteran clientele. "Luke has a wonderful, automatic understanding that people need welcoming," said Becky Bigelow, Reining Liberty's director. "He's been where they've been."
And Clark knows he could be again. Even with all NMC's support, he dropped out for a year. He was "in a bad place," he said. That's why he says it's so important to have NMC dedicated to veteran support.
"It's a hill," Clark said of the transition. "You are your own chain of command now, and it's very difficult to make yourself stay motivated and positive. That's what NMC faculty and staff and students do."
---
Mailing List Change Requests
To be added to or removed from NMC mailing lists for print publications like Nexus, or to update your mailing address, please send an email with your name, address and request to foundation@nmc.edu, or call (877) 922-1021 or (231) 995-1021.
GI Bill® is a registered trademark of the U.S. Department of Veterans Affairs (VA). More information about education benefits offered by VA is available at the official U.S. government Web site at benefits.va.gov/gibill.