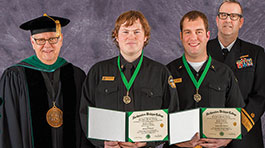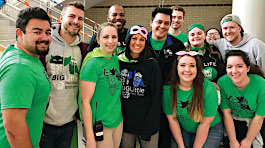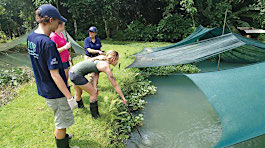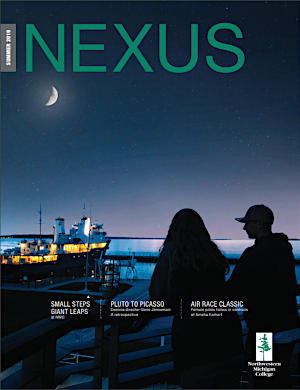 Read other stories from the Summer 2019 issue:
READ THE ISSUE IN YOUR BROWSER »
Want to be added to the Nexus mailing list? Email your name and address to foundation@nmc.edu, or call (877) 922-1021 or (231) 995-1021.
NMC's small steps and giant leaps
That's one small step for man ... one giant leap for mankind.
— Neil Armstrong's first words on the moon, July 20, 1969
Nexus Summer 2019 Cover Feature
As the world marks this summer's 50th anniversary of the first lunar landing, we examine Northwestern Michigan College's small steps and giant leaps since then. Like the Apollo program, these college endeavors called for leadership, agility, collaboration and innovation. The timeline below shows how small steps collectively enable giant leaps. A case study in each category is profiled below that.
Each project profiled also bears the hallmarks of momentum and vision. At NMC, giant leaps are always in progress, strategized and executed for the benefit of the students and communities we serve.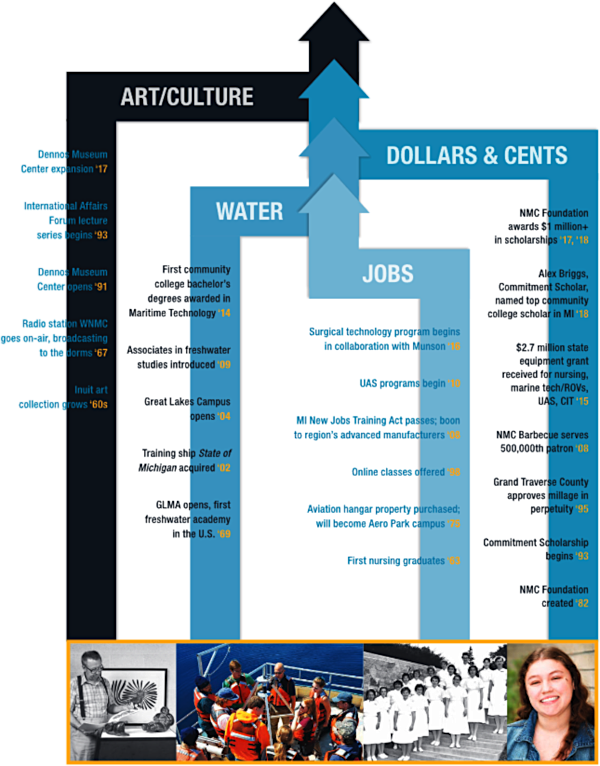 ---
Leadership
Community College Baccalaureate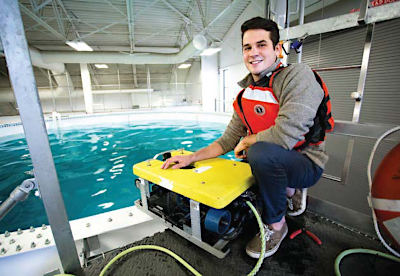 Small steps lead to giant leaps. Sometimes, giant leaps even become monumental milestones.
That's the case with community college bachelor's degrees, enabled in Michigan in 2012 after eight years of effort.
"I think it's the most significant policy change in higher education in this state in a generation," said Mike Hansen, president of the Michigan Community College Association, adding NMC President Timothy J. Nelson was among the "primary advocates."
NMC subsequently awarded the very first community college bachelor's degrees in the state, in Maritime Technology (top
photo), and has led Michigan ever since. Of the 49 bachelor's degrees awarded by community colleges statewide in 2017–18, 40 were at NMC. Since 2014, NMC has awarded 229 bachelor's degrees. Four degrees in technical, applied fields are allowed under the legislation.
In addition to Maritime Technology, in which students choose either deck or engineering degrees and work aboard ships, NMC in 2015 introduced a bachelor's in Marine Technology. Marine Tech graduates like Matt Moss (above) perform applied technical work such as data collection, processing and mapping in support of marine industries both off- and onshore. Graduates of all three programs enjoy immediate employment worldwide.
"There is more than 100 percent opportunity and students get multiple job offers," said Hans Van Sumeren of Marine Tech, which now enrolls about 35 students. "We have capacity to double and want more students."
In order to pass the enabling legislation, community colleges had to forego a degree in nursing, which faced the strongest opposition from four-year schools. But especially as more states permit their community colleges to offer BAs — Michigan, at No. 21 to do so was near the tipping point — Hansen believes it will return.
"It's a matter of when, not if," Hansen said. "It's just going to be a workforce issue." Munson Medical Center supported including nursing in the legislation, sending representatives to testify in Lansing.
Entry-level credential requirements will rise in other fields, too, Hansen said. Community colleges can't control that, but must be able to respond. The CCBA enables that.
"I can't think of a policy change that has the potential to have more impact," Hansen said. "To get it over the finish line was a giant step."
---
Agility
Experiential Learning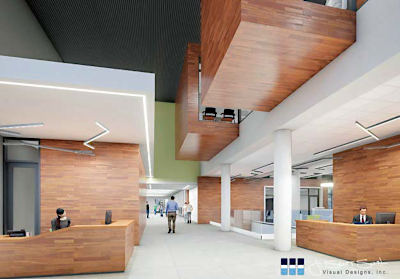 Experiential Learning (EL) first flipped higher education's traditional "learn to do" methodology on its head. Now, NMC EL leaders are stretching beyond campus, establishing the Experiential Learning Institute this spring.
After spreading across several academic areas, EL became an NMC accreditation project in 2016, meaning it's one of the criteria under which the Higher Learning Commission grants the college a de facto license to operate. Establishing the Institute this spring was the next step to expand EL, both on campus and in the community, via partners at local, national and global levels.
"It's a front door for the community," said Kristy McDonald, Experiential Learning Institute director and NMC business instructor
.
Guiding the work of the Institute, which will make its permanent home in the Timothy J. Nelson Innovation Center (rendering above), are more than a dozen faculty and staff advisers certified through the New Jersey-based Experiential Education Academy. Instructional designer Ryan Bernstein is one. He sees how instructors from a host of disciplines are implementing EL in an effort to engage students more deeply, leading to greater student persistence and graduation, as well as lifelong, self-directed learners.
"Faculty are starting to think about how they can change an assignment, or change a project based on something real," Bernstein said. "These have the potential to impact your cultural view, your world view, your community view. And that's deeper learning, beyond the simple recall of dates and facts."
Key to the Institute's future is an inventory of current EL opportunities scheduled for this summer.
"From semester-long projects like the Big Little Hero Race benefiting Big Brothers Big Sisters and the collaborative Homelessness Awareness Project to smaller classroom experiences, it's important for us to know how we are reaching out, and how the community is reaching in," McDonald said.
Contact McDonald at (231) 995-1059 or el@nmc.edu for more information about the Institute.
---
Collaboration
University Center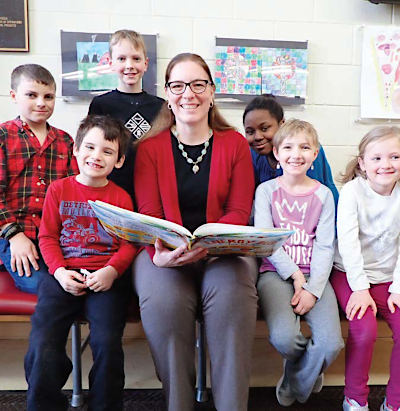 When NMC's University Center opened its doors in 1995, cutting-edge classroom technology was a boxy television equipped for two-way interaction between students in Traverse City and faculty at the UC partners' home campuses scattered statewide, from Grand Rapids to East Lansing to the U.P.
"Five years later, it was almost obsolete," recalls Marguerite Cotto, NMC vice president of lifelong and professional learning.
The advent of the Internet could have proved fatal (see: big box retailers), yet thanks to committed collaboration, the University Center remains robust today. About 650 students are enrolled in programs through six university partners.
"The effective change is that we've moved to serving as regional centers," Cotto said. "Students are accessing online degrees that are not limited by face-to-face requirements."
Post-baccalaureate degrees in education, business and health fields remain the most popular, but thanks to online offerings, students have much broader options.
"The entire university's catalog is available to a student who walks into the Boardman Lake campus," Cotto said.
Traverse City resident Victoria Derks, 50, (above) has earned three graduate degrees through the UC, in addition to her associate's from NMC, in 1989. She had to leave the state for her bachelor's, but the UC was available by the time she was ready for a master's. She earned it from MSU in 2001.
"It was right here, and consolidated to the summer. In three summers I could live, eat and breathe my master's program, but I would be done," said Derks. She then went on to earn two more education degrees from Central Michigan University at the UC — an education specialist in 2010 and doctor of education in 2015. She is now the principal at Cherry Knoll Elementary School in Traverse City.
"I don't think I would have gotten my other degrees had it not been for the University Center. I now had a family, and it wouldn't be so plausible to go away," she said. "Getting four of my five degrees there is pretty incredible."
---
Innovation
International Partnerships
In less than a decade, NMC has parlayed innovative programs into innovative partnerships, fulfilling two strategic directions: Ensuring that NMC learners are prepared for success in a global society and economy and establishing international competencies connected to the regional economy.
Key to success was identification of complementary partners that fill gaps and augment what NMC already offers in aviation, freshwater studies, and marine technology and construction.
"It was a huge undertaking in terms of logistics and finding the right partners. We found partners that let us grow," said Constanza Hazelwood, education and outreach coordinator for the Great Lakes Water Studies Institute and leader of the partnership with Costa Rica's EARTH University .
Hazelwood said NMC considered other schools, but found them too research-focused. EARTH, a leader in agronomy and sustainability education, had the hands-on, entrepreneurial approach that aligned with NMC's.
"The first time I saw experiential learning applied and implemented was there," Hazelwood said. "You're not learning theory. It's based on application first."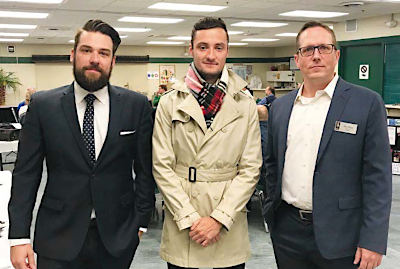 UK aviation students and NMC Aviation Director Alex Bloye (right)Likewise with aviation, NMC identified an alignment opportunity in the UK, where students typically receive a bachelor's degree first and pilot training second — the reverse of the U.S. So NMC planes were available to UK students in the summer, when NMC students were off.
"From a business perspective it made sense because it utilized our aircraft," said Steve Ursell, NMC international aviation coordinator.
Another innovation advantage is the glass cockpit technology of NMC's planes, as well as the chance for students to train in the world-renowned FAA-regulated environment. Lastly, there's the simple fact that the weather's better. "Students weren't getting their pilot training done," in the UK, Ursell said. "Coming to NMC it ticks that box for their degree in the UK."
Importantly, having 30 international students on campus each summer gives NMC's American students international exposure, too.
"They're going to be dealing with different cultures for their jobs, flying overseas," Ursell said.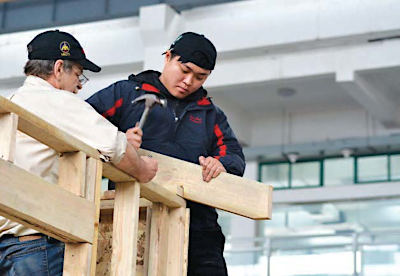 Yellow River Conservancy Technical Institute students in ChinaAt the Yellow River Conservancy Technical Institute in China, NMC found yet another complementary partner. The three-year technical school offers China's largest land-surveying program. NMC's expertise in marine technology adds a new dimension. After beginning discussions in 2012 and first visiting in 2015, NMC instructors pioneered English-language delivery of applied curriculum to Yellow River students in 2017.
"They're very well positioned to do the terrestrial mapping," said Hans Van Sumeren. "We bring the competencies needed to work in and under the water."
In turn, NMC's new land surveying degree, offered beginning this fall, was informed by Yellow River. "Building an international team like this, we're able to broaden our perspective," Van Sumeren said. "We're highly focused on integrating the land component into our degree to make much stronger graduates, industry-ready."
At A Glance
Aviation—United Kingdom
Started: 2010
Evolution: 230 students from 25 countries have attended NMC through three primary partners: University of the West of England, Bristol; University of Hertfordshire and Manchester University. Manchester students get unmanned aerial systems and pilot training.
What's next: About 30 international students will complete pilot and UAS training at NMC this summer.
Freshwater Studies internship—Costa Rica
Started: 2011
Partner: EARTH University, San Jose
Evolution: Grown to include students in aviation, plant science and education. Students take a two-week Spanish boot camp before departure. NMC has also hosted one EARTH faculty member as a guest lecturer, in 2014, and four EARTH students completing their internships, or pasantías, the most recent in 2018.
What's next: 2020 trip, tentatively with nursing students and Kellogg Community College students.
Marine technology/construction—China
Started: Discussions in 2012, instructional delivery in 2017
Partner: Yellow River Conservancy Technical Institute, Kaifeng, China
What's next: Second cohort of Chinese students will complete NMC degrees this spring. Third cohort to complete in 2020
---
Mailing List Change Requests
To be added to or removed from NMC mailing lists for print publications like Nexus, or to update your mailing address, please send an email with your name, address and request to foundation@nmc.edu, or call (877) 922-1021 or (231) 995-1021.