True Chemistry
Science detour helped Early College student find a career path passion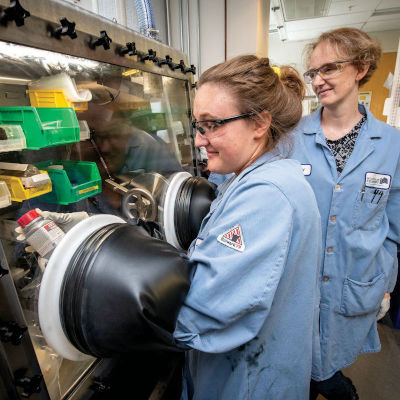 Georgia Bolek and her graduate student supervisor Tracy Mattox, right, work in the Berkeley lab.Early College student Georgia Bolek always liked math and science. She thought a health science career would suit her, and picked biology. But after two internships in high school, it was clear bio and she were not meant to be.
"Having real-world experiences is really different than in the classroom," said Bolek, 19. "I thought, maybe I should try different things (but) I didn't know where to go."
She took a chance on NMC chemistry instructor Mary Jo Elliott's classroom. There she found, well, chemistry. After seeing Bolek's talent and work ethic, Elliott recommended that Bolek  apply for a community college internship at a Department of Energy lab.
"She's a super hard worker," Elliott said. "She just rocked it."
Bolek was selected for the internship and spent the fall 2019 semester at DOE's Lawrence Berkeley National Lab, a research lab managed by the University of California-Berkeley.
Among Berkeley scientists' accomplishments: Winning 13 Nobel prizes; discovering 16 elements, one of which is now widely used in smoke detectors; and pioneering medical imaging technology like MRIs.
It was intimidating at first, especially since Bolek was the youngest intern and the only one from a community college. But she flourished under the mentorship of two fellow female scientists.
"That was amazing," Bolek said. "Being a researcher, that seemed so out of reach. I had no idea how to do that, didn't know anything about graduate school. Doing this internship was a great way to see what's possible."
Along the way to that realization, Bolek also had to temporarily evacuate during the Kincade wildfire, saw Yosemite National Park and the Pacific Ocean, and presented her research findings to peers.
"When I was in California I got to grow up a little bit," Bolek said.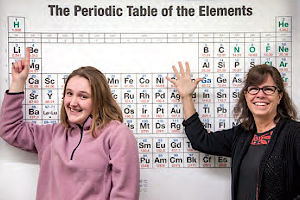 Georgia Bolek and chemistry instructor Mary Jo Elliott in front of the periodic table. Bolek is pointing to hydrogen and Elliott to boron, the two elements Bolek studied during her internship.In her research, she studied hydrogen storage for renewable energy and clean energy applications. While the Lab set the objective, it was up to Bolek to come up with a plan. She worked with both hydrogen and boron and titled her final paper, "Developing Borohydrides for Hydrogen Storage Applications."
As an Early College student, Bolek graduated with both her Traverse City West High School diploma and NMC associate's degree this spring, landing on the Dean's List, as well. She plans to stay in Michigan to finish her undergraduate education, and is looking for chemistry programs with research internships. She credits Elliott's class for starting her down the new road.
"I loved my chemistry class with Mary Jo," Bolek said. "That really sparked my interest. Being able to go to the lab helped cement that I want a career in this."
"I'm so glad I could help," said Elliott. "Nothing makes me happier."
Early College and Dual Enrollment
Early College and dual-enrollment are both options that help high school students get a head start earning college credits and saving money. Find out more at nmc.edu/admissions/high-school-services.
---
Mailing List Change Requests
To be added to or removed from NMC mailing lists for print publications like Nexus, or to update your mailing address, please send an email with your name, address and request to foundation@nmc.edu, or call (877) 922-1021 or (231) 995-1021.