"We Pickled Every Vegetable"
New restaurateurs lead Terrain out of pandemic
Nexus Summer 2020 From Our Kitchens Feature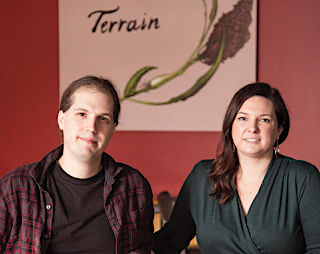 Chef Randy Minish learned about the restaurant industry's reality of tight margins at the Great Lakes Culinary Institute.
Then came COVID-19. Minish and his co-owner sister Shana lived the restaurant industry's reality of tight margins during the 10-week shutdown of Terrain, the Bellaire restaurant they opened to widespread acclaim in April 2019.
When Terrain closed after Michigan's stay-at-home order was first issued in late March, the siblings' initial priority was to preserve inventory. Randy, a 2011 graduate, made perishable meat and cheeses into sausage and pierogies that could be frozen. The same preservation effort went into produce.
"We pickled every vegetable that we had left," said Shana Minish, operations manager and a 2003 NMC graduate.
Then it was a matter of gutting out the closure. Restaurants have been part of the duo's life for decades. In high school both worked at Lulu's, the restaurant that previously occupied Terrain's space. Now they mesh their skills to elevate how a restaurant can be run, from the kitchen to staff relationships to the guest experience.
Terrain reopened May 28 at 50 percent capacity. Back in March, operating at half capacity during their busiest season would have seemed absurd, but both are grateful they were simply able to open. They're learning new lessons now.
"They don't teach global pandemic response in culinary school. They don't teach it in an MBA program either," said Shana Minish, who earned hers at MSU.
"This will definitely be a reference point 20 years from now," Randy said.
Call for reservations: (231) 350-7301
---
Mailing List Change Requests
To be added to or removed from NMC mailing lists for print publications like Nexus, or to update your mailing address, please send an email with your name, address and request to foundation@nmc.edu, or call (877) 922-1021 or (231) 995-1021.

STRAWBERRY TOAST
---
1 loaf good open crumb bread
1 cup plain Greek yogurt
1 pint strawberries
(Minish uses King's Orchard in season.)
1 sprig fresh lavender
½ bulb fennel
(Minish uses Providence Farms in season.)
---
THE NIGHT BEFORE:
Pickle the fennel and strain the yogurt. To strain the yogurt, place a regular coffee filter in a strainer and add yogurt. Cover in plastic wrap and refrigerate.
TO PICKLE FENNEL, IN A SMALL SAUCEPAN COMBINE:
½ cup sugar
1½ cups rice wine vinegar
2 cups water
1 tablespoon salt
Bring to a boil and cool completely. Add sliced fennel and refrigerate overnight.
---
BEFORE SERVING
Pick the flowers of the fennel sprig and slice strawberries, some in half, some in quarters. Toast bread and spread a generous amount of strained yogurt on slices. Arrange berries, fennel, and lavender flowers.