NISOD award
About the Award
NMC is one of more than 700 community college members of NISOD, the National Institute for Staff and Organizational Development. Affiliated with the University of Texas at Austin, NISOD has made the teaching excellence awards to faculty at member institutions since 1989. Nominees are judged on criteria including commitment to learning, professionalism and relationships with both students and colleagues.
2016 Award Winner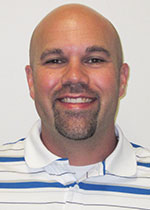 Jason Slade, an electronics instructor since 2014, is the 2016 recipient of the NISOD award for teaching excellence. Slade was nominated by his colleagues at NMC as well as instructors in the TBAISD Career Tech Center.
"Students seem to feed off Jason's enthusiasm toward learning. Jason spends the time to make sure his students understand the information whether it be before class, during class or after class. His interest in the students understanding of the subject matter is infectious and benefits learners of all levels in his classrooms."
Past Recipients
2015: Blake Key, Jerry Compton, Steve Rice
2014: Judy Chu, Janet Lively, Megan Ward, Mella McCormick, Nicholas Roster
2013: Sue DeCamillis, Nancy Gray, Kristen Salathiel
2012: Diane Owens, Kathryn Fischer
2010-2011: Stephen Siciliano, Diane Emling, Garyn Roberts, Jane Zlojutro, Linda Rea
2009: Doug Domine, Jeff Straw
2008: Mary Jo Elliott, Keith Overbaugh
2007: Scott Goethals, Bob Rodriguez
2006: Tamella Livengood, Mark Nelson
2005: Stephen Drake, Deirdre Mahoney, Mark Puchala
2003: Caroline Schaefer, Anne Patrick
2002: Tom Auch, Margery Taylor
2001: Michael Emerson, Sherry Howard, Connie Jason, Michael Torre, Linda Walter
2000: Alison Collins, Diane Emling, Tom Gordon, Jim Press, Mary Quinn, Laura Schmidt, Jackie Shinners, Jim Valovick
1999: Lynne Harris, Gary Klotzbach, Ken Marek, Marty Trapp
1998: Joan Berg, Ann Cook, Jill Hinds
1997: Claudia Bailey, Laurie Chesley, William Faulk, Bronwyn Jones, Jean Rokos, Barbara Tatarchuk
1996: Jim Coughlin, Dianne Keelan, Gordon Niemi, Bruce Mann
1995: Richard Cookman, Robert Dederichs, Lucy House, Keith Kelly, Regis McCord, Megan Roberts, Ken Rose, David Terrell
1994: Linda Anderson, Karen Howie, Debra Pharo, Don Rodriguez, Marty Trapp
1993: Sallie Donovan, Kathleen Duncan, Adam Gahn, Bronwyn Jones, Mary Ann Linsell Mary Norris, Robert Rudd, Mary Vanderkolk
Prior to 1993: Adam Gahn, Mickey Grooters