Adjunct Faculty Excellence Award
About the award
Created in 1999 as a companion to the Imogene Wise Faculty Excellence Award. Chosen by a student selection committee, award criteria includes teaching excellence, rapport with students, innovation in the classroom and a sense of dedication.
Past recipients
2018: Julia J. Sheerin
2017: Robert George
2016: Jim Bensley
2015: Brian Heffner
2014: Julie Puckett
2013: Jim Szczechowski
2012: John Biolchini
2011: Mark Holley
2010: Lisa Blackford
2009: Gary Sanborn
2008: Stephen Lockman
2007: Jason Teichman
2006: Karl Sporck
2005: Peter Baumeler
2004: Ted Reese
2003: Jerry Gates
2002: Jerry Dobek
2001: Regis McCord
2000: Susan Odgers
1999: Gregory LaCross

The Deadline is April 6, 2020
Have NMC instructors made a difference in your life? Could "dedicated", "innovative" and "excellent" be used to describe them? If you are looking for a way to recognize the impact an NMC teacher has had on your learning journey, please consider nominating that teacher for the Faculty Excellence awards. Faculty are truly honored to be nominated for these annual awards. This is the highest teaching honor awarded at NMC and nominations can only come from students.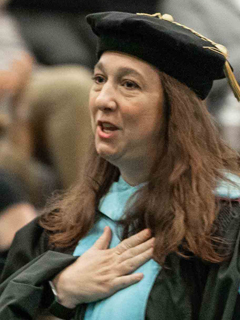 2019 Recipient:
Cathy Warner
Warner began her NMC career in August, 2017. In their nominations students said of her:
"This instructor gets to know every one of the students so we don't just feel like another face in the room. Our teacher understands the students' strengths and weaknesses, and accommodates material for every one of the students to have success in the class."
"The instructor has us use Moodle, concept maps, and explains difficult concepts on the board. Also, the instructor uses YouTube videos to the class' advantage."