Faculty Excellence Awards
Adjunct Faculty Excellence Award
2014 Recipient:
Julie Puckett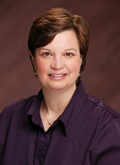 In nominations, students said the following about their Math instructor:
"I told her that I was incapable of learning Math. She was quick to make me change my mind. She got so concerned over the fact I had it in my head I could not learn math that it was at that moment I knew she was a teacher who actually cared about her students, and I ended up receiving a 4.0 in both semesters."
"This instructor had time before and after class for me and arranged to meet with me on campus outside of office hours. This instructor returned calls even on Saturday and Sunday and email responses were answered within a day."
"This instructor always shows up to class with a smile and a positive attitude. This instructor encourages every student to do their best and shares the excitement of learning a subject that can be very challenging for many."
Adjunct Faculty Excellence Award
About the award
Created in 1999 as a companion to the Imogene Wise Faculty Excellence Award. Chosen by a student selection committee, award criteria includes teaching excellence, rapport with students, innovation in the classroom and a sense of dedication.
Past recipients
2013: Jim Szczechowski
2012: John Biolchini
2011: Mark Holley
2010: Lisa Blackford
2009: Gary Sanborn
2008: Stephen Lockman
2007: Jason Teichman
2006: Karl Sporck
2005: Peter Baumeler
2004: Ted Reese
2003: Jerry Gates
2002: Jerry Dobek
2001: Regis McCord
2000: Susan Odgers
1999: Gregory LaCross