Good Jobs x4
NMC training drives TentCraft's growth
IT'S ONE OF NORTHERN MICHIGAN'S RALLYING CRIES: HOW DO WE GET MORE GOOD JOBS HERE?
"We've beaten every timeline regarding job creation."
– Matt Bulloch, TentCraft CEOAsk Matt Bulloch. In nearly five years, the CEO of Traverse City-headquartered TentCraft has dramatically grown his workforce with jobs that far exceed minimum wage, and he's been able to enhance his employees' skill sets at little to no cost to the company.
Back in 2013, Bulloch had about two dozen employees "all working harder, not smarter, all the time."
This year, TentCraft will cross the 100-employee mark. All are working just as hard manufacturing the company's promotional tents and accessories, but also so much smarter.
The surge in number of employees "is a quadrupling of our workforce—with good jobs," Bulloch said of the Michigan manufacturer of custom promotional tents and other structures, event signage and more.
Those good jobs—and the explosive growth—are thanks in large part to the Michigan New Jobs Training Act, administered regionally by Northwestern Michigan College's Training Services, the corporate training arm of the college. The statewide program, which grew out of a 2008 bipartisan effort to stimulate job creation, allows companies to divert payroll taxes into a fund to train new hires.
"This grant [program], and specifically the lean training, has been transformative for our company," Bulloch said.
"Our success demonstrates success for NMC.
It's been a pretty amazing partnership."
– Rob Hanel, TentCraft People ManagerWhat does it take to qualify? Any company that is expanding and adding to its workforce is eligible to receive financial assistance for customized training. The new positions must pay 175 percent of the current Michigan minimum hourly wage.
At the time of TentCraft's 2013 five-year grant agreement, the starting wage had to be $12.95 per hour. The company promised to hire eight people, but ended up hiring 49.
"With these dollars, people I'd said we'd hire in three years we hired in nine months," said Bulloch. "We've beaten every timeline regarding job creation."
That's not only good for TentCraft, it's good for the region. Wages from positions growing out of a 2017 agreement translates to $15.58 per hour, or approximately $32,000 annually for a full-time position. TentCraft plans to hire at least 27 at this rate.
More than $533,000 in training funds (less administrative costs) has been applied to more than half of the TentCraft workforce over the last four years. Another $350,000 will be spent under a new five-year agree- ment that will take the company to 2023.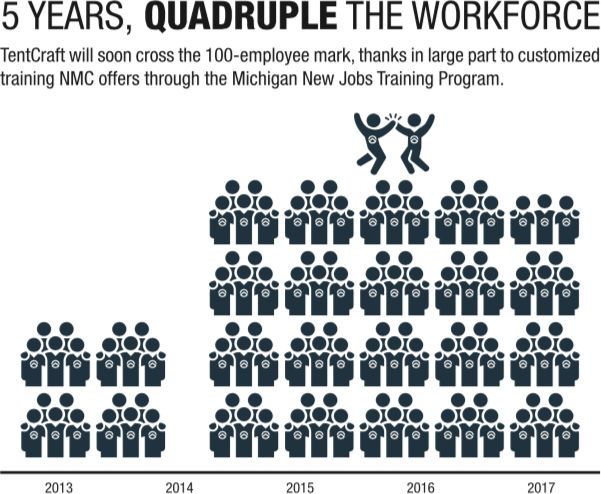 Not only did TentCraft utilize the grant program to hire brand-new staff, but it was also able to create new positions within the company as a result of the growth, and promote people internally.
For TentCraft, this has meant training for a chief technology officer, a vice president of manufacturing, a systems administrator and a sewing specialist, just to name a few.
"This program has made us think more critically about hiring," said Rob Hanel, People Manager at TentCraft. Potential new jobs in 2018 include a continuous improvement engineer and more project managers.
"Our success demonstrates success for NMC," said Hanel. "It's been a pretty amazing partnership."
---
Mailing List Change Requests
To be added to or removed from NMC mailing lists for print publications like Nexus, or to update your mailing address, please send an email with your name, address and request to foundation@nmc.edu, or call (877) 922-1021 or (231) 995-1021.