NMC-Incubated Innovation on the Cusp of Prototype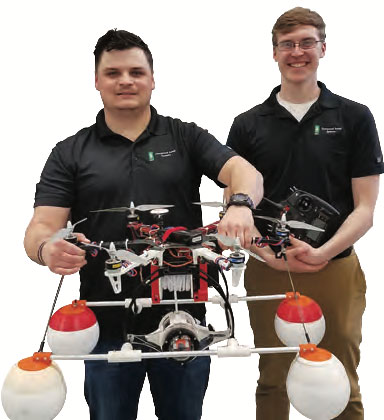 Matt Goddard (left) and Ryan MaterHybrid Robotics CEO and NMC student Matt Goodard was standing on stage at the City Opera House in downtown Traverse City, but his mind was 9,000 miles away, recalling the difficulty of launching a drone in Indonesia's dense tropical jungle.
That real-world experience meant Goddard, at left, wasn't just theorizing there was a market for the hybrid drone he was pitching to potential investors in the audience for TC New Tech's monthly pitch night. He knew it.
Hybrid Robotics won the competition that night last October. But the roots of the victory went back months earlier and half a world away, when three of the four student partners traveled to Indonesia to complete an aerial and underwater mapping project.
Before the trip, they had begun concepting the idea in an engineering technology class by customizing an off-the-shelf drone with everything from unique parts manufactured in the college's 3-D printers to foam balls from JoAnn Fabrics. In Indonesia—where conditions forced them to manually catch and release a drone from a boat—they realized its utility. They are now refining the unit and concept.
"We're trying to make a hybrid platform for the marine inspection industry," Goddard said.
Hybrid Robotics is shaping up to be the second viable company to emerge from NMC's Maker Space. Begun in 2014 at the Parsons-Stulen Building, the Maker Space offers both a place and a process for team-based, project learning that, when evolved to its highest level, can turn students into entrepreneurs. Interactive Aerial, a Traverse City company that specializes in drone inspections of interior, confined spaces, is the first.
Instructor Keith Kelly, who taught the class in which the Hybrid Robotics team formed, wants to see more.
"How can we make the transition with these teams from the college classrooms into startups?" Kelly asked. "That's really the exciting stuff."
---
Mailing List Change Requests
To be added to or removed from NMC mailing lists for print publications like Nexus, or to update your mailing address, please send an email with your name, address and request to foundation@nmc.edu, or call (877) 922-1021 or (231) 995-1021.