Christal Frost Goes Back to School
Radio personality among hundreds taking advantage of Futures For Frontliners free tuition program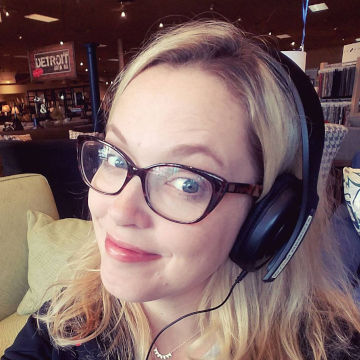 Known to thousands in northern Michigan over her 15 years in local radio, Christal Frost Anderson is poised to take on another identity: NMC student.
This month, Anderson, 41, starts classes through Futures for Frontliners, a state- wide program offering free in-district community college tuition to Michiganders who worked in essential industries during the COVID-19 lockdown last spring but do not have a college degree.
Anderson realized her job in media qualified while interviewing someone on the air about the program last fall. And after a couple "false starts" in college, the time seemed ripe for her.
"I had been thinking about going back and getting my degree," said Anderson, a 1998 Benzie Central High School graduate who attended NMC immediately after high school and again in 2002 and 2006.
"I would go back, try to do a class or two, and life would happen," she said.
But now, with one child grown and another in high school, finishing what she started seemed possible. Futures for Frontliners sealed the deal.
Eligible workers include those who worked in financial services, food and agriculture, health care, law enforcement, 
transportation and public works. They may pursue an associate degree or a skills certificate while continuing to work. Anderson is one of almost 500 students taking advantage of the program at NMC. More will start in summer and fall semesters.
Anderson is considering studying either criminal justice or psychology and plans to stay on the air.
"I probably won't leave my job, I love my job," she said. "It's about actually accomplishing it."
The bite-size approach that Frontliners offers also appeals to her. Students need only enroll in six credits, or two classes, to maintain scholarship eligibility. Anderson will take her classes online, a convenience that didn't exist when she last attended.
"You had to ft your schedule around the school. That's not how it is now, and that has made all the difference," she said.
She also plans to take full advantage of NMC's dozens of student support services. Advising, success coaching and tutoring are just a few available. She believes that will help her avoid repeating previous false starts.
"I didn't reach out for help, and therefore I ended up dropping out," she said. "I know I need the support."
Anderson considers Frontliners a golden opportunity, and is grateful NMC enables her to pursue it. After earning her associate degree, she plans to continue on to a bachelor's.
"That's what I love about NMC. It's always there when you're ready. That's a big, big thing. It took me a long time to be ready."
Be prepared to hear more about her journey, too.
"I'll probably ask for help with homework on the air," Anderson joked.
---
Mailing List Change Requests
To be added to or removed from NMC mailing lists for print publications like Nexus, or to update your mailing address, please send an email with your name, address and request to foundation@nmc.edu, or call (877) 922-1021 or (231) 995-1021.
Not A Frontliner?
NMC'S Got That Covered, Too
Other programs and more than 650 scholarships are available to help working adult students pay for a degree or certificate, which in turn enables them to move into higher-paying jobs or change careers.
Michigan Reconnect is one such statewide program aimed at filling the state's skills gap by helping adults over age 25 earn a degree or certificate. The Grand Traverse region is home to more than 19,000 adults over age 25 who do not have a degree.
They'll find themselves at home at NMC, where one-quarter of the student body was 25 or older in fall 2019. Students who received scholarships received an average award of $1,213, further reducing NMC's already low in-district tuition, the eighth-lowest among Michigan's 28 community colleges.
Online classes and support services that Anderson took advantage of are available to all NMC students.
Get started at nmc.edu/adult-students.