She's a Brainiac
Dual-Enrolled GTA valedictorian earns full ride to NMU, majors in neuroscience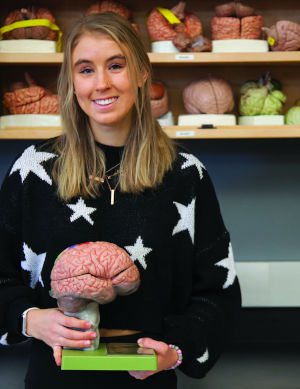 Thanks to dual enrollment (DE), Kaitlyn Watson will be a junior when she returns to Northern Michigan University this month, even though she's just starting her second semester at the U.P. school.
The 2020 Grand Traverse Academy valedictorian earned 42 credits through dual enrollment at NMC, including Spanish, calculus, chemistry, biology, English, sociology and psychology. Now, Watson is enjoying not only the head start on college, but the direction she gained through dual enrollment.
"It opened up the opportunity to explore what I was thinking about majoring in," said Watson, 19. "It's not only saving me money, but giving me an idea what I want to do with my life."
Chemistry teacher Mary Jo Elliott was especially influential, Watson said.
"She made science exciting and interesting. She inspired me to dive deeper into it."
Watson started dual-enrolling in ninth grade, taking NMC classes that were offered right in the GTA building. (NMC also offers DE classes at Traverse City West, the TBAISD Career Tech Center, and Manton High School.) Besides earning credits, she found the early introduction to college-level coursework beneficial.
"Being a dual-enrolled student prepared me for what college professors expect, and what is expected of you as a college student," Watson said.
At Northern, which offered her a full tuition scholarship, Watson is majoring in neuroscience with an integrative science minor. After earning a bachelor's degree in fall 2022 she plans to take a year off to travel, and is then considering either a Physician's Assistant program or medical school. She advises other students considering dual enrollment to go for it.
"Take any opportunity that is given to you," Watson said. "It's amazing how many doors can open up for you."
---
Mailing List Change Requests
To be added to or removed from NMC mailing lists for print publications like Nexus, or to update your mailing address, please send an email with your name, address and request to foundation@nmc.edu, or call (877) 922-1021 or (231) 995-1021.
Valedictorian goes viral — in a good way
Kaitlyn Watson learned she was valedictorian of the Grand Traverse Academy 2020 graduating class when Principal Michelle Floering surprised her in the Traverse City Culver's drive through while Watson was at work. The video clip of Watson's reaction (thrilled) has since gone viral and was featured on both "Some Good News with John Krasinski" and "The Kelly Clarkson Show" in April.
While Watson had to forego a live commencement ceremony, she recorded her valedictory address, and heard it presented on a big screen at GTA's drive in style commencement.
Dual enrolled high school students are the fastest growing segment of enrollment at NMC. Find out more at nmc.edu/dualenroll