Rose & Fern Café
2009 Culinary Alumna's Dream Meets Neighborhood Need
Nexus Spring 2021 From Our Kitchens Feature
---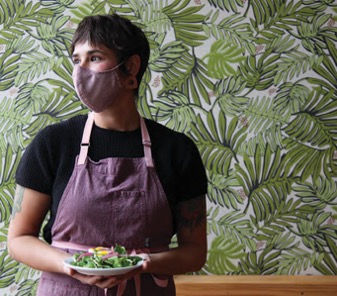 Becky Tranchell knew what Traverse City's east side was missing: A restaurant offering meals that were quick, from-scratch, local, affordable, and of course, tasty.
She also knew what she wanted: to support local growers; to pay good wages to her employees, GLCI alumni and students among them; and free evenings.
She's fused need, desire and delicious at Rose & Fern Café, the cozy breakfast and lunch spot she opened in 2018 at 910 E. Eighth St — yes, between Rose and Fern streets. "The vision was an affordable and local place," Tranchell said. "I wanted it to be someplace where people could come and have conversations."
Those conversations are now snatched, since the pandemic has shifted service to take-out only, but community remains the heart of Rose & Fern. Tranchell, 32, offered deep discounts to essential and service workers in the spring. She's also cultivated an all-local list of suppliers, the importance of which she learned during an internship in San Francisco while at GLCI.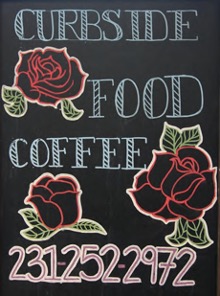 Her menu mixes Mexican and American favors with several vegetarian options. Her newest addition is a selection of unique baked goods — carrot cake muffins, brioche cinnamon rolls — overseen by a fellow GLCI alumna.
All of the above, plus her culinary degree and instructor experience make her an entrepreneur Venture North, a regional community development financial institution, was proud to invest in.
"Her ties to NMC, being a culinary instructor, having a fabulous feeder program," said Laura Galbraith, executive director. "She's really supporting a neighborhood. I'm so proud of Becky. Her dream came true."
---
Mailing List Change Requests
To be added to or removed from NMC mailing lists for print publications like Nexus, or to update your mailing address, please send an email with your name, address and request to foundation@nmc.edu, or call (877) 922-1021 or (231) 995-1021.

Jammy Eggs (Soft Boiled)
---
INGREDIENTS:
1 dozen eggs room temperature
½ gallon water
Bring a half gallon of water to a boil in a medium saucepan with lid.
Gently lower the eggs into boiling water and reduce temperature to medium. Cook for 7 1/2 minutes.
Drop eggs into ice cold water. Peel once cooled.
TIPS: Use eggs about 1 week old. Peel within an hour. Jammy eggs are delicious both hot and cold.
---
GREEN SAUCE
Pairs well with eggs, meats and seafood! A wonderful all purpose sauce.
INGREDIENTS:
¼ cup toum or 2 T minced garlic
½ tablespoon crushed red pepper
¼ cup lemon juice
½ pound greens (pea shoots, parsley, dill)
1 teaspoon salt
¾-1 cup extra virgin olive oil
Remove any stalky stems on greens. Pulse first 5 ingredients in food processor until greens are broken down to the bottom quarter.
Slowly stream in extra virgin olive oil until smooth and similar to a loose pesto.