Drake's disciples
Math teacher's protégé pupils follow in the footsteps of his half-century career at NMC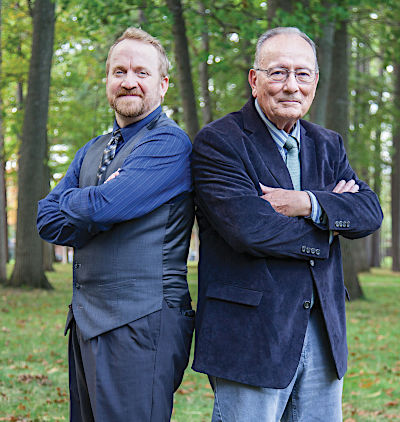 Jason Teichman and Steve DrakeAs the first NMC faculty member to attain the 50-year teaching milestone, you might say math instructor Steve Drake has had a multiplier effect.
At least six current NMC math faculty members had him as a teacher. So did a former math department chairman at Traverse City West High School. Even a professor who's gone on to dual positions at both Harvard and Washington University in St. Louis.
Drake's disciples tell a similar story of an instructor both respected and liked, who not only has a mastery of the material, but has mastered presenting a subject that often challenges students, and who, at 79, still enjoys going to work.
"He truly made me love math. I had a very hard time in school with math, and he changed the entire way I thought about math," says Liberty Vittert, a visiting statistics professor at Harvard University, who had Drake in 2005.
"Most people think (math) is a thing they've got to get past," says NMC adjunct instructor Jason Teichman, who first took a class from Drake in the summer of 1999. "You have to change the thinking. Drake did that a lot for us."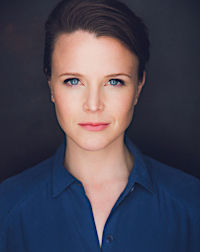 Liberty VittertBack in 1999, Teichman was enrolled in NMC's Police Academy and aspired to a career in high-level law enforcement, like the FBI or the DEA.
"My whole goal was to be a federal agent," Teichman says. "I took that class with Steve, and in the first week, I knew what I wanted to do with the rest of my life."
Law enforcement was out. Teaching was in. Teichman went on to earn a bachelor's in math from Ferris State University and taught as an adjunct at NMC from 2001–2012. In 2007 he won the Adjunct Faculty Excellence award, the counterpart to a faculty excellence award that Drake's received twice. Teichman left NMC for a few years and earned his master's in physics, then rejoined the adjunct faculty in 2018. Now 50, he still considers himself a protégé of Drake.
"I always hoped I'd have the kind of effect that Steve had on me," he says.
"He was just so good," agrees Diana Lyon-Schumacher, the retired Traverse City West High School math instructor. She had Drake when she attended NMC between 1975–78. At the time she thought she might become an accountant, but Drake helped change her trajectory, too.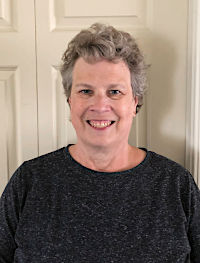 Diana Lyon-Schumacher"I like to think that I followed in his footsteps, of being that type of teacher that the kids always talked about," Lyon-Schumacher says. "Steve was so well-liked by his students, but it was because he earned their respect."
In her 39-year career, Lyon-Schumacher taught everything from remedial math to advanced placement classes. Drake, she says, modeled making math accessible for all students.
"Everybody can do math," she says. "The best teachers can reach all kids, not just teach to the high-level kids that are good in math."
"Whenever a student doesn't understand what I am teaching, I think about Professor Drake and remember that there is always a way to teach someone," said Vittert, who is also editor of the Harvard Data Science Review and a visiting assistant professor at Washington University in St. Louis. "He allowed me to think about a problem the way I was able to think about it, found different ways for me to understand it and inevitably solve it."
Drake will complete his 51st year in an NMC classroom this spring.
---
Mailing List Change Requests
To be added to or removed from NMC mailing lists for print publications like Nexus, or to update your mailing address, please send an email with your name, address and request to foundation@nmc.edu, or call (877) 922-1021 or (231) 995-1021.