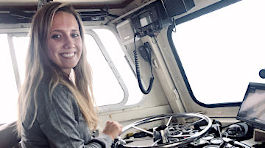 Internships offer students the chance to learn real-world skills while getting paid.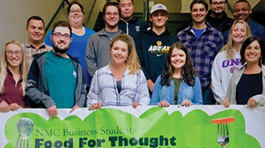 NMC Professional Communications students host Food for Thought food drive.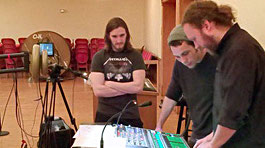 NMC Audio Tech students handle the sound for a show at the City Opera House.
Students
NMC students interested in Experiential Learning opportunities should browse the options listed here. Use the contact button below the list to reach out to the ELI with questions.
Experiential learning designated courses
The ELI is excited to share the newly created list of Experiential Learning Designated Courses (ELDC) in the Searchable NMC Course Catalog (online version). This allows students to actively search for experiential learning courses each semester. For directions on how to search for ELDCs to go:
ReSOURCES
LinkedIn 101 Webinar by Chaim Shapiro- Recording

Creating a "winning" LinkedIn Profile that stands out and gets you noticed
Find and engage the "right" people that can make all the difference in your job search
Learn how to create and amplify your "personal brand" on LinkedIn
Find us on Instagram: nmc_experiential_learning
Experiential learning is important because students grow not only in their intellectual capacity but also personally, professionally, and civically. They have a greater capacity for empathy and compassion in the way they see themselves and the world.
KRISTY MCDONALD, ELI DIRECTOR
SUCCESS STORIES
---
Spring semester 2022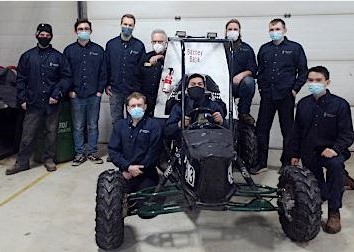 NMC's Motor Sports Club "Gearheads" notched its best finish ever in the Blizzard Baja endurance race at Michigan Tech Saturday, overcoming a breakdown and single-digit temperatures to beat a host of engineering teams from four-year universities.
"The race is designed to destroy the car," said Automotive Technology instructor Wayne Moody. "We fix our car and put it back on the road." He added the race epitomizes experiential learning.
NMC was the only community college, only one-car team and only automotive program to compete.
~ Video Motor Sports Club:  NMC motor sports backwoods baja 2023 - YouTube
---
In the News 
Scenes From NMC's Inaugural Experiential Learning Symposium
THE TICKER
May 6, 2022
NMC names first class of Experiential Learning fellowship recipients
INTERCOM, STUDENT NEWS
February 3, 2020
NMC Launches Experiential Learning Institute
THE TICKER
April 5, 2019
NMC's experiential learning teaches real-world skills
RECORD-EAGLE
July 26, 2018