From Pluto to Picasso
Founding Dennos Museum Center executive director Gene Jenneman: A retrospective
Nexus Summer 2019 Feature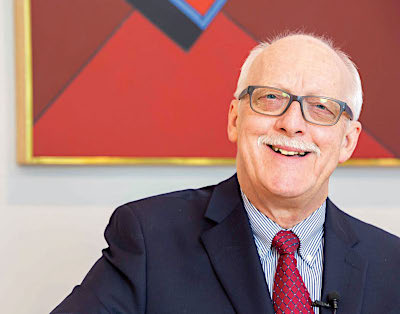 For someone who never planned a career in the arts, Gene Jenneman still managed to craft a masterpiece as the first and founding executive director of the Dennos Museum Center, ending his three-decade tenure this month.
Jenneman graduated from the University of Wisconsin—Eau Claire with a couple art appreciation courses, a B.S. in physics, a minor in chemistry and a plan to teach high school science and run a planetarium.
He did the planetarium part—13 years at Alpena's Besser Museum, home to a full-dome planetarium. A year into his tenure at Besser, on a backpacking trip through Europe, Jenneman first saw museums "in a serious way." Upon his return, he was inspired to improve what the Besser offered the community.
He went to Detroit and met gallery owners. He saw works that weren't being displayed and asked if he could borrow them.
"I was curating exhibits (in Alpena) from commercial art gallery backrooms in Detroit," he said.
A short stint at the Erie Museum Authority in Pennsylvania followed. Jenneman ran the Erie Historical Museum and planetarium. Then he got word of NMC's plans to build a museum.
Defining the vision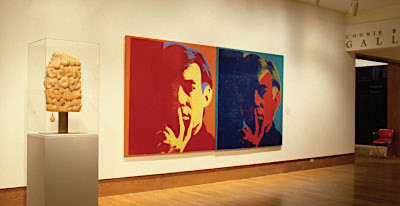 Jenneman said this 1997 Picasso to Warhol exhibit was the most important of his career.Jenneman applied for what would become the Dennos job on the last day applications were accepted, without the educational requirements. To his surprise, he got a call. His vision to bring the world to Traverse City ended up being exactly what NMC leaders were looking for.
"This was not going to be a museum to recycle Traverse City," said Jenneman, 69. "The priority is to bring the rest of the world to the community. I had the privilege of defining it; no one will have that opportunity in the same way."
But first, the museum had to be built.
Jenneman worked alongside architect Bob Holdeman to design the facility and create what people would experience inside. The museum opened 28 years ago, on July 6, 1991, bringing under its roof the Inuit Art Gallery, housing the college's most significant collection, three changing exhibit galleries, a sculpture court, hands-on Discovery Gallery, and the 350-seat Milliken Auditorium.
While the list of exhibits and musicians to pass through the Dennos is long and impressive, Jenneman cited a 1997 exhibit as the most important of his career. "Picasso to Warhol" showcased about 50 pieces from the modern collection of the Detroit Institute of Arts. The works, including pieces by Pablo Picasso and Andy Warhol, normally do not travel, but needed to be temporarily relocated for a renovation project.
Jenneman was initially offered just three pieces. He wanted more – all of it, to be specific. So, just like he did back in Alpena, he asked for it. The Dennos' five-month exhibit became the only time the works were shown as one exhibit.
"I wanted to show people in northern Michigan something they wouldn't otherwise see," said Jenneman.
China and expansion
Whatever appears on the Dennos walls and Milliken stage, it's due in large part to relationships. Jenneman is especially proud of the relationships he's fostered with artists and musicians from China in 16 trips to the country. While NMC now has educational partnerships in China, Jenneman's connections pre-date those and all started with a project involving jazz musician Bob James. Numerous Chinese artists have had works exhibited at the Dennos and some have visited, too.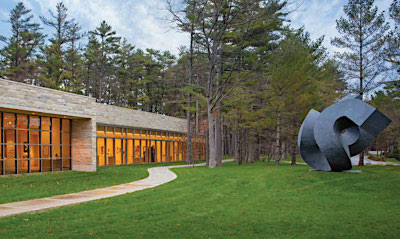 Relationships also fostered the culmination of Jenneman's career: an expansion of the Dennos. (Photo right.) Completed in 2017, it included two new permanent collection galleries, a new sculpture gallery and larger Inuit art gallery and was driven by generous donations from the late Dudley and Barbara Smith, and Richard and Diana Milock. The Milocks were so invested, in fact, that they increased their support so that part of the expansion planned for a later date was instead done first.
"It made the project bigger, and the end result way better than it originally would have been," said Jenneman, who deferred his original 2015 retirement date to see the expansion completed.
Once again, he put his personal mark on it, this time influenced by the galleries he loves at the Whitney Museum of American Art in New York City. One of those galleries in the Milock wing now bears Jenneman's name.
"It's my tombstone," Jenneman quipped.
Moving on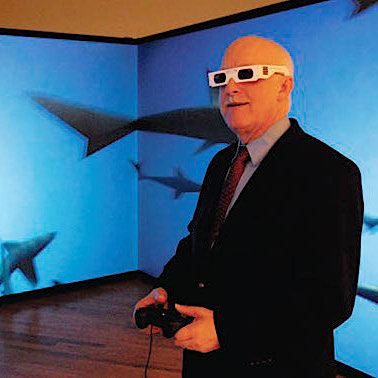 Jenneman's legacy will endure beyond the physical museum, even as he steps aside to make way for new energy and ideas. Of course, he noted, many staff and volunteers supported him along the way. About a year ago, he consciously decided to move aside, putting the museum's day-to-day operations in the hands of three young professionals who worked for him.
"I wanted them to feel complete ownership," Jenneman said.
Giving the trio the opportunity to really grow in their respective roles at the museum was also a way for Jenneman to pay forward a gift he received at the start of his career, when a Wisconsin professor bought him a plane ticket to Alpena to interview for the Besser job.
Jenneman and his wife Marcia Borell plan to stay in Traverse City, though Jenneman already has his eyes on his next adventure.
"I love to travel and plan to continue to travel … including, a trip around the world."
---
Mailing List Change Requests
To be added to or removed from NMC mailing lists for print publications like Nexus, or to update your mailing address, please send an email with your name, address and request to foundation@nmc.edu, or call (877) 922-1021 or (231) 995-1021.
Five Favorites
You can only visit one more museum or art gallery. Where would you go and why?
The Museum of Modern Art in New York City. I got involved in the arts in the last quarter of the 20th century, and feel most connected to artists of this period. The MOMA has much of their best work.
If $1 would buy you any piece of artwork, what would you buy?
Likely a Mark Rothko — a huge canvas of "vibrating" warm colors. I would then donate it to the Dennos.
One of your top five contemporary artists?
Korean artist Seung Mo Park, presented at the Dennos in 2014. His wire-wrapped sculptures and layered screen images were like nothing I had seen or we had shown before.
Most visually awe-inspiring place you've visited?
Machu Picchu, Peru
If you could reincarnate an artist who died at least 100 years ago, who would it be, and why?
The cave painters of Lascaux, France. It seems we could learn a lot more about the human desire to be creative and document our surroundings.