The Brothers Vozza
Trio finds dual enrollment paves the way to Ann Arbor
Nexus Summer 2019 Dualie Profile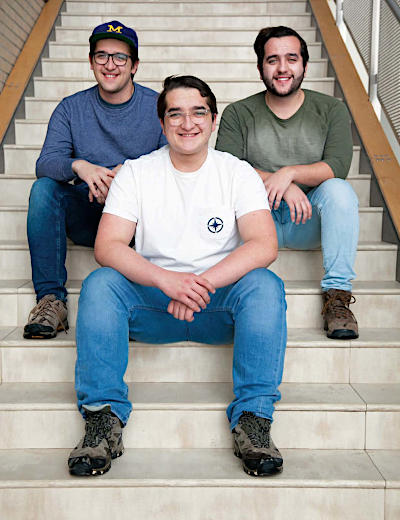 Massimo Vozza, front, and his brothers Dante, left, and Angelo, right, all dual-enrolled at NMC during high school at Traverse City Central.As he cuts through the gate and across College Drive between Traverse City Central High School and NMC, Massimo Vozza crosses a mental threshold, too —from high school to college student.
The 2019 Traverse City Central High School graduate dual-enrolled at NMC during his senior year to get a head start on college courses. Not just any college courses. Vozza signed up for Differential Equations, Calculus 3, and calculus-based physics.
"I wanted to take a heavy course load so I wouldn't give myself an excuse to slip," said the 18-year-old. "If I don't push myself, I get really lazy, and won't perform as well, even if I have less classes."
His rationale seems to have worked: Vozza was a 2019 National Merit Scholarship finalist, which places him among the top 1 percent of high school seniors nationwide. Not to mention that if he didn't push himself, his two brothers Angelo and Dante would. By turning to them for advice, the youngest Vozza not only spared himself grief, he learned how to maximize the dual enrollment experience.
"I tried to follow the same path as my brothers did," said Vozza. Each is two years ahead of him (Angelo graduated TC Central in 2015; Dante in 2017) both dual-enrolled at NMC, and both went on to the University of Michigan.
"It was very helpful to know what the college environment was like," said Dante Vozza, who's majoring in astronomy. "You have to do a lot more out of the classroom."
"A lot of the stuff I've experienced this year is just shifting into the college experience. It's more independence, the schedules are different," Massimo agreed. "It's good to adjust this year instead of it being a whole new experience when I'm on my own."
All three said they preferred their dual-enrolled classes to the Advanced Placement classes they also took in high school. The Vozzas felt more confident of achieving the credits at stake because their NMC instructors wrote their own exams instead of standardized exams. Courses at NMC that would be freshman-level at a four-year university also meant smaller class sizes and more instructor attention.
"I liked my dual enrollment classes better because it was more like the college class," said Angelo Vozza, who graduated from U-M this year with a bachelor's in computer science.
Going into U-M with credits also allowed more flexibility in course selection and schedules. Dante has had more time to conduct research in his astronomy field. Angelo graduated with a political science minor in addition to his computer science major.
So far, Massimo thinks he will follow Angelo into computer science at Michigan. But his NMC physics class is more appealing than he expected.
"Some of the classes I've taken at (NMC) have given me more insight into what I do and don't want to do in college," he said. "Taking these classes has opened my eyes to what my strong points are and maybe my weak points."
Not to mention keeping him on his toes, all the way to the very end.
"When I'm taking the college classes, I can't use the excuse, 'it's senior year,'" he said.
Dual Enrollment
Dual-enrolled high school students are the fastest-growing segment of enrollment at NMC. Find out more at nmc.edu/dual-enroll.
---
Mailing List Change Requests
To be added to or removed from NMC mailing lists for print publications like Nexus, or to update your mailing address, please send an email with your name, address and request to foundation@nmc.edu, or call (877) 922-1021 or (231) 995-1021.