Have Apron, Will Travel
Globetrotting 2006 GLCI grad finds home in southeast Asian hotel kitchens
Nexus Summer 2019 From Our Kitchens Feature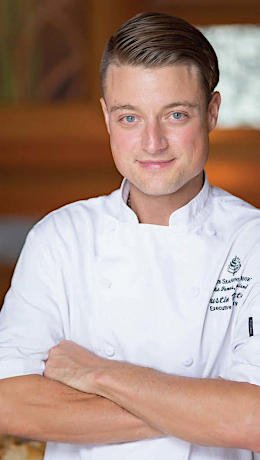 Hospitality has been part of Dustin Baxter's life since high school, when he worked for his parents at Pippins Restaurant in Boyne City. He's combined that background, a talent for pastry and a love of travel into an international career, working in three states and four countries. He says learning new cultures and adding his own style to unique ingredients (like 27 varieties of pineapple in Thailand) is his favorite part of working abroad. He offers a refreshing summertime dessert with ingredients native to Thailand but available in the U.S.
where in the world is Dustin Baxter?
2006 Graduated Great Lakes Culinary Institute
2007 Sarasota, FL (Ritz-Carlton)
2009 Half Moon Bay, CA (Ritz-Carlton)
2012 Chicago, IL (Earned a Michelin star at The Peninsula Hotel)
2014 Dubai, United Arab Emirates (Ritz-Carlton)—First executive pastry chef position supervising 11 cooks
2015 Singapore (pre-opening team for new brand, Patina Hotels)
2016 Thailand (The Four Seasons, Koh Samui - supervised eight pastry cooks)
2019 Cambodia (Rosewood Hotels, Phnom Penh)
---
Mailing List Change Requests
To be added to or removed from NMC mailing lists for print publications like Nexus, or to update your mailing address, please send an email with your name, address and request to foundation@nmc.edu, or call (877) 922-1021 or (231) 995-1021.

Strawberry Lychee Pavlova
If you ever aspired to try your skills as a professional pastry chef, here's a chance to show your chops.
---
Meringue
4 egg whites
¾ cup granulated sugar
¾ cup powdered sugar, sifted
Strawberry Gel
4 cups pureed strawberries
2 ½ tablespoons agar (acts like a gelatin; available at specialty food stores and amazon.com)
1 ½ cups granulated sugar
Lychee
1 20-oz. can lychee fruit (available at Asian markets)
2 limes zested
Strawberry Lychee Soup
7 cups frozen strawberries
½ cup sugar
1 ¼ cups reserved lychee juice
2 limes zested
---
FOR MERINGUES: Place egg whites in a large bowl; let stand at room temperature for 30 minutes. Beat egg whites, gradually adding granulated sugar, until stiff and glossy. Gently fold in sifted powdered sugar.
Using a gallon-sized Ziploc snipped at the corner, pipe meringue into a 3-inch diameter circle and a 1.5-inch diameter circle on a parchment paper-lined baking sheet.
Pipe small kisses on paper.
Bake at 195 degrees F for 2 hours; turn off heat and allow to stand in oven for at least 1 hour.
---
FOR STRAWBERRY GEL: Heat strawberry puree. Mix agar with sugar and add to puree. Bring to a boil for 3 minutes. Refrigerate overnight. Next day, blend with blender or food processor until smooth.
---
FOR LYCHEE: Strain lychee, and save juice for soup. Add lime zest and place into container overnight. Next day, cut into a small dice to serve.
---
FOR SOUP: Place frozen strawberries, lychee juice, lime zest and sugar in a bowl and wrap very well with plastic wrap. Place over a water bath, gently boiling for 1 hour.
Strain and cool in ice bath.
Assemble pavlova and serve with ice cream or sorbet of your choice.