2020 Career & Employment Fair
NMC's 13th annual Career Fair was held on Thursday, March 7, 2019 at the Hagerty Conference Center from 4–6 p.m. The 2020 Career Fair will be held March 5, 2020.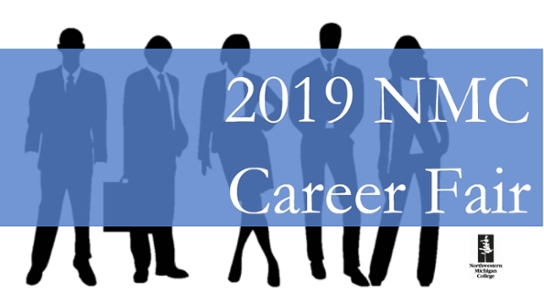 The event, which is open to the community, draws hundreds of people for the chance to meet with more than 80 employers, making it a prime occasion for creating opportunities and growth.
Northwestern Michigan's premier career fair is a great chance to meet employers who are hiring, and talk about full-time and part-time jobs and internships.
The Hagerty Conference Center provides stunning views of the bay, on-site parking and a wonderful venue for the only career fair of this size in the region.
Want to see who came last year? Check out the 2019 Businesses and Positions List!
Quick Links
Are you a student or job seeker planning on attending? Go here »
Are you an employer looking for career fair information? Go here »
Need Hagerty Conference Center directions and information? Go here »
2019 Participating Employers
2019 participating employers with positions »
4Front Credit Union
Aspen Wireless Technologies, Inc
Autism Centers of Michigan
Bay Area Recycling for Charities
Bay Area Transportation Authority
Cedar Run Eye Center
Chateau Grand Traverse
Cherry Republic
Comfort Keepers
Cornerstone Staffing Solutions
Crystal Downs Country Club
Crystal Mountain
DNR-Traverse City/Leelanau and Interlochen State Park
ESS/willSub
ExpressJet Airlines Pilot Recruiting Department
Fish Window Cleaning
Foundation Systems of Northern Michigan
Gourdie Fraser Inc
Grand Beach & Sugar Beach Resort Hotels
Grand Hotel
Grand Traverse County Sheriff's Office
Grand Traverse Pavilions
Grand Traverse Resort and Casinos
Grand Traverse Resort and Spa
Grass River Natural Area, Inc.
Great Lakes Equestrian Festival
Great Lakes Packing Company
Hagerty
Hantz Group
Harbor Care Associates
Interlochen Center for the Arts
Laker Shakes Burdickville Market
LochenHeath Golf Club
Lodgco Hospitality
Lowe's
MacAllister Rentals
Manpower
Manson Construction Co.
Michigan State Police
Mission Point Resort
Munson Healthcare
NP Service Company
Oryana Community Co-opS
PACE North
Pine Hill Nursery
PMP Personnel Services
Red Cross of North West Michigan
Samaritas
Sara Lee Frozen Bakery
Shanty Creek Resorts
Shoreline Fruit, LLC.
Speedway LLC
Spicer Group, Inc.
Springhill
Summit Companies
Team Bob's Heating/Cooling/Plumbing
TentCraft
The Lighthouse Neurological Rehabilitation Center
Traverse City Area Public Schools
TruNorth Landscaping
UA Local 85 Plumbers, Steamfitters, and HVACR Service Techs
Upbound at Work
Versiti Michigan Blood
Weinkauf Plumbing & Heating Inc
Windemuller