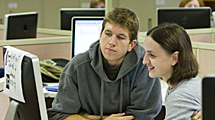 Find just what you're looking for here.  More »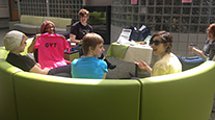 NMC is home to over 40 student groups. Join one – or start your own. Check out some of the many student activities!  More »
Student Services
We're here to help!
NMC's Technology Help Desk provides first-level technical support to NMC faculty, staff, and students in assisting with their computer and telecommunications needs.
Call us: (231) 995-3020
For non-technical issues, please call our switchboard at (231) 995-1000 or toll free at (800) 748-0566 to direct your call to the appropriate department.

NMC students will be welcomed back to campus the weekend of Friday, August 26 through Sunday, August 28 with a series of FREE events including a movie night, ice cream social, professor Q&A, games, prizes, bowling and more!
My NMC Story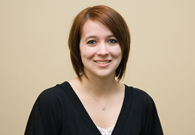 "I would tell anybody considering college that they should consider NMC because the staff is great and the classrooms offer a more intimate learning environment as well as a lot of outside/extra help from instructors."
LINDSEY WINOWIECKI