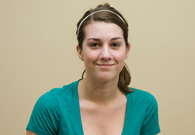 "I wanted to stay close to home and NMC has a wonderful nursing program."
KAYLA MARROW
Health Occupations
Health Occupations programs prepare you for immediate employment or to transfer to four-year colleges and universities. Specialized occupational classes lead to a certificate. The Associate Degree programs offer a combination of specialized classes and liberal arts and science studies.
The Dental Assistant and Nursing programs have specific admissions requirements. Details appear in the program information section.
If you plan to transfer, consult with counselors and faculty members in your field of interest during your first semester at NMC to familiarize yourself with transfer requirements. Transferring to NMC's University Center is another option.
Degrees Available
Occupational Specialty Programs
Allied Health
Dental Assistant
Transfer Options - Nursing
Many colleges and universities offer BSN completion programs. One University Center partner allows you to complete your Bachelor's while remaining in Traverse City:
Online & Other Learning Options