Success Story: 63 years of community, food & fun
May 9, 2018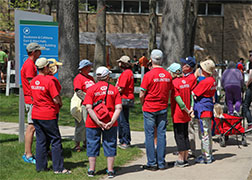 Traverse City's Oleson family and the NMC Barbecue go together, well, like buffalo burgers and a nice spring day on campus. But many more community volunteers and groups help make the annual picnic under the pines happen every year. In advance of this year's May 20 Barbecue, we look at a few:
Traverse City Noon Rotary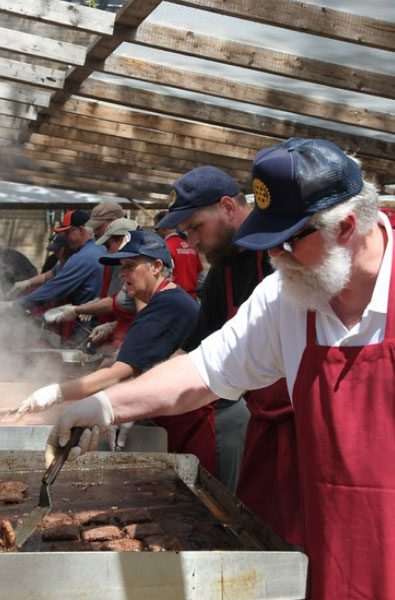 The noon Rotarians have handled the grill as far back as memory goes.
"I have flipped burgers for 25 years, 30 years, as long as I've been in Rotary," said Sid Lammers. "It builds fellowship in the club."
Lammers' Barbecue attendance goes back even further, to when he moved to Traverse City as a boy in 1968. He attended NMC from 1971-72, then transferred to Central Michigan University. He returned to the community to raise a family and run a business. Now, between 15-20 extended family members make it a point to attend the Barbecue every year.
"The event is not to be missed in my family," Lammers said. "I appreciate the college, I appreciate the Olesons and what they've done for it."
U.S. Coast Guard
Command Master Chief Al Wiltse has only been stationed at Air Station Traverse City for three years, but his predecessor made sure he knew to set aside the third Sunday in May.
"We volunteer because Traverse City is a wonderful community to be stationed in," Wiltse said. "This is a very highly desirable area for Coast Guard folks. The city treats us magnificently, and it our duty and obligation to give back to the community."
Working the serving lines, as the Coasties usually do, is fun, too, Wiltse said.
"We always have a blast. It's a lot of fun. Our spouses and our kids get involved," he said. "We're honored to be asked every year."
Real Estate One
The company has been volunteering for 26 years, said Realtor Clint Wheeler.
"As a real estate company, it's very important for us to give back to the community and help the community grow," Wheeler said. "It couldn't be for a better cause. It's always been important to be part of it."
This year, volunteer Realtors Leanne and Lyle Deeren have an extra reason to show up for serving line duty. Daughter Sierra, a Traverse City West High School senior, will enroll this fall in the nursing program.
"I just feel like I have a little bit closer connection to it now, now that my daughter's going to be there," Leanne Deeren said. "It's fun to see so many people gathering to support a great school."
Zonta
Sporting their signature yellow aprons, 18 Zontans will fill two shifts in the serving lines, dishing out coleslaw, potato salad and of course the buffalo burgers.
"We love seeing the people going through the line and all the happy faces," said Zonta board member Nancy Brick.
She usually volunteers as a "runner," notifying the kitchen crew when a serving line is running low.
"The runners all help each other's lines," Brick said. "We love participating with other fellow community organizations in line next to us."
Other groups and clubs with longtime volunteer ties to the Barbecue include the Traverse City Optimists, Kiwanis, Elks, Newcomers, Traverse City State Bank, Hagerty Macy's and the National Cherry Festival.
Want more stories like this?
NMC students past and present are achieving success in the classroom and in their careers. This section showcases just a few examples.
Sign up for NMC Now to get these stories, plus upcoming campus events and media mentions, delivered to your inbox every other Wednesday. View past issues here »
Sign up now!
Tweet