Success Story: Student engagement fosters academic success
February 17, 2016
Black Lives Matter. So do women's lives, LGBT lives, and allies' lives. And all of those causes might matter, it turns out, to whether the students advocating for them graduate, or even earn a better GPA.
NMC's Student Life office presently has more groups focused on social issues — including a Black Student Union, a feminist-oriented Students United for Gender Rights (SUGR), and PRIDE, an LGBT group — than Student Life dean Lisa Thomas can remember.
That's important because research shows engaged students are more likely to succeed in college. (A 2010 Purdue study even showed that student group members earned higher GPAs than non-members. Group officers had higher GPAs still.) 
Moreover, Thomas says that when the groups are related to a student's area of academic interest, it magnifies the connection between engagement and success.
"Seventy-five to 80 percent of the time, the student group they're in makes sense because of an academic interest they have in their area," she said. "This kind of engagement leads to student success."
SUGR founder Kia Schwert exemplifies that. A dean's list student, she entered NMC intending to study social work. After her sociology instructor gave her a book, "Feminism is for Everyone," by bell hooks, she decided to start a feminist group.
That instructor, Rachel Johansen-Wilczewski, now advises SUGR. She said the members' dedication, even meeting over the winter holiday break, impresses her.
"They mean business," she said.
In addition to on-campus events, SUGR is now focused planning an alternative spring break trip focused on awareness of human trafficking and assistance to victims. Schwert herself is looking ahead to transferring to a school with a women's studies program.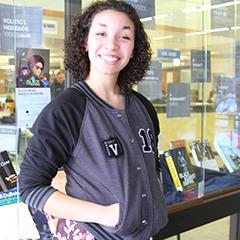 BSU founder Maya James, who's believed to be the first dual-enrolled student to start a group, is another example of the activist-success feedback loop. She aspires to law school. Later this month, her group will go to Lansing to attend the Michigan Legislative Black Caucus Capitol Day.
"The activism we've been doing has been shaping our community," said James, 17, who holds weekly discussion meetings, monthly black writer book club discussions and curated a display of books in the Osterlin Library for this month's Black History Month.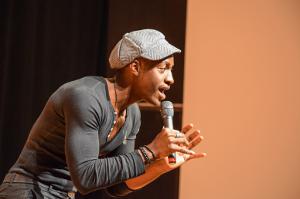 James also initiated the January campus performance of Sampson McCormick, a gay black comedian, reaching out to Schwert and Caleb Yorty of PRIDE for help.
"There's been a lot of student leadership stepping forward," said Yorty, 20, who's also a dean's list student and involved with a grief support group in addition to the social justices causes. He studies psychology.
"I've never watched three student groups work so effectively together," Thomas said of the comedy event. "While they have different missions, they have overlapping values. It was really encouraging."
Want more stories like this?
NMC students past and present are achieving success in the classroom and in their careers. This section showcases just a few examples.
Sign up for NMC Now to get these stories, plus upcoming campus events and media mentions, delivered to your inbox every other Wednesday. View past issues here »
Sign up now!
Tweet