Success Story: New baking certificate is perfectly done
June 13, 2018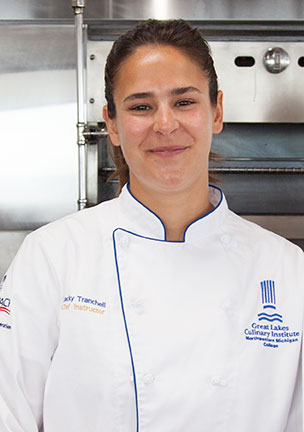 Becky TranchellCulinary students in a new baking certificate program will cap off their studies in delicious fashion, opening the revamped Cafe Lobdell's at the Great Lakes campus June 19.
Customers can enjoy coffee, pastries and breads three mornings a week through July 26. For the six-week cafe class duration, Lobdell's Teaching Restaurant, located on the second floor overlooking West Grand Traverse Bay, will be converted from a table-service establishment to a cafe/coffee bar open from 7-11 a.m. Tuesdays, Wednesdays and Thursdays.
Comfortable furniture has been installed and newspapers will be on hand. Outdoor tables will also be available. Culinary instructor Becky Tranchell and service lead Kerry Fulcher will oversee daily operations.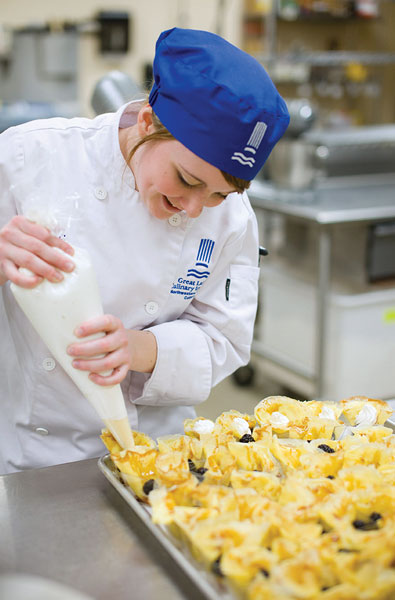 "I'm hoping it's a spot where people can come in and linger for a few minutes or an hour," said Patty Cron-Huhta, front-of-the-house coordinator for NMC's Great Lakes Culinary Institute. "The espresso machine is cranking all morning."
Also on the menu: croissants, tarts, cookies, cakes, four different kinds of bread and a variety of coffee drinks for take out or dine-in.
The summer season operation will enable Lobdell's to continue its commitment to use local foods, Cron-Huhta said, including Higher Grounds coffee.
She expects loaves of the multi-grain bread, popular during the restaurant's fall and spring semester lunch service, to be a hot item. Customers will also be able to personalize cakes.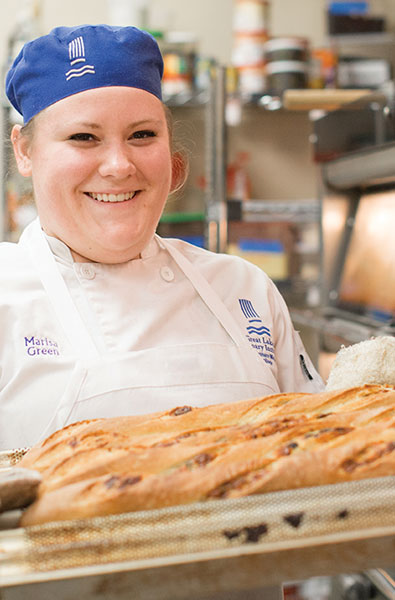 "This is our first run at this. We're excited to see how it all turns out," she said.
The baking certificate expands the offerings of the Great Lakes Culinary Institute, which already offers a comprehensive culinary certificate as well as a culinary degree. Institute director Fred Laughlin said it will serve the needs of a growing number of students interested specifically in baking and pastry.
Cafe Lobdell's will be open from 7–11 a.m. Tuesdays, Wednesdays and Thursdays from June 19–July 26, except July 4.
Want more stories like this?
NMC students past and present are achieving success in the classroom and in their careers. This section showcases just a few examples.
Sign up for NMC Now to get these stories, plus upcoming campus events and media mentions, delivered to your inbox every other Wednesday. View past issues here »
Sign up now!
Tweet