Success Story: Marine Tech grad lands a job in Hawaii
January 10, 2018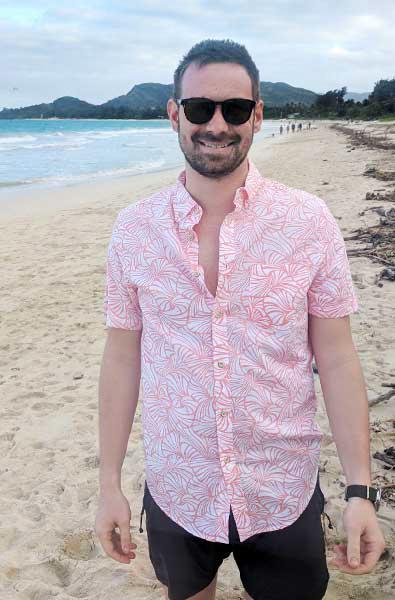 If luck is defined as preparation meeting opportunity, then Brendan Hunter, who said "aloha" to a new career this month, could be in contention for luckiest NMC graduate of 2017.
Fresh off his December graduation from NMC's Marine Technology bachelor's degree program, Hunter started this week as a junior ocean engineer for Sea Engineering in Oahu, Hawaii.
"I'm going to be working on a pier (Makai Research Pier, operated by the University of Hawaii) that juts out over a coral reef into the Pacific Ocean," Hunter said, speaking in an interview as the last snowfall in his foreseeable future fell on campus.
The job is the culmination a streak of NMC opportunities Hunter, 27, took advantage of, starting with his enrollment in 2013, just as the college rolled out its first-in-the-nation associate's degree in Freshwater Studies.
He completed that degree just as NMC introduced its first-in-Michigan community college bachelor's degree. Without that program in marine technology, Hunter would have transferred.
"I would have gone into a tangential field, oceanography or engineering," he said. "It worked out perfectly. I stayed at NMC and kept studying what I wanted to study."
Last month, the Kalamazoo native became the second student to earn the BSMT degree. In terms of employment, the world became his oyster. He applied for jobs in the United Arab Emirates, Seattle, Alaska, Boston and the United Kingdom.
At Sea Engineering, Hunter will organize the use of and implement offshore data collection with remotely-operated vehicles. About 70 percent of his time will be spent on the water, including coral reef research and deep-sea research off mounts in the Pacific.
"I would have taken this job if had been anywhere else," said Hunter, who also received job offers in Boston and Texas. "It's just a bonus that it happens to be in Hawaii."
It dovetails perfectly with the skills he learned at NMC. Sea Engineering is transitioning its industrial and environmental research operation from diving to remotely operated underwater vehicles (ROVs).
"That transition is a big part of the reason they chose me," Hunter said. "The same day they called to offer me the position, they had just unboxed their first ROV."
Ironically, his choice of marine technology traces back to some bad luck and timing. Hunter graduated from high school in 2008 and enrolled in a four-year college that fall, majoring in political science/pre-law. But by his second semester, he was already questioning that choice.
"A, it was boring, and B, it was literally in the middle of the financial crisis," he said. Foreseeing a poor job market, he decided to cut his losses, dropped out and moved to Texas, where he raced sailboats and "soul-searched."
 "I've always had a love of the water and been naturally drawn to exploration," he said. "When I decided to go back to school I decided I wanted it to be in the sciences."
There was a hurdle, however: Math.
"I was super determined to get a grasp on math," Hunter said. He had to start in a developmental course. But with the help of NMC professors like Mary Burget and Ernie East, and the drop-in tutoring available at the Math Center, he conquered it.
"I basically had to relearn from algebra up to calculus. Now I'm getting hired as an engineer," Hunter said. "All the math professors have been great. It was a 180."
Hunter credited NMC with helping him get scholarships that he estimated covered 15 to 20 percent of his educational costs. He also met his girlfriend at NMC, 2015 nursing alumna Victoria Peck. She's moving with him to Hawaii and will look for a nursing job there.
"My life would have been completely different if it weren't for NMC," Hunter said.
Want more stories like this?
NMC students past and present are achieving success in the classroom and in their careers. This section showcases just a few examples.
Sign up for NMC Now to get these stories, plus upcoming campus events and media mentions, delivered to your inbox every other Wednesday. View past issues here »
Sign up now!
Tweet