Success Story: Tami Putney is Chief Nursing Officer at Munson
January 6, 2021
An NMC nursing alumna is among the northern Michigan healthcare leaders guiding the region's response to COVID-19 as the pandemic enters the hopeful stage of vaccination.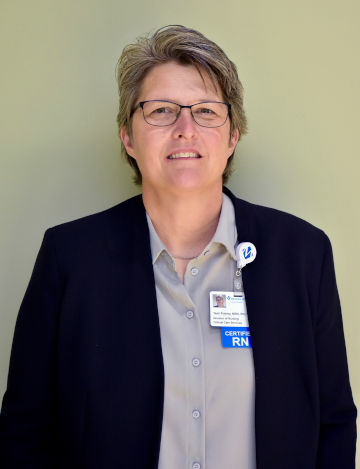 Last August, Tami Putney, a 2002 graduate of NMC's associate degree in nursing program, became Chief Nursing Officer and vice president of patient care services at Munson Medical Center. She also serves as chief of operations for the hospital's Incident Command team responding to COVID-19. Working through a pandemic has been a life-changing, humbling experience, she said.
"What I've seen is this (Munson) team come together like you can't even imagine," she said. The Traverse City hospital, the largest in northern Michigan, has had to adjust its model of care and become flexible and nimble in order to fulfill its duty to the community amid a pandemic.
"It's so important for us to get it right. It's so important for us to help each other," Putney said. It was at NMC where lessons like respect for others, self-discipline and the value of diversity were instilled.
"Their expectations were very high. They do a great job of helping students realize their potential," Putney said of NMC's nursing instructors.
In addition, NMC taught a holistic approach to health care that includes patient families. That's been important during COVID, which has changed normal visiting procedures.
"The family structure is stressed," Putney said. "(We are) nursing patients back to health, but never forgetting about the families along the way."
The circle of care then widens from families to the broader community, who may still need surgery or cancer treatment or labor and delivery services.
"We still want to serve the community," Putney said. "We want to continue all normal operations, but we have this whole other unexpected population we have to care for."
That has led to the creation of multidisciplinary teams and staff working in areas outside their usual assignments, like obstetric nurses serving as PPE buddies, ensuring that personal protective equipment is donned and discarded correctly.
After NMC Putney earned both a BSN and an MSN from Ferris State University in 2013 and 2016, respectively, and then her nurse executive certification in 2018. She worked as a bedside nurse for several years before transferring to clinical informatics at Munson from 2011 to 2014.
"That's bridging the gap between the technology world and bedside care delivery," she said, including transitioning the hospital from paper to electronic health records. "That was kind of groundbreaking work for the time."
At Munson Putney said the vaccine rollout has been smooth. As of Tuesday, 5,371 staff, physicians and contract workers had received their first shot of the two-shot series. That's 50 percent of those eligible at Munson in the tier that the state of Michigan has designated as first priority: health care workers and long-term care facility residents.
Putney has received the first shot herself, but only did so after she made sure all the bedside nurses and staff had an opportunity to schedule theirs.
"We can't run the hospital and serve the community without those folks at the hospital," she said.
When it comes time for the general public to be vaccinated, Putney said Munson expects to announce partnerships with area pharmacies to distribute the vaccine. Munson, NMC and the Grand Traverse County Health Department are all part of Grand Traverse County's Joint Operations Center coordinating a community-wide response.
Current NMC nursing students may also join the COVID front lines to help with vaccination. Nursing Director Amy Jones said the department is working with the Grand Traverse County Health Department to allow students to participate in administration of the vaccine.
"It will be a benefit for both the community and our students," Jones said.
Want more stories like this?
NMC students past and present are achieving success in the classroom and in their careers. This section showcases just a few examples.
Sign up for NMC Now to get these stories, plus upcoming campus events and media mentions, delivered to your inbox every other Wednesday. View past issues here »
Sign up now!
Tweet