Success Story: Emily Challender, continuous learner
October 10 2018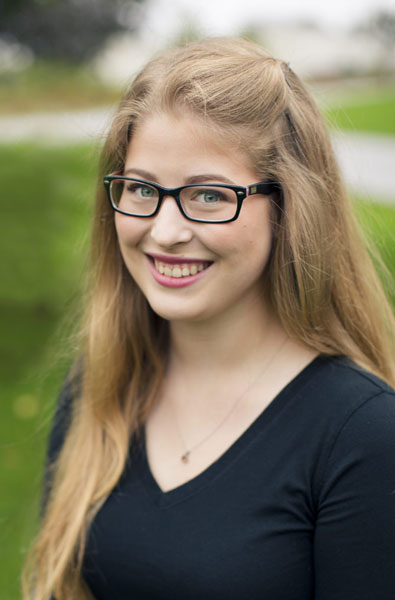 Working in her family-owned business, Hayes Manufacturing, Emily Challender's job security is fairly assured.
Yet the 24-year-old purchasing manager enrolled at NMC this semester. She plans to attend part-time until she earns her associate's degree, and then transfer to a four-year school for her bachelor's. In addition, she led the organization of northern Michigan's fifth annual Manufacturing Day, held Friday to a nearly doubled audience of 1,000 high school students.
Why bother? In a word, Lean. Through NMC Training Services, Fife Lake-based Hayes has offered the continuous quality improvement training since 2010. As a member of Hayes' continuous improvement team, Challender found the principles and processes resonated with her.
"I found a thing I was passionate about (Lean) through working, and it made me more excited to go back to school," said Challender. "Now I'm realizing the value of having a degree."
She says Lean is especially suited to her as a woman working in the non-traditional field of manufacturing.
"Women in a lot of ways tend to be more empathetic," Challender said. That, she said, makes them more sensitive to how the changes of continuous improvement impact employees, who may be long used to doing something another way.
"Women just seem to have kind of a knack for it, and that is exciting to me," she said.
So watching hundreds of area high school girls participate in Manufacturing Day Friday, touring Hayes and more than 40 other regional manufacturers, was gratifying for Challender, who volunteered her time to organize the event. Eventually, she'd like her status as a woman in manufacturing not to raise eyebrows.
"It's exciting, and it's really cool. People are always surprised by it," she said. "I would like to reach a point in manufacturing where it's not surprising. It shouldn't be."
"Manufacturing needs girls to come in with a new perspective, and be smart and great at this job."
Want more stories like this?
NMC students past and present are achieving success in the classroom and in their careers. This section showcases just a few examples.
Sign up for NMC Now to get these stories, plus upcoming campus events and media mentions, delivered to your inbox every other Wednesday. View past issues here »
Sign up now!
Tweet