Success Story: Alumna, Parent, Volunteer Says All Facets Of NMC Shine
May 6, 2015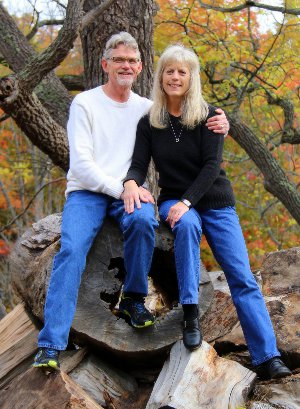 First comes love, then comes marriage. Then comes a baby carriage, satisfying careers, buffalo burgers, saving money through dual enrollment, and supervising the beanbag toss.
That's Barb Mort's story, anyway. The alumna and Traverse City resident has a bird's eye view of NMC, having seen the college as a student, parent, volunteer and colleague. Whatever lens she's looking through, Mort says the view is always the same: Impressive.
"I'm just so proud that such a small community has a world-class college in it," said Mort, whose story began with a fairy-tale start when she moved into the NMC apartments in 1979. Across the hall lived another student named Greg, from Charlevoix.
"It was truly love at first sight," she said. "The very first time I met him, I knew I was going to marry him."
They tied the knot in 1982, and then bride and groom enrolled in what was called Ferris State University's "off campus program," a predecessor to the University Center located in the old Maritime building (now site of the Great Lakes campus.)
"Neither one of us would have the careers we have without NMC and the off-campus program," said Mort, who is now donor relations specialist at the Grand Traverse Regional Land Conservancy. Husband Greg is the business manager of a tool and die company. "It literally saved us tens of thousands of dollars in tuition."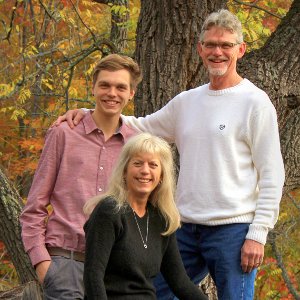 Fast-forward a few decades. The couple's youngest son, Jackson, a senior at Traverse City West, is now dual-enrolled at NMC. He's even had one of the same professors his parents did: Math instructor Ernie East.
"It's been the best thing for him," said Mort.  "He loves the independence, how the professors teach. The one-on-one help he's been getting is amazing."
Mort also sees evidence of NMC's value when she goes to work. The Conservancy hired an intern through NMC's business department. He went on to earn a staff position, due to his strong performance which NMC supported, she said.
Mort's latest role at NMC came about thanks to another quirk of proximity. The Conservancy's office adjoins Oleson's, the grocery store chain whose founders started the NMC Barbecue in 1956. The third generation of the family now continues that tradition, led by Brad Oleson, who recruited Mort for the Barbecue Board.
"I saw serving on the BBQ board as an avenue to give back to the college that has made such a difference to my family and community. I am also inspired by the Oleson family, who quietly contribute to so many worthwhile organizations in our region," Mort said.
Set for May 17 this year, Barbecue Day is the culmination of nine months of work by the Board, and Mort will be busy co-supervising kids' games. She'll make sure to find time to squeeze in her own buffalo burger, though.
"I'm a really picky eater but I love the buffalo burgers," she said.
Dual enrollment rising
More than 500 area high school students took advantage of dual enrollment at NMC last fall, saving themselves thousands of dollars in tuition bills.
"It's huge for us right now," Cathryn Claerhout, director of admissions, said.
High school students are eligible to take college courses as early as their freshman year, and dual enroll in up to 10 courses during their high school career.
Interested in learning more? Spring is the time to apply and register for fall.
---
Want more stories like this?
NMC students past and present are achieving success in the classroom and in their careers. This section showcases just a few examples.
Sign up for NMC Now to get these stories, plus upcoming campus events and media mentions, delivered to your inbox every other Wednesday. View past issues here »
Sign up now!
Tweet