Success Story: Grad helps shrink Michigan talent gap
May 1, 2019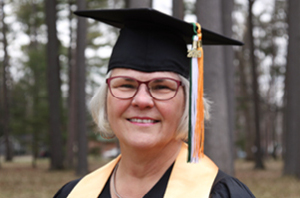 It's never too late to finish what you started.
Marilyn Dear, 70, (right) will exemplify that truth Saturday, when she accepts her associate degree at NMC's 2019 commencement ceremony, finishing what she started more than 50 years ago.
"I'm so excited," said the Traverse City mother of five sons, whose grade point average entitles her to wear the yellow stole of Phi Theta Kappa, the international community college honor society, with her cap and gown. "I'm going to hang this diploma up on the wall and be proud I finished."
Until Saturday, Dear shared the position of more than 1 million fellow Michigan residents — some college, but no credential to show for it. Helping that group of people attain credentials is key to closing Michigan's talent gap, says Gov. Gretchen Whitmer. NMC President Tim Nelson agrees.
"It's a big need for the state, and community colleges are in position to help figure out how to meet that need," he said in a recent interview.
Dear started at Schoolcraft Community College immediately after high school graduation in 1966, but dropped out after two semesters to join a friend on a trip to California. In Denver she met the man who would become her husband, Jerry Dear. A move back to Michigan, marriage, family, a move to Traverse City and work occupied the next four decades, and the 28 credits she'd earned at Schoolcraft sat parked on a shelf.
In 2011 her job was eliminated. Her children were grown. Dear seized her opportunity.
"I thought, 'let's go back to school,' " she said.
She was pleasantly surprised to discover the Schoolcraft credits transferred to NMC. "That was part of the reason I was encouraged to finish," she said.
NMC Director of Advising Lindsey Dickinson said her office works with each student to make the most of any existing credits.
"We know how crucial it is for incoming students," said Dickinson, who transferred from NMC herself in 2002. "We work one-on-one with students to help them maximize transfer credits towards completion at NMC."
After taking just one business class, Dear found a new job, at Knorr Marketing in Traverse City. She's been a working student ever since, taking one or two classes a semester, once taking a year off when work was busy, but always returning. She finds school invigorating.
"It's healthy, because it's making my brain work," she said. "As I get older, I think that's only a plus."
Dear will miss some of her favorite instructors — business instructor Nicole Fewins and Tom Gordon in history. She's not sure how she'll celebrate. She will have more time to train for the triathlons she does annually. She might visit her son who lives in New York City. Her sons might have something planned, too.
"My kids want to celebrate big," she said.
Want more stories like this?
NMC students past and present are achieving success in the classroom and in their careers. This section showcases just a few examples.
Sign up for NMC Now to get these stories, plus upcoming campus events and media mentions, delivered to your inbox every other Wednesday. View past issues here »
Sign up now!
Tweet